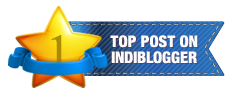 "See you honey," the fisherman gave her a warm hug, early morning, before sailing out to the open seas to catch fish.
A sudden unannounced cyclone hit; with flash floods dislodging the loose soil – eroding away the land. Everyone ran off to safer places.
Their little pink lovely hut was hit too. Underneath the rubbles of the fallen roof, she sat still,
shaking
. She was waiting for her husband to return. Nothing deterred her to leave the place.
Since that fateful day, four-hundred years passed and as many cyclones. Unaware she's ethereal; she still awaits her husband to return someday.
****
This 100 words post is for Friday Fictioneers
Pin It Now!
Copyright 2014 © Nandini Deka
---