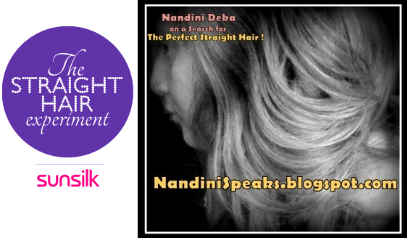 ~~~o~~~
Seema had to go to a friend's birthday party and was having a really bad hair day. In the end out of frustration she did the unthinkable. She got her hair fully wet and ran a hot iron ( yes, the one that is used for ironing clothes ) over it. It was a messy affair. Thank God though, she had remembered to switch off the iron plug else Seema'd have been electrocuted.
Some 'do it at your own risk' secrets that I discovered for straight hair are as follows :
Getting the army style haircut also ensures that your hair look straight. Now we all know how much hair the army allows to pop out from your scalp :D But whatever comes out will be straight, guaranteed!
Technology evolved and the iron plates came into the market, specially meant for hair. But these gadgets need electricity too and leaves the hair coarse and brittle...and the fear of getting burnt is ever so present.
~~~o~~~
There are a few natural ways of keeping hair straight. They are as follows :
1. Donot use curling iron ever. Forget that it exists in this world especially if you want straight hair.
2. Wash your hair frequently ( every day is better ).
3. Do not brush your hair when it is wet,instead use your fingers to detangle if you must.
4. Squeeze out water from the hair gently with towel instead of rubbing vigorously to dry, as some ( including me ) tend to do.
5. When you put conditioner on your hair, try combing your hair first,( donot use narrow tooth comb, instead go for the wide one ). After that rinse your hair with water slowly.
6.Comb your hair frequently too.While it may not make it straight, it will definitely add to its shine a bit.
7. Some of us like to keep touching our hair, Do not do it ever! Touching your hair gives that irritating wavy look.
8. Avoid tying your hair into pony tails, buns or braids, your hair will always remain curvy/wavy if you do.
9. You can also use lots of oil ( champi ) and manage to get a straight look. Make sure to carry a bucket around with you too though, to collect the dripping oil, cos you'll need that much oil to really straighten your hair.
Personally I hate oil on my head as it makes me look geeky. It makes my head feel heavy and sticky which is so uncomfortable, not to mention the weird oily smell that never leaves your nose.
10. There are some hair gels that give a straight hair look, but those have two disadvantages...you feel something artificial is stuck in your head and also they give a wet look.

Now, what if we want our hair non-wet, silky smooth and straight?

Seems Sunsilk Hair Experts finally have the answer. Their new product for perfect hair straightening is just the one that might solve the problem forever. And knowing Sunsilk, the brand and using it quite often over the years, one can be rest assured that their hair would be in safe hands :-)



Looking forward to having the perfect straight hair too!
I cant wait to see their magic revealed.

EXCITING UPDATE :

The wait hasn't been long. Its been barely a few days since I posted this blog and I have already received an exciting hamper to try out the product.( Sent by sunsilkhairexperts themselves )
I am one of the few who gets to try it out first. Now ain't that exciting. For me it sure is. Wrapped in a beautiful basket are the two 'purple' sexy secrets for the ultimate straight hair process. [ Perfect Straight Shampoo - 80ml Rs56/- | Perfect Straight Conditioner - 90ml Rs56/- ] See Picture below :



SunSilk has co-created with Yuko Yamashita - inventor of Japanese hair straightening process 'YUKO' - for Perfect Straight Hair.
It is a combination of Shampoo and Conditioner with an advanced straight lock technology. Now, Sunsilk Hair Experts in collaboration with a japanese technology can hardly go wrong, can it? Infact its a dynamic combination. And I am supa-excited.

To test and try it, I first wash my hair and put a reasonable amount of the 'perfect straight' shampoo in it. I am in love with its lovely smell. My hair feels all soft instantly as I heap up a lather before washing it gently after a few minutes. Next comes the 'perfect straight' conditioner that has to be used after shampooing the hair to get the most 'stunning straight' hair. This is simply a great conditioner as it seems to obey my wishes for straight hair. It is a highly advanced technology to control the hair and I can spot and feel the difference on my hair immediately from the other conditioners that I have been using.
After I rinse my hair, my hair feels deeply nourished and cared for. Not to mention it is in perfect alignment, STRAIGHT!

I don't see the usual annoying waving up of my hair that generally happens as my hair starts drying when I use other hair products.
With sunsilk's 'perfect straight' shampoo and conditioner a miracle seems to be happening at last. My hair looks and feels straight and so soft. My hair looks as though I just got it done in a salon.
Whew Sunsilk...thank you so much.
I highly recommend this amazing product to everyone who seriously want straight hair :-)
However, please note - I'm not sure if it'll work for extremely curly hair. Do give it a try and let me know!


( Image Courtesy : Mine & Google's )
Stay Connected & Follow my Updates on the blog's GFC | GOOGLE+ | FACEBOOK | TWITTER | BLOGLOVIN | NETWORKEDBLOGS
---