:: Today is
P
- PROSTITUTE ::
It was late evening that day. I had reached Bombay from a rather tiring trip to Bangalore. The train was going up to Victoria Terminus ( C.S.T ), but since there wasn't any stop in between, I decided to get down in Kalyan station itself – which would be nearer to my place.
I've never been to Kalyan, so the station confused me a bit; even more so, when no one could answer my query about - which platform the local trains to my particular station arrived at. I decided to climb up the stairs and self-tutor myself by observing the indicators above.
So, I went down the steps again to the designated platform. But to my amazement, I didn't see any ladies at the front-side – where usually the ladies compartment is located. Plus, the platform was broken in the edges too, making it dangerous, as anyone could slip and fall. I walked towards the middle of the platform, when alas, I saw some females standing. Assuming that was the place where the ladies coach halted, I stopped and started asking them. No one seemed to know, and shrugged their shoulders. Only one girl spoke out, in a rather
earthy
tone – Nahi maalum yaar, kya pata. Hum bhi naye hai yaha.
( I dunno, I'm also new here ).
I decided to wait and hop-in on any empty compartment, or wherever those ladies got in, as I didn't want to go searching again.
Soon the train came, and there was a rush to get inside. I saw a particular entrance where there was practically no-one, so headed that way straight-away. Someone followed my actions too. So, while the rest of the ladies got in a different crowded compartment; I and the other person, found ourselves in another compartment with only a handful of people in it.
"It's the first class," the other person screamed, realizing the folly we had made. But the train had already started moving by then. "Next station we'll go back to that general compartment," she was saying to me. She was the same person who had responded to my query earlier.
"We can say we both are new in the city, so didn't know which compartment is which," I joked. I anyways had a backpack in my shoulder, so did look like an outsider. We decided not to change compartments.
We both started laughing. She asked me, if I had tickets with me – I replied her, that my ticket was valid to VT. Then she asked me where I was coming from – to which I replied that I was coming from Bangalore and couldn't wait to reach home. When she came to know which station I'd get down, she said excitedly that she too lived there i.e the station I was heading towards. And that she had a friend waiting for her. Her phone started ringing so she got busy on the phone. After she hung up
( keeping the phone inside her kurta-top )
, we got chatting again, standing by the train entrance door. The breeze was blowing hard. She asked me if I was married, then told me that she had gone many times with her husband to the north-east. She was a Bengali and did have an accent.
I noticed, she was dressed up in a shiny maroon kurta dress and had quite a lot of make-up on. I was tempted to ask her, if her husband allowed her to go and meet some friend so late
all alone
. From her talks, she gave the impression that it was a female friend, so I didn't ask anything. Moreover, she also had said that she lived in the same place too. She then told me she'd go towards east as she didn't know the area too well, as I was going east too. I got more confused and asked, how come she didn't know the area if she was a resident there. 8 years she lived in Bombay, she had said earlier. Seeing her trying to give rather strange explanations, I decide to keep my thoughts to myself further on and went to sit on a bench instead. She joined me there too. So, again we got chatting random stuff – like, this station will come after that station, Bombay weather etc.
In between, she called her friend(s) several times. She looked quite restless and fidgety too. To someone she said that she would'nt be coming back home that night
( by her tone, I assumed it was her husband )
. To me, she kept saying
( several times )
that her ( pagal )friend would be waiting for her
for some party
( birthday?).
Phew! My station did come at last and we both got down. She walked along side me, and we both climbed up the bridge. As we headed east, she quickened her footsteps. She suddenly told me that she could remember the area now
( after requesting several times earlier to guide her :o )
and thanked me.
"Oh I know the area now. Acha mai chalti hu, Mera customer khada hai us platform mei.
( I can see my customer waiting for me in that platform below )
," she said, and rushed off.
Customer?
( wasn't it some friend she kept telling me throughout the journey, eh? )
I saw her hurrying down the steps and walk towards a male who was waiting in the dark. It was almost 12 midnight then. Realizing who she was atlast,
a prostitute
, I shrugged and rushed home.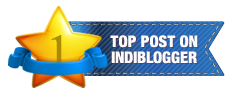 This post is part of the A-Z challenge for April'2014. Except Sundays, post everyday with 26 alphabets. Check Alphabet 'O' Post -
Here
---