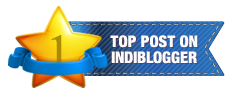 Copyright -Claire Fuller
"No smoking! Keep that signboard always in mind," the workshop owner guided new employee Neil, around the place. "And yeah, don't get nervous if you see Teddy around. He still comes by and keeps things in check."
Neil assumed Teddy to be some supervisor.
At night shift, Neil was all by himself welding the metal. Tired, he took out a cigarette. He remembered the warning, but shrugged and lighted anyways. He heard loud footsteps approaching him and next moment a tight slap!
"That was Teddy," the owner told him next day.
He had died in fire-accident and still kept watch.
❤❀❤
This 100 words post is for Friday Fictioneers
Pin It Now!
Copyright 2014 © Nandini Deka
---