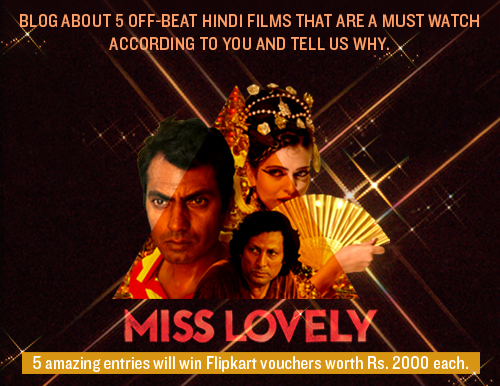 If someone asks me which are your favourite popular hindi movies - I go in an instant trance of recollecting memories of all movies that I've watched till date. My mind starts flashing scenes/songs/dialogues from various movies, and I'm like --- yes! this one, that one, oh that one too. I mean, the list of my favourite movies is just endless. In the end, I don't know which to pick and choose as my absolute favourite. But if someone asks me which are your favourite off-beat hindi movies, then my list is quite ready. First, the number of off-beat movies are far less, so its easier to remember. Second, these are some rare precious gems in a mountain of rubbles :-) So, here they are in random order, my 5 all time lovelies!



Get your favourite movies from FLIPKART!


ARTH :- I was a teenager when I first saw this movie. The story impacted my mind a lot because I had witnessed marital-discord from quite near, in real life too. Its a story of an extra-marital affair, which I later came to know was based largely on the director's own personal life. The story moved me totally ( though think I was not really of age then to watch it ). Though I wanted to hate the other woman for disrupting a couple's married life, I pited and almost felt sorry for her own gnawing insecurity & loneliness, inspite of being a successful and famous actress. Hats off to the powerful acting of both the lead actresses Smita Patil and Shabana Azmi, I was mesmerized throughout. The song from the movie 'tum itna jo muskura rahe ho', really touches with its deeper meaning.

MASOOM :- A child out of wed-lock who comes searching for his father, who in turn is reluctant to accept him completely as his own son. This story had me bursting in tears every few moments. I loved the 3 children's acting and have sung the song 'lakdi ki kaathi' my entire life. Matured acting by seasoned actors Naseeruddin Shah and Shabana Azmi has me, till this date, asking for more every time I watch the movie. Lost count of how many times I've watched it. The songs of the movie are haunting and soulful. No wonder, it was super hit inspite of being off-beat.

SAARANSH :- To be honest, when I was watching the beginning of the movie, I was yawning away completely. An old man running here and there, wasn't making sense at all at first. Until, I really paid attention, that is. This is such a moving tale that watching it is a must. A twenty something Anupam Kher then, did such a marvelous job that had me convinced that he was of grandpa age. The story of him going about the bureaucratic jungles for his dead son's ashes had me literally crying in the end. A real masterpiece by Mahesh Bhatt.

JAANE BHI DO YAARON :- This is one laugh riot that had me falling off my chair every time I watched it. And yes, this is one movie I never get tired of, no matter how many times I watch. Its a comedy and oh! What great comedy it is. Naseeruddin Shah and Ravi Vaswani carry the rich man's corpse ( Satish Shah ) all over, with rival-villians like Pankaj Kapur and Om Puri baying for their blood. The story is of builder mafia, and how all hell break loose after a newly built bridge collapses. It has some thrill nail biting moments too along with its famous Mahabharat scene which is a comedy of errors. A one of a kind movie. I totally loved it. The end is bit sad though, when both rival villians get together to finish off the two leads. But then you can watch it again, and the laugh riot would start all over :-)

A WEDNESDAY :- Naseeruddin Shah is one of my most favourite heroes in off-beat cinema. The work he has done in the film 'A Wednesday' is highly commendable. I identify a lot with this movie, because it deals with the frustration one has to deal with, because of the system. We are attacked again and again by terrorists, yet when it comes to taking action - the government gets sissy. A common man - old one at that - he decides to take matters in his own hands to deliver justice. Anupam Kher also has a very interesting role. This is one movie that had me watching it in total awe! The screen play is gripping and tight; and you literally sit on the edge of your seat throughout the movie.



¸¸.•*¨*•♫♪¸¸.•*¨*•♫♪¸¸


Well, there are a few more off-beat ones ( also known as parallel cinema ) that I really like eg. Slumdog Millionaire, Kahani, Earth etc ( find list - Here )
Reason being simple - these movies are more realistic. The stories in them are often closer to facts or real life situations, which makes them more interesting unlike the popular ones that have absurd stories with silly song and dance, which actually makes no sense. Well, I love them too! But I'm glad the younger lot of film makers are experimenting these off-beat themes more and audience are gradually lapping them up too :-)

¸¸.•*¨*•♫♪¸¸.•*¨*•♫♪¸¸
Pin It Now!

❤❀❤

---