..¸¸.•*¨*•♫♪¸¸.•*¨*•♫♪¸¸
FROM FIRST IMPRESSION TO MARRY ME BOLT


I had thought that the ZEST was the ultimate Rockstar heartthrob, until I met BOLT! Yes, barely was I recovering from the massive crush I had on the Zest this summer, in Goa, that Tata Motors decided to set my winters sizzling with the hottie named Bolt!

I love cars, there's no two ways about it. I've been driving since I barely passed out from college, so cars have been something I've always looked ~ not just for convenience as in fast and smoother transport, but I regard them as true partners for life as well - the one with whom we can enjoy too albeit being little safe. And the hunt for a true partner or 'true love' in cars was on for quite a while. I guess it was telepathy, cos' just then I got an invite from Blogadda/Tata Motors to check out the new Bolt! Was it the one I was searching for? Will it be my true love or maybe more? Naturally, without wasting a moment, I registered and very soon was on my way for my first blind-date with Bolt!



..¸¸.•*¨*•♫♪¸¸.•*¨*•♫♪¸¸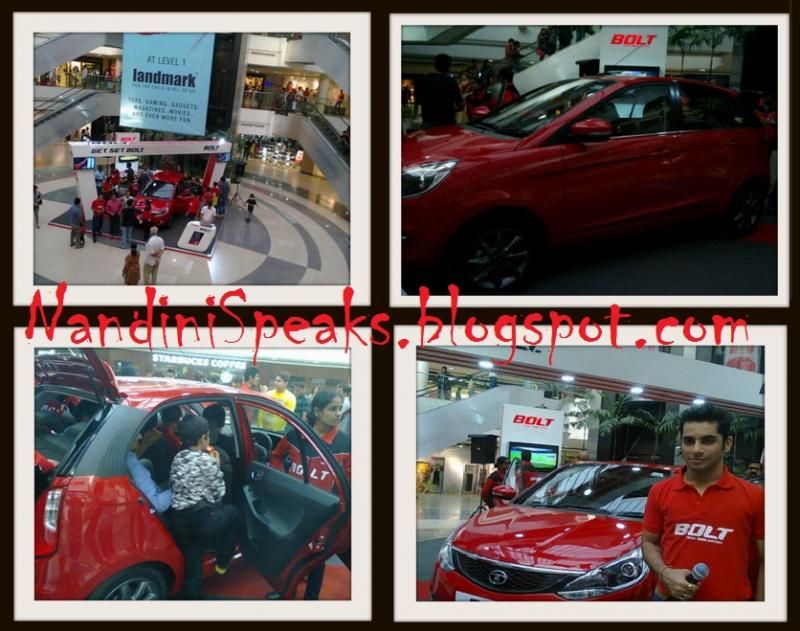 The Mall where the Bolt Arena was set up - was buzzing with activity, as I noticed from far. The Red Hottie aka BOLT stood with all its elegance, with the crowd clamouring over it - all eager to get inside and feel it for themselves. I too gaped at it, wide-eyed, it was a beauty alright! And as they say about first impressions - I was instantly attracted to the Bolt. One of the Tata Motors staff greeted me ( who also posed readily ) and informed that bloggers were coming and checking out the car, since the previous day itself. Ah! The competition was tough, I gathered. But I couldn't give it away that easily now, could I? I was all set to give a tough fight and make it mine. And yes, I'd love it to be mine forever. Why forever? you may ask. Well..see its amazing features for yourself. Who wouldn't want to own it? Infact, I'd love to marry it :-) Bolt, will you marry me?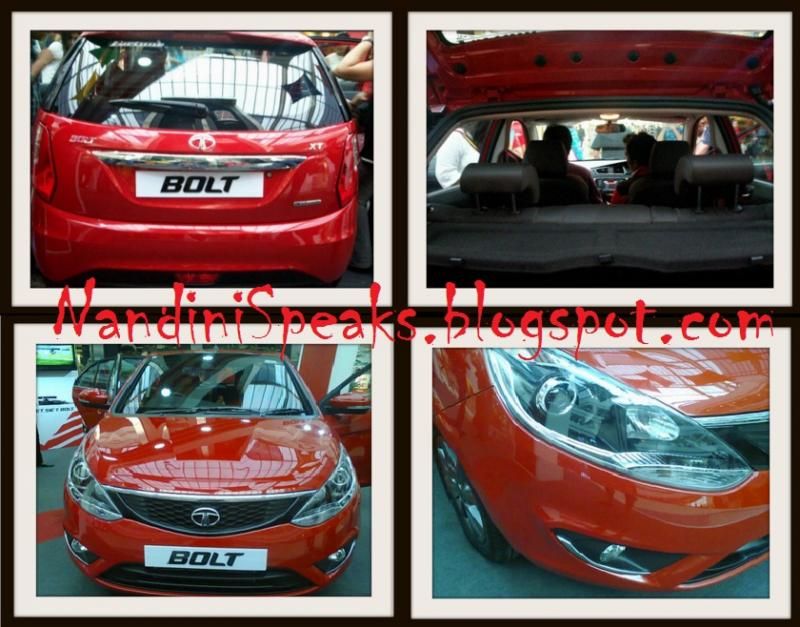 As you can see, I clicked the Bolt, from almost every angle. Its sleek exterior as well as interiors had my jaws dropping to the ground in awe. Aimed at the young-aged groups, the Bolt will surely be a hit with both young as well old - they'd feel young with it you see ;-) So, what are the 5 features I loved most about the Bolt? Check out for yourself!



..¸¸.•*¨*•♫♪¸¸.•*¨*•♫♪¸¸
1. Multi-Drive ~
I race my car, or save fuel too,
With flick of a switch, I balance the two,
A single car, you so understand,
Adapting yourself to my various moods.

A first time ever feature, that's bound to make your driving so much more exciting. Choose three different modes in the same car to get three different drive results. Speed along the long highways/freeways with the 'Sport Mode', get the ultimate feeling of no less than driving a formula race car itself. Switch over to the 'Eco Mode' and save fuel. And then, by the time you reach city, switch on the 'City Mode' to maintain a perfect balance of the two. DriveNext!


2. REVOTRON ~
That throbbing heart you've got,
Beating, in core of your body,
A machine it may be, for rest of the world,
For me, its your power soul.

Engine is the soul or life of any car. It is the only one aspect that gets the vehicle fully going to its full potential and the turbocharged MPFi Petrol Engine of the Bolt is all set to do exactly that i.e give an exceptionally powerful driving experience. PowerNext!


3. DUAL AIR BAGS ~
Alert, you'll always take care,
Looking after safety, sturdy you're,
I know, we can rely on you,
Like a guardian, you'll protect the family.

For safety, to show that Bolt cares, this feature with 9th Gen Abs by Bosch™, is highly applaudable. With its 'Corner Stability Control' & 'Dual Air Bags', the Bolt ensures, that you stay in control at all times and drive safe with the advanced safety features. And with such high number of accidents occurring everyday and many casualties too due to poor or none air-bag safety features, this measure was much needed. Hats Off GenerationNext!


4. SUPERIOR SPACE ~
In you, I can feel the comfort,
In you, I can move free,
In you, I can relax too,
In you, I am pampered glee.

And Comfort! I absolutely loved this feature, as with the Bolt's spacious interiors you truly feel comfortable and pampered. I sat a while inside and felt its magic for myself. You don't get cramped and the back-seat can easily hold 3 people. Not just drive, I'd love to be a passenger too in this amazing car and sink into its comfortable rugby shoulder seats. DesignNext!


5. TOUCHSCREEN INFOTAINMENT ~
You make the journey, a luxury,
Music, maps, and even internet,
I never feel I'm on the road,
With your impressive hi-techs.

By Harman™Access! Get enthralled by an array of entertainment and super connectivity features! Bolt is equipped with smartphone enabled navigation from MapMyIndia™ and advanced voice command recognition, that takes care of all our modern tech-needs, while on the move. Can it get any better than this? ConnectNext!



..¸¸.•*¨*•♫♪¸¸.•*¨*•♫♪¸¸
Some more of the BOLT. Can't get enough of it now, can we? ;-)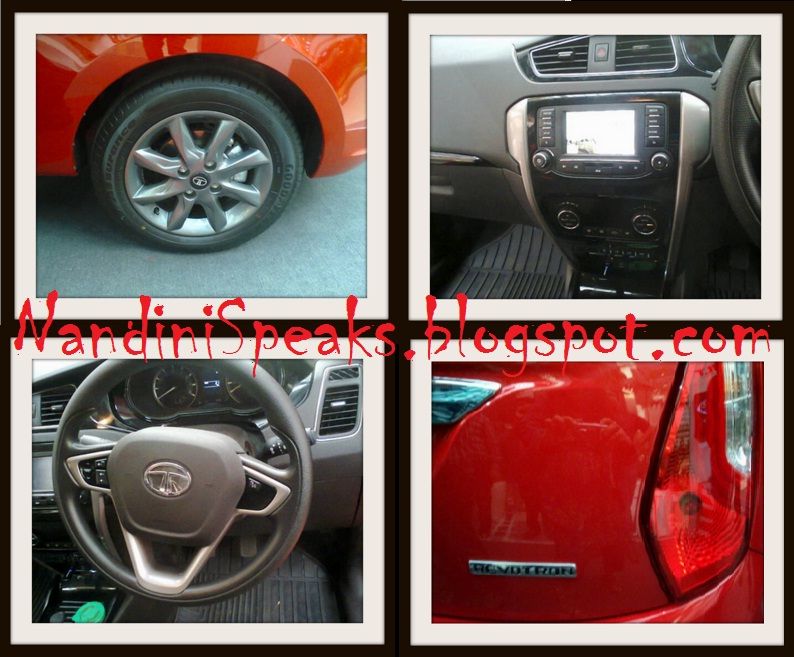 BOLT - Technical Specifications
Petrol Model
Diesel Model
Engine
Revotron 1.2T
Quadrajet 1.3L
Max Power
90 PS@5000 RPM
75 PS@4000 RPM
Torque
140 Nm@1500-4000 RPM
190 Nm@1750-3000 RPM
Gear Box
5 Speed MT
5 Speed MT
Dimension
[L x W x H] (mm)
3825x 1695x 1562
<---- Same


Tyres
Steel - 175/65 R14
Alloy - 175/65 R15
<---- Same


Steering
ePAS [ Electric Power Assist Steering ]
<---- Same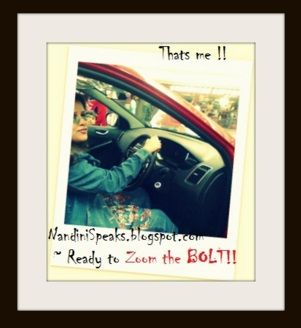 So, lastly there's me all set to marry the BOLT and vroom off together on our Honeymoon!
..¸¸.•*¨*•♫♪¸¸.•*¨*•♫♪¸¸
Pin It Now!
❤❀❤


( Images - TataBolt & ©Mine )
Stay Connected & Follow my Updates on the blog's GFC | GOOGLE+ | FACEBOOK | TWITTER | BLOGLOVIN | NETWORKEDBLOGS
---