5 black things that I desire and why. Let's give it to Black!
¸¸.•*¨*•♫♪¸¸.•*¨*•♫♪¸¸
Black fascinates me ---- See the template of this blog? It BLACK!
While people go for lighter tones in the their blogs, spending lots of money, I've kept this 'Classic' Black blogger template for years now ~ and shall continue doing so! Many people told me to change it, go for other colour templates etc. But I remained adamant. I simply loved it. And I do things to please my eyes first. So, the Black stays ~ now and forever. Besides, on a black background, other colours stands out too. Black enhances my Blog manifolds and I'm proud of it! It remains my prime possession. To compliment my blog, I've my laptop a sleek black-beauty too! Both look supa-awesome.

1..¸¸.•*¨*•♫♪¸¸.•*¨*•♫♪¸¸
I attended two of Blogadda's prestigious events WIN'14 and A Billion Ideas Meet this year. Do you know what I wore for both the events? No prizes for guessing. Yeah - Black! My wardrobe is filled with all things black. T-shirts, Tops, Dresses, Scarfs, Stoles, Slacks, Tights, Trousers, Stockings etc, even my footwear is Black. So blacks outfits are forever in my wardrobe's wishlist. I can't imagine my life without it. My desire is always to own these gorgeous outfits ~ more the merrier.

2..¸¸.•*¨*•♫♪¸¸.•*¨*•♫♪¸¸
My earliest memory of fascination with Black, is the Slate-Board, my mother had given me when I was a kid. I'd scribble on it all the time, and I guess from that time my interest in writing got sparked. Later on, as the teacher would write on the huge blackboard in our class-room, I'd day-dream of when the classes would get over ~ so that I'd get to play around and mimic the teacher and write things on the blackboard myself. My interest was so extreme that I'd buy those flexible-rolling blackboards with my pocket money, and would love playing school-school with other neighbour kids. I still have few of those, and it helps me quickly escape to my childhood even today. So, my desire is always to relive my childhood through these.

3..¸¸.•*¨*•♫♪¸¸.•*¨*•♫♪¸¸
I also love sketches and charcoal art. Which are like Black beautiful magic weaved on paper. I'd stare for hours at these works of art ~ totally hypnotized. So real-to-life they look even in just a few strokes, by an expert-artist. It is my deep fascination that led me to pursue the art. While colours may breath life to canvas, its the black sketches drawn that always form the base. Even sculptures look majestic when they are crafted into black stone and polished to shine. So my desire is always to bring loads of pencil/charcoal and immerse myself in this mesmerizing art.

4..¸¸.•*¨*•♫♪¸¸.•*¨*•♫♪¸¸
When I grew up, and learnt bit about beauty - I got hooked on to the Black Kajal pencil. Those who've met me will always see my eyes darkly drawn beautifully with Black kohl. I love the smoked look. You don't need heavy make-up on your face. Black Kajal can make you look gorgeous 24x7. It's one thing thats forever with me, whether I'm at home or outside. So, its my desire to own the black kajal pencil 24x7, even though I may skip other make-up items.

5..¸¸.•*¨*•♫♪¸¸.•*¨*•♫♪¸¸
I want to get lost in the Black Forests. Oh yes, the lovely Black Forests. Now, these are the only thing in my list, whose name not just contain the word 'Black', I absolutely n' madly love them too. No, these are not some dark woods with scary animals, ( which I find intriguing by the way - adventure lover that I am ), but these are my favourite pastries. I get them regularly from my favourite cake shop, and I'm insanely addicted to them. The dark chocolate, looks so exotic and tempting over the cream and more of the black chocolate sprinkled all over. Oh, how I love digging the Black forests. Digging my spoon into it, that is, and scooping up heaps of delicious mouthfuls. Oh...yum! Its my desire to daily gorge on the yummy Black Forests.

¸¸.•*¨*•♫♪¸¸.•*¨*•♫♪¸¸
Can you think its possible to mention just five,
when delights of the Black are infinite?
Can you think of a morning being possible,
without the Blackness of the night?
Can you think of a bright end of tunnel possible,
without the thrill of its long corridor Black?
Can you think twinkling of the stars possible,
without the carpet of the sky behind Black?
Can you think a chessboard is possible,
without the white squares challenged by Black?
Can you think reading a book is possible,
without the printed fonts Black?
Can you think rains are possible,
without the clouds turning black?
Can you imagine even your existence possible,
without your own shadow Black?
Can you remember without fondness
the cinema of black & white gone-by era?
Can you remember the first Television box,
in the early 80's without nostalgia?
Can you enjoy a movie in a cinema-hall,
without the pitch Black setting?
Can you imagine your colour-TV even now,
without that Black screen?
Black was, is and always will be
an integral part of not just our lives,
but of this Universe!
Enjoy Black! Black you Rock~


¸¸.•*¨*•♫♪¸¸.•*¨*•♫♪¸¸





Pin It Now!
❤❀❤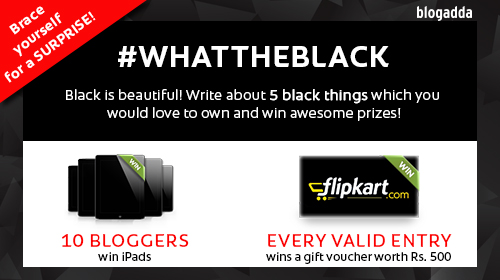 ( Images : BA )
|
A mane of gorgeous sleek hair, a sexy but classy LBD perfect for every occasion, ​​a crisp suit which can make any man look suave and dapper, a pair of intense kohl lined dark eyes which rule any lover's heart… the list is endless! Black is also the colour of mystery. The kind of mystery that leaves you intrigued!​ A sleek smart phone, a well fitting pair of trousers, shiny pointed shoes with high heels, that could add that special touch to your sex-appeal almost instantly, a smart pair of shades, a swanky car…..yes, you can go on like that!​ ​Many of us love black. We are allured by its dark, sometimes intense, brooding power. But we can never get over its charm. We all have our reasons. "Oh, black makes me look thin!" or "Its my lucky colour!".
---