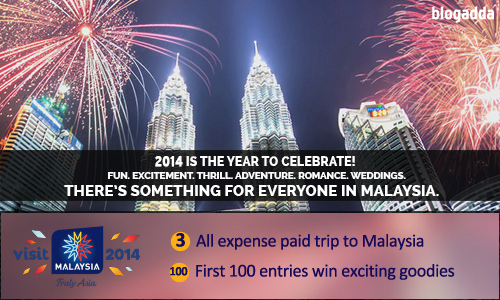 When we were young, on TV, we always used to see an advertisement "Malaysia - Truly Asia". I used to love the tune so much that often I'd hum it. Of course that time, I didn't have much idea about this mystical South-Asian country. But after internet made its way into our lives, I finally got to see the 'magic' behind that old television jingle. Being a travel buff, I devour travel sites and travel to places though their mesmerizing pictures and videos/travel shows. Given a chance I'd love to visit them too, for real ( my reason for taking part in this contest as it gives that chance to a lucky few ;-) . Seeing pictures of Malaysia truly left me speechless. To list only 5 things that I want to experience will be injustice to this beautiful country, that offers such a plethora of unique sights and delights. Anyhow, I've added a video below ( my old favourite jingle in new avatar ) to get an idea about what a wonderful range of Touristic pleasures Malaysia has to offer.

Welcome to Malaysia - Truly Asia!

When I visit any place I have a few things in mind. I want to explore all its Nature & Wildlife to the fullest, check out the Entertainment - the place offers, absorb the History & Culture of that place, go on a souvenir Shopping spree and relish the Local Food - all these I believe, enriches our experience of that particular place. Those are the 5 must-do's on my travel itinerary. So listing my must 5's in that order below :-)



1. Nature : Malaysia is a beautiful country blessed by nature. From forests ( for trails, jungle walks, waterfalls and other tranquil spots ), beaches to exotic islands and colonial towns it has so many different things to discover, at every turn. To pick from one among them is very difficult - Nonetheless, I'll choose the wild Mulu Caves located in the Gunung Mulu National Park in Malaysian Borneo for the ultimate adventure. Sarawak Chamber, which is a World Heritage site is the largest cave chamber in the world. These caves are known for their limestone and also underground rivers. ( Read - Here )



2. Entertainment : I had this idea that only cities in western countries looked so modern. But Kuala Lumpur proved me so wrong and made me re-think. Here was a place that could beat any western cities hands-down! It looks so hi-tech, I'm simply awed! So its obvious that - it is one of my 'must visit' Dream Asian Destination in Malaysia. The Petronas Twin Towers, the KL tower, the Natural History Museum, the Bird Park are just a few of the many names that springs up in mind, which are in Kuala Lumpur. I wanna experience this city!



3. History & Culture : Malaysia has a unique and vibrant blend of Chinese and Indian cultures. Moreover, with its adoption of Islam, the country has a rich heritage of Islamic texts and arts too. And the best place to discover its past, is by paying a visit to its various Museums, Palaces, Temples, Heritage-Walks etc. The Melaka Sultanate Palace Musuem in Malacca is a great place to start. Artefacts, different Art-works, Photographs gives a glimpse of how life was in the past. The Tian Hou and Cheng Hoon Teng Temples. St.Paul's Church, A Formossa Fortress, Stadthuys, Bukit China and Kampung Kling Mosque etc are imprints of various cultures that inhabited its past. They and more such will definitely keep the history buff and architecture lovers like me on their toes.



4. Shopping & Spas : Besides the KL-Malls, enjoy shopping at some famous shopping streets eg. Petaling, Pavilion, Central Market, Little India, China Town etc in the main city, and when at other towns make sure to visit the local market-places/shops. Buy the authentic ethnic local produce and bring home exciting souvenirs. I'd love to lay my hands on the famous Batik Fabric of Malaysia - which is a unique and unusual handicraft. Buy tones of beautiful Sarongs and batik hankys. There's also Pewter goods, Wood carvings, Basketry, Woven Pandanus, Nyonya-Beaded Slippers, Malaysian Tea, Coffee & Snacks, Traditional Medicines & Herbs and miniatures of the famous Landmarks, besides a whole lot of items - truly a shopper's paradise. Yes! I wanna experience shopping in Malaysia & indulge in its Oriental Spas for a good traditional herbal massage.



5. F1 : I so wanna experience the F1 in Malaysia. Formula 1 is no longer a monopoly of the west. Malaysia has its own impressive F1 race track - The Sepang International circuit that has hosted quite a few of the Grand Prix. It has become one of the main tourist attractions too, specially for those who love motor-sport adventures. As the mean machines vroom on the tracks at break-neck speed, I'd definitely wanna be part of the hollering crowd on the sides and cheer them on ( 2014 Grand Prix ). If I get an opportunity to flag off a race, that'll be icing on the cake. So, Yes! I'd love to experience this adrenaline pumping thrill that Malaysia offers too. ( Read - Here )


Left to Right : Green highlands, Pristine Seas, Cave with Golden Murugan, Temples, Rainforest Islands and the Modern city! Malaysia has something for all & many!
¸¸.•*¨*•♫♪¸¸.•*¨*•♫♪¸¸

Discover Malaysia - Truly Asia ( Watch Longer Version - Here )
Pin It Now!
❤❀❤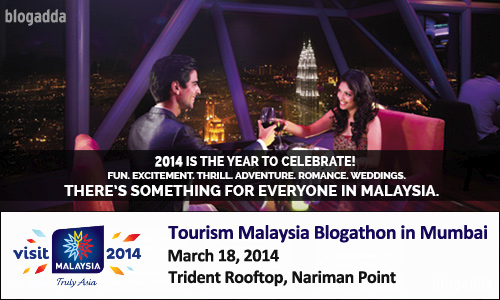 I am participating in the MB Contest in association with BlogAdda
( Images Courtesy : Tourism Malaysia & Google )
|
Malaysia as a country is a bubbling, bustling melting-pot of races and religions and offers a range of delicacies making available a gastronomical paradise for the people. It is a warm home to hundreds of colourful festivals. A place which offers innumerable reasons for you to fall in love with! 2014 is the year to Celebrate, Explore, get Inspired and Escape into a Truly Asian Paradise called Malaysia!
---