See, the picture below? Notice the mesmerizing green hills behind all that concrete? Well, that's where the travel bug actually bit me. Those breathtaking hills over looking the mighty river Brahmaputra known as Kharguli and Nilachal hills, surrounds my birth city - Guwahati on all sides. And in foothills of one of those hills, my school friend used to live. Almost every Sunday, I'd land up at her place and pester her to trek those hills along with me. And throughout the day, we'd roam the mini woods and climb up those heights, exploring many hidden tracks on the way. It was an adventure I simply loved. My friend would get tired from all that walking, but I'd pull her along.
Well, those were the carefree, wild childhood days. Life went on and very soon I left that city behind, and moved to an even more bigger concrete jungle, Bombay ( Mumbai )! With no hills to explore, often by the sea shore, I'd miss those silly adventures back in my home town.

However, I soon realized, go a bit away from Bombay and those adventures can start all over again. And it can really blow your mind away too, 'cos the hills there are mightier than those mini hills back in my home town, hence a greater challenge. Maharashtra countryside, I discovered, is really cool and ideal for road trips/treks. In every nook and corner you'll find something new. From north to south, are the majestic steep Western Ghats. The foothills sometimes touches the Arabian seashore and sometimes withdraws abruptly. The enchanting hill stations of Maharashtra like Matheran, Mahabaleshwar, Chikaldhara, Malshej, Lonavla, Khandala, Karla, Panchgani, Amboli, Jawhar, Bhandardara and Igatpuri etc, with some really cool 'landscapes' & 'escapades' to trek are nestled in these mountainous ghats ( some at an altitude of 2000+ mtrs ).

The hill stations are clean, calm with cool, crisp mountain air breezing the soaring high peaks, with views of breathtaking valleys below and are full of lush flora, waterfalls etc. A great place to watch different migratory birds too. Nature is at its best here. A perfect weekend escape, these places are really refreshing to explore after the helter skelter of a hectic city life. All these different hill stations has their own unique offerings to explore and experience by the enthusiastic traveller. And the best thing is that Bombay city is easily accessible, hence, a perfect gateway to Maharashtra's hilly country ( all well connected by road, rail, and air ).

My father had a fiat ( old model ) those days, and I had got my new licence ( my last year in college ), what can be more tempting than that? Though the car was not really made for rough trips on hilly terrains, I'd indulge my whims and off I'd go to explore the outskirts of the city. I'd take the car slowly to the highway, and then let the adventurist streaks in me take over the steering wheel. Very often some of my college mates also accompanied me in these short trips. Trust me, travelling with friends is whole lot fun! One of my friends had a rustic jeep, so we'd hop on that too at times to give the 'old' fiat some rest. Our adventures were as rustic. Sweat, dirt, tiredness would cover us by the time we returned and not to mention 'smell' too.

We'd plan ahead and every other weekend we'd set out to explore the majestic ghats outside Bombay, go as far as we could ( sometimes as far as Igatpuri too ) and try to come back within the day, so as to escape the wrath of my worried parents. But soon I passed out from college, and we all drifted off in our different paths. Few times, we did continue to meet and went on such trips, however as time passed such outings became lesser and lesser, ( with most of my friends gradually getting married and settling down ). Until one day I got a call.

Majestic and Beautiful Western Ghats of Maharashtra - TRUELY WOW!
"ND, yes its me yaar, Jeenu. Just came down from UK. How have you been, long time no see." It was my college friend Jeenat. Its been almost 6 years since we last met, so I was quite surprised at the sudden call.
"Heya, good to hear you Jeenu. Yes, its been a long time. I'm cool yaar." I replied.
Jeenu was exactly my replica, with the same adventure 'bone' firmly rooted in her. I wondered if she was still the same.

"Yeah, I know you are always cool ND. Listen, I'm here in Bombay for a few days. I was wondering if we could catch up like old times," Jeenu's voice sounded as excited as ever. I felt she was always on a high, even after so many years.

"Cool, come down over to my place," I responded.
"No ND, I meant really like old times," she replied.
At first I didn't understand what she meant, but hearing the excitement in her voice I could guess pretty soon.

"Really?" I asked.
"Yes, you remember Radhi? She has also come down from Delhi and my cousin from Bombay, Azuz is lending us his Tata Safari. So, ready girl?"
Of course I was, it was like - neki, aur puch puch!

Soon, in the next couple of hours we started making quick plans over the phone, where to meet, our destination and activities etc. We decided the farthest hill station from Bombay ( something we hadn't explored yet, it'd be fun ), with an overnight plan if necessary. Recently, on an Indiblogger Meet, I had test ridden the Tata Safari, so to actually go on a trip on it was pumping my adrenaline already. It was the month of May ( last year ), and monsoons were yet to come. I was bit apprehensive about the hot weather, but also knew that my friends would be soon gone. So, we had to have our trip during that time only. But I was relieved with the knowledge that the mountains that awaited us would be much cooler. I just hoped the journey would be as pleasant too.

So, on the D-Day ( friday ), I soon heard the honk of the Tata Safari near my balcony. It was the bronze model, looking quite sexy, sturdy and ready. I met Jeenu and Raadhi and also Azuz who decided to accompany us at the last moment. ( Probably he was too scared to hand over his precious SUV to a bunch of ladies, who could go 'wild' any moment, like old times )

Azuz, drove the car smoothly and very soon we were speeding on the highway heading for the hills, leaving hot Bombay far behind. I saw Azuz switch on something near the car dashboard, and suddenly the air inside the SUV was transformed into a rush of pleasant, fresh fragrance, soothing our nerves and senses.

"What is it Azuz? Its so refreshing and smells good too," I asked.
"Its the new Ambipur Car Vent Clip ( air freshner ) which is World's No.1 car air freshner," Azuz replied with a smile, glancing my way. "It'll keep the car odorless and us cool and refreshed throughout the trip. I'm using 'Sky Breeze', but there are four more exotic fragrances by Ambipur to choose from, making it an escape into freshness whenever you drive. You get ones for home use too. They are just awesome."
Azuz obviously knew his car well, and was quite updated with the latest accessories too. It indeed felt good. I snug cozily in my seat, enjoying the mild freshness that enveloped me. I forgot the hot, sweaty and smelly Bombay instantly.

After driving for a couple of hours, we halted for fuel refill as well as some food on a road side 'dhaba'. Azuz was quite talkative in nature and so soon, he got chatting with the dhaba owner and asked him about interesting places around, if there were any. The dhaba owner then told us all about a stream and waterfall nearby, which was a popular picnic spot.
"But be careful," he warned us, "the road to the waterfall is very dangerous, with steep falls. Many accidents have taken place there. And, never ever go to the other side bank of the stream. There's a purana quila 'fort' there, which is haunted."

The word 'haunted', had some kinda hypnotic effect on Azuz, because on impulse, despite the warnings, he suddenly wanted to visit the place. So, to my ( our ) horror, soon the SUV was treading to the exact place, which was the 'hotspot' for accidents. We tried to caution Azuz, and advised him to be careful. But then we were on his car, so we were literally on his mercy now. The cool, fragrance of 'AmbiPur' air inside the SUV was trying to calm us, but our hearts were pounding. And surprisingly we were getting bit excited too, of what lay ahead ( old habits rarely die, do they ). We walked downhill the narrow path, till we reached the gorgeous stream and view of the waterfall from there simply mesmerized us. We had bought some potato chips and coke at the dhaba, so we girls decided to sit on the rocks and splash our legs on the flowing stream water, while Azuz fulfilled his new crazy hobby of spook hunting.

"Be careful and come back soon," Jeenu called after her cousin, "remember, we have to reach before dark."
"Dont worry, I'll be back in a flash," Azuz picked his camera and started crossing the stream.
"I want to go too," I couldn't resist myself saying.
"Shut up ND, you sit right here," Radhi said, "Let's hope Azuz really sees some ghosts and comes back running."
We all giggled, and started chatting, catching up on all the years gone by, when we were out of touch. The water of the stream gently flowed beneath our soaked feet, along with its soft humming rhythmic sound, while we munched on the wafers simultaneously.

An hour passed, we got bit quiet and wondered why Azuz wasn't back.
"Should we go and check on him?" I asked.
"Lets wait some more time, if he isn't back in another half hour, we'll go searching," came Jeenu's reply.
Azuz was a young, well travelled man, so we weren't worried straightaway. He freelanced as a journalist, so he naturally had a curious mind, and was used to this kinda inpromptu thing. But when another hour passed, we started getting anxious. What if, what the dhaba-wala said was really true? Besides, we were also warned not to cross the stream, so we were a bit wary about doing that as well.



Old Haunted Fort near the Stream


"I'm going to check on him," I declared, when few more minutes passed. This time the other two didn't stop me. They also tagged along slowly behind, as worried. The other side of the stream had woods, so we all walked as close to each other as possible. No, sooner we had walked few yards into the woods, we heard a loud yell. It was Azuz, he had spotted us ( or heard us perhaps ).
"Go back, go back," he yelled. We saw him then. He was running frantically towards us. He was in a totally disheveled and panic state. "Go back to the car, fast," he said again, nearly screaming his lungs out.

Hearing the urgency of his voice, we all turned and started running back the way we had come. It was a mad rush till we reached the SUV, with Azuz not far behind us. As soon as we reached, all huddled inside, he started the car rapidly and moved out as if a scary ghost was hot on his heels.

"What happened?" All three girls asked at the same time, gasping for breathe.
"You were behaving as if you saw some ghost!" Radhi spoke then.
"I saw much more than just a ghost. Hold on, I'll tell you in just a moment." All the running had him ( and all of us ) perspiring. Azuz switched on the Ambipur Vent Clip again, and the fresh fragrant air slowly filled the car.

Once we were at a safe distance from that place, Azuz relaxed somewhat, and started telling us what exactly had happened. As planned, he had gone inside the deserted fort. Soon, he heard some noises coming from inside the structure. Curious, he went exploring further. Someone was talking in hushed tones, he found. They sounded human. Then, from a crack on the fort's wall, Azuz saw something that was quite unbelievable. Some people were carrying some strange looking boxes around. They were big boxes. Some of them lay open too, where to his surprise Azuz saw, were currency notes in bundles, of all denominations. It was a fake currency racket he had stumbled onto, he realized. Realizing the importance and gravity of the situation, with his journalistic instincts taking over, Azuz instantly got clicking pictures. But, just as he was trying to get a better view, he stumbled upon a rock and fell down, making a loud noise. The people inside the fort heard him, and rushed outside. One of them carrying a gun, spotted him. "There he is," he yelled.
"Kill him, kill him," another one screamed back, "don't let him escape."
Azuz then made a bolt and ran away as fast as his legs could carry.

"Phew, that was close Azuz," I said, "thank God, you made it on time."
"Yeah, but got some pretty cool pictures too. So no regrets at all." Azuz replied with a smile. "That racket gonna be busted soon."




The Road, The Car, The Companions, The Adventure and Ambipur = PERFECT TRIP!




~~~o~~~


So it happened, after that rather adventurous trip, Azuz handed over his clicks to the local cops. His material proved extremely handy in busting the myth that the fort was haunted,( while it was actually being used for dubious activities ) and also in catching some dangerous criminals who were working to destabilize the economy. Azuz's article on the whole episode was also published in the local newspapers. A bravery award was also announced for the same, to applaud and honour him.

Its been over a year since that incident. Both my friends Jeenu and Radhi are now back at their respective places, but after such an adventurous trip, we all have promised one another to get back together again, very soon! We had enjoyed the rest of that particular trip too, but the wild running in the woods ( that day ) - up the flowing stream - and up the narrow dangerous track of the hill ( till we reached the Tata Safari ) and taking refuge in the SUV's safe, welcoming confines - and finally fleeing the place at break-neck speed, takes the cake altogether. The memory of it all, still lingers on fresh as does the freshness and fragrance of AmbiPur who had accompanied us on that 'perfect' road trip!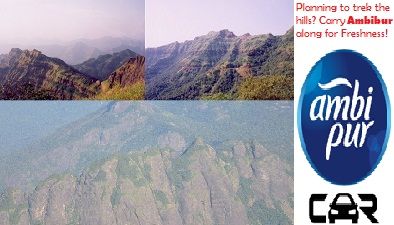 ❤❀❤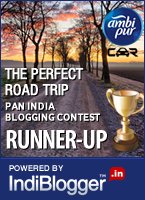 This post is part of 'AmbiPurIndia - The Perfect Road Trip' Contest by
AmbiPur India
in association with Indiblogger | Liked it? Then please
'VOTE'
for it >>
HERE
( Images : Google )
Winning post of The Perfect Road Trip Contest in association with Indiblogger
---