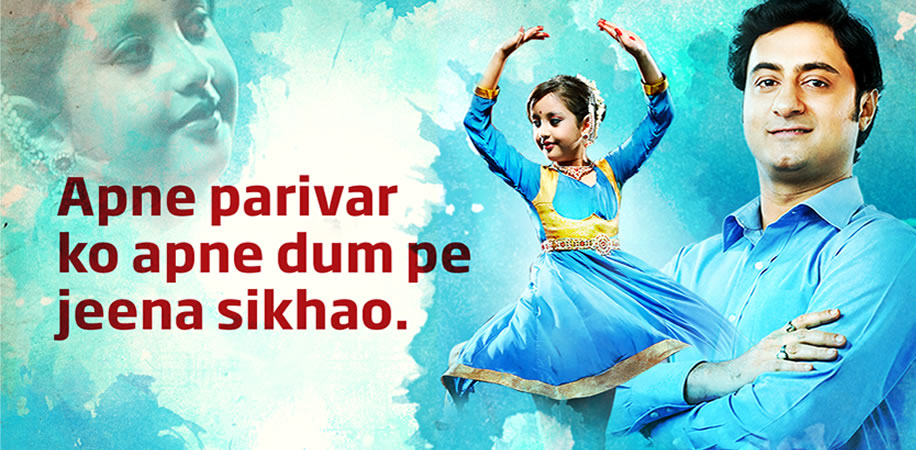 ¸¸.•*¨*•♫♪¸¸.•*¨*•♫♪¸¸

Amit looked at his watch nervously. He was in the hospital, with his wife Ananya admitted in the hospital's labour room. It was the due date, and along with excitement there was a sense of worry too. What if something goes wrong? They were both looking excitedly towards their baby's arrival and had planned for quite a long time. They both wanted a cute little daughter and had even thought of a lovely name for her - Aadyasha, but had ultimately left it to the almighty though; they'd accept whatever God wished.

After hours, when the doctor emerged from the emergency room, with his head held down, Amit immediately sensed something was wrong. He rushed up to the doctor, who on seeing him, shook his head regrettably.
"Ananya…? The baby? Is everything all right, Doctor?" Amit could only gasp out the questions nervously, his sixth sense already hinting that something had gone terribly wrong.
The doctor shook his head again, "We tried our best Mr.Amit. We couldn't save …"
"What ..what do you mean? Ananya, is she all right?" Amit could barely believe his ears. His whole world was threatening to come crumbling down at any moment.
"I'm sorry Mr.Amit. Your wife Ananya couldn't make it. We tried our best, all our experts. However, there's a good news as well; we did manage to save the baby. But..," he paused before continuing, "there were some complications in the entire delivery. So, we'll have to monitor the baby's growth for few years. Chances are everything will turn out okay in the end, but this monitoring will be necessary as we detected some minor irregularities in the baby's brain area, that's not normal like other newborns. And it's a baby boy by the way, Mr.Amit. Congratulations." With that he slowly walked off.

Amit didn't know whether to laugh or cry. His whole world seemed to be dangling from a bottomless cliff. On one hand Ananya his beloved wife was no more, and on the other hand he had a baby-boy born with birth defects. Well, the doctor did say things might turn out okay….but it was still just a possibility not an assurance. On that fateful day, Amit realized, life was so unpredictable. Human beings were so fragile. Anything can go wrong at any moment. Nothing was in our hands. Everything was controlled from somewhere above.

-0-


The next few days went by as in a daze. Thankfully, Amit had his mother come over who helped him manage his little son. He and Ananya had once decided long ago, they'd accept anything God wished. If God wished this upon him, then he'd accept that too, Amit decided. He was crushed, but he won't stop living. He still had his mother and son, so, not all was lost yet. He'd live for them especially his baby. He poured all his love on his little baby boy; his only precious symbol of love left, of his dearest wife. He reminded him so much of her, those twinkling eyes. Remembering what the doctor said, Amit knew, the road ahead would be a tough one, especially for his baby and decided to make plans much ahead – so that in any circumstances, his son did not face any difficulty and became self-reliant. He bought a long term insurance policy from HDFC, that'd ensure his son a secured future even if he's not there. Cos' life is that uncertain.

When his little son ( whom he named Anand, in remembrance of his late wife Ananya ) was three years old, the doctor confirmed his doubts. The child was slow in learning, compared to others of his age and would need to attend a special school in the future. Amit took in the news braveheartedly. He needed to be strong for his child. And he was. Although, he was going though pain, he decided to chuck that pain and look at life positively and infused positiveness into his child as well. With a secured plan for his son from HDFC that he had invested in wisely, he had nothing to worry about as well and encouraged his young kid to live life fearlessly. He didn't treat him like a special needs child, instead, Amit treated him just like his best buddy. His example encouraged others ( who had witnessed the trauma and experienced similar situations ) to ~ Sar Utha Ke Jiyo and Apno ko Apne Dum Pe Jeena Seekhawo!
Life is indeed unpredictable. Its not in our hands. But with certain advanced financial planning and getting a secure insurance policy cover for your loved ones, one can indeed make the situation somewhat better. And yes, that's in our hands :-)
¸¸.•*¨*•♫♪¸¸.•*¨*•♫♪¸¸

❤❀❤

( Images - IB ) |
HDFC Standard Life Insurance Company Limited. In partnership with Standard Life Plc. Insurance is the subject matter of the solicitation. The life insurance product(s) would be underwritten by HDFC Standard Life Insurance Company Limited. For more details on risk factors, terms and conditions and exclusions please read the product brochure before conclusion of sale.
Stay Connected & Follow my Updates on the blog's GFC | GOOGLE+ | FACEBOOK | TWITTER | BLOGLOVIN | NETWORKEDBLOGS
---