¸¸.•*¨*•♫♪¸¸.•*¨*•♫♪¸¸
We Indians, like things BIG! Well, don't get the naughty meaning here. What I meant is look around. See our lifestyle i.e way of living - its Big! See how we celebrate our festivals - in a Big Way! And the number of festivals that we have? - A Big number of them! Ah..and the Gods & Goddesses and all the rituals attached - Too Big a number to count! Example, have you ever seen the various Puja pandals in different cities/towns/
villages and the idols in them? Notice their sizes? Ah...they are Big! How much do we spend on Diwali itself? On crackers, clothes, sweets and even gambling - Big Money! Why only Diwali, be it marriage or winning a cricket match too. We celebrate in a Big manner. Talking about marriage, ours is the perfect example of a Big-Fat Wedding that every community must have, with a Big number of guests bringing in big gifts. And the number of communities and their own traditions, cuisines, attires, languages & dialects that we have - A Big number of them. Infact, we have plenty of names for the word 'Big' in different languages too. Vadde Vadde - in Punjabi, Boro boro/bhishon bhishon - in Bengali, Bade Bade - in Hindi, Dodda Dodda in Kanadda, Periya Periya in Tamil etc.
I could go on and on, on both positive as well as the negatives. For example: Our poverty is - Big! Our corruption is - Big! Promises politicians make - is Big! the Black-money stashed abroad - is Big! and Our population is - Big! infact it is bursting at its seams. See the over-crowded roads, buses or trains to get an idea. Imagine a crowded plane too??! We currently even have the Big Boss 8 house running too, in prime time, with Big-Big fights in them :-P Ah, never ends, does it?

Now, what Indians have done in even bigger way is, migrate to various countries ( across all continents ) and settle down there in Big numbers ( I have couple of my relatives and almost all of my school friends settled abroad as well ). That have in turn, influenced almost all those places in a big manner too. The influence is so big, that almost all aspect has been touched in some way or the other.
Lufthansa Airlines ran a #MoreIndianthanYouThink campaign just recently. Why do you think so? Its because the whole world is too overwhelmed by the Indians everywhere. Nobody can escape the Culture, Food, Ayurveda,Yoga, Iskcon even Science & Technology etc impact by the Indians, that have been quite Big in their lives including their economy! In fact, in that campaign, all the bloggers covered how the world has become more Indianized in a Big way too! And the number of entries in it - were Big! Lufthansa itself couldn't escape it as well and had to imbibe more Indian-ness in its hospitality & service, as big crowds of Indians uses its flights everyday ( while travelling to all corners of this big world ) and thus impacts their revenue in a Big way. And when impact is Big, one can hardly ignore it ;-)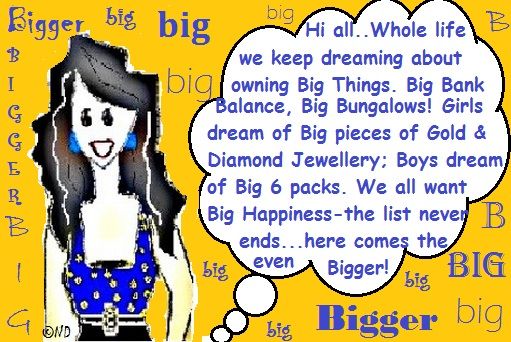 Sketch - ©Mine


So, when everything is Big, its only natural that the world's biggest aircraft ( #LufthansaA380 ) comes to serve this big civilization that has been one of the most oldest and biggest, since time immemorial ;-) Where a smaller plane can only take a handful of passenger in them, this Big aircraft can carry almost double the amount - hence, Big again! It is also bigger inside - as in more spacious, where people can enjoy bigger luxury and bigger comfort in their travel. Bigger is Better, indeed. So, lets celebrate and welcome in a BIG way, as Lufthansa Airlines takes over the Indian aviation sector and the Indian skies in a BIG manner too. Do you know how long Lufthansa has been operating in India? Since pre-independence! Can you imagine, what 'big' number of years that makes it? Well, I can't wait to hop inside the BIG GREEN GIANT and feel its 'big-ness' for myself :-) #LufthansaA380, when are you taking me along for the Big Germany trip? Hope, I've impressed you big, with this big blog-post of mine ~ which is of course incomplete without the Big pictures below \:D/

See the Big ...errr 'GIANT' Bird for yourself ;-)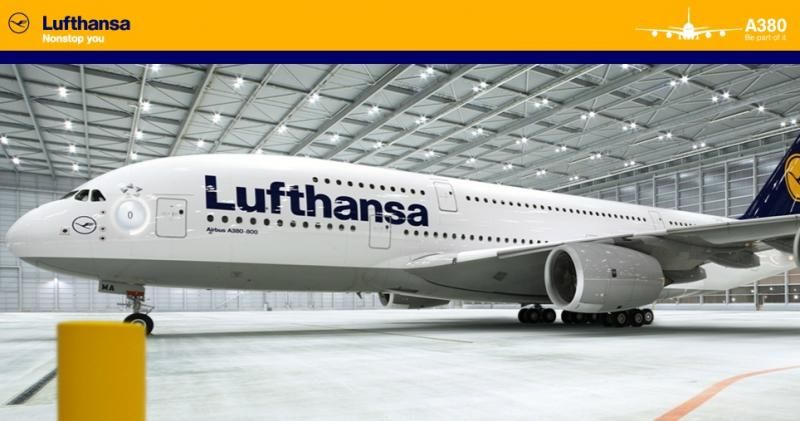 It rests in its own exclusive BIG Hangar, with top quality maintenance rendered by experts, even higher than that of Airbus's prescribed standards. Its body is shielded with two coats of protective paint that can withstand extreme temperature fluctuations. It also reduces the weight which helps in fuel efficiency so does its four Roll Royce turbofan engines that are relatively noiseless while being extremely powerful.


At Airport, the passengers rest in the Luxurious Lufthansa Lounge before boarding; with some of these lounges having direct priority gates for boarding. While boarding too is fast with 3 bridges, one upper for the business and first class, while 2 for the economy. Special catering service ensures everything is loaded for its 500 passengers, while luggage logistics ensures smooth and fast loading and unloading.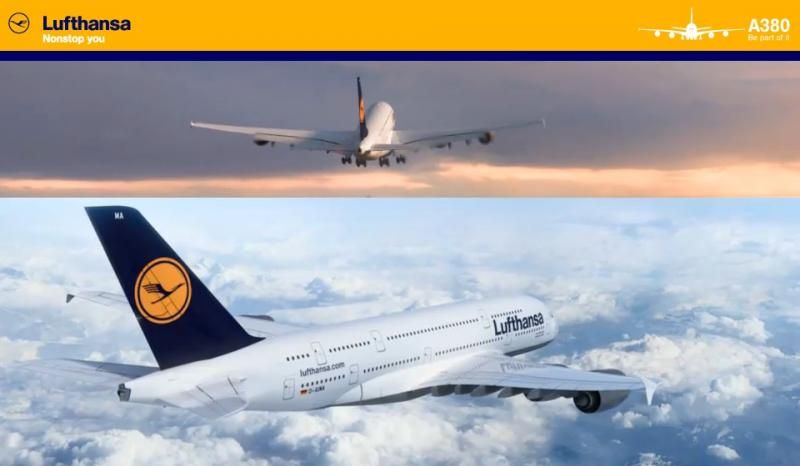 As the flight takes off, we have the cockpit that is equipped with the most latest and modern of technologies, networked with ground control with just two flicks of a button. The tail as well as other external cameras gives real-time view of the flight, the plane and the landscapes not just to the pilots but to all the passengers as well, in their entertainment media box. The wide wings of the plane is a marvel of aeronautical engineering.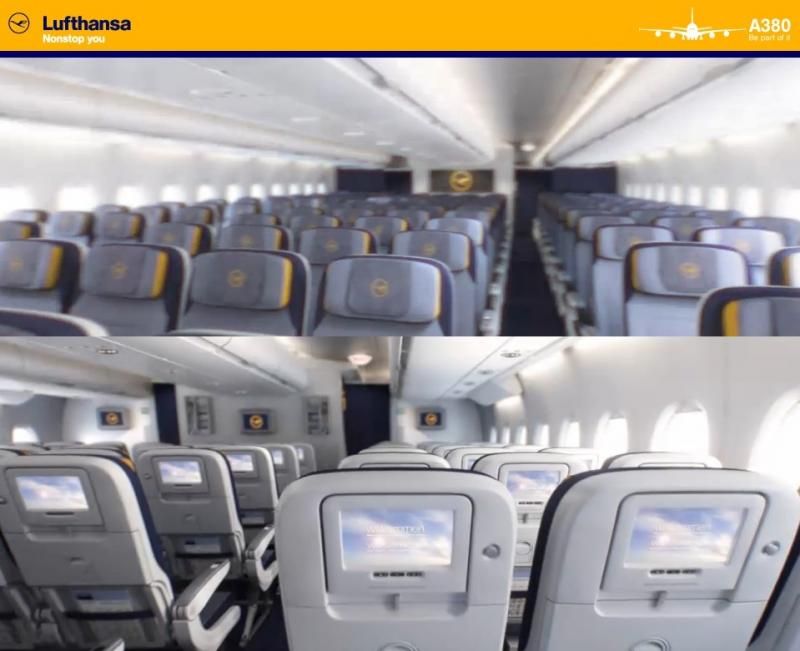 The Economy Class holds the largest volume of passengers, but they are served by trained-to-perfection crew that looks after all their needs with personalized service. The design of the cabin makes the whole main-deck look and feel spacious. The seats are comfortable with ample leg room. Its media box besides programmes, also has special kid's stuff.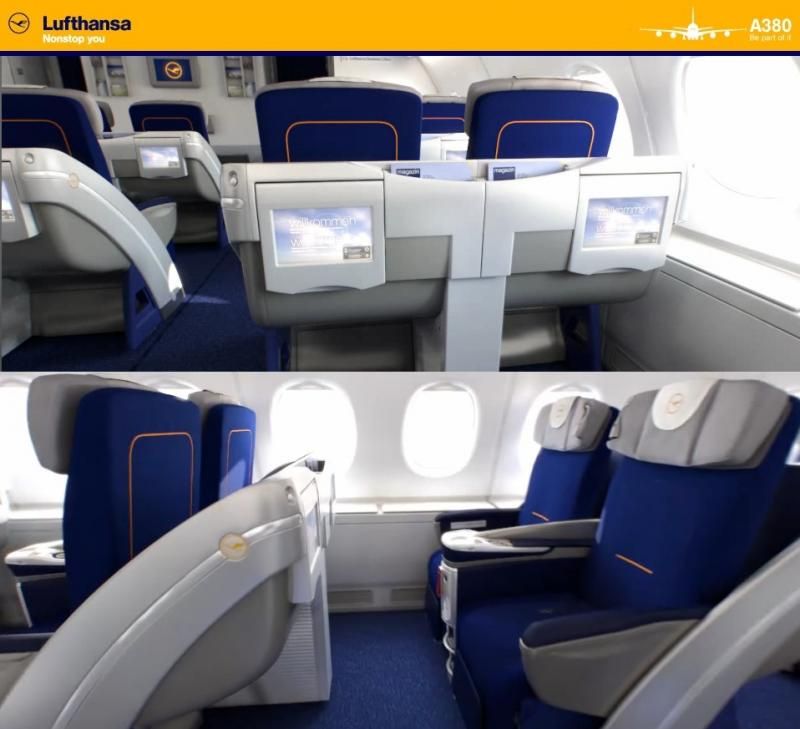 The Business Class has very comfortable seats that are flexible and hence adjustable to a number of position along with its unique 'shape-system'. The material used are of high quality and is visually appealing. Its Media box has a large collection of movies ( 100 ) in multiple languages and radio channels, along with the bird-eye-view live cameras.


The First Class is obviously the best in terms of quality, look and comfort along with wider range of privileges too. Even the air here is made special with humidfiers and soundproof special carpeting that mutes noise to a large extent, hence, giving total privacy.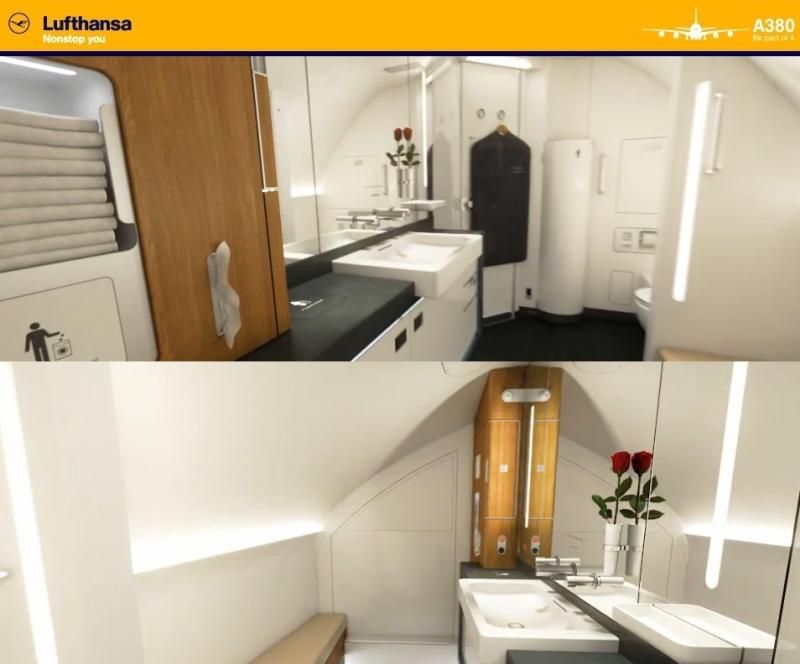 First Class Bathroom for the first-class passengers, well equipped with luxurious amenities to make the flight not just relaxed and comfortable, but refreshing too.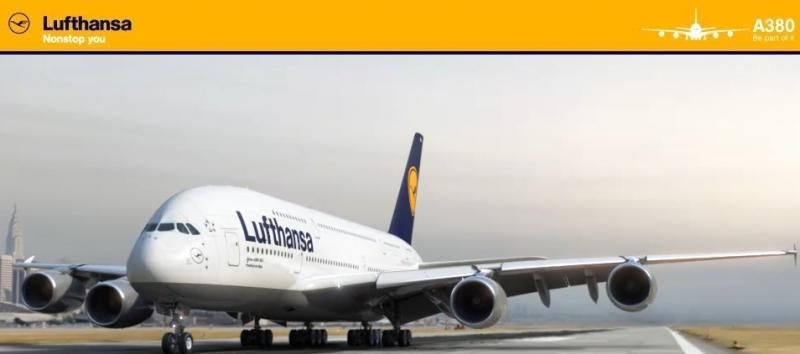 And the Big-Bird with its Big Load of passengers lands with all its glory.....



¸¸.•*¨*•♫♪¸¸.•*¨*•♫♪¸¸


Do read My Virtual Tour of the Lufthansa A380 - Here!
Pin It Now!
❤❀❤



Stay Connected & Follow my Updates on the blog's GFC | GOOGLE+ | FACEBOOK | TWITTER | BLOGLOVIN | NETWORKEDBLOGS
---