¸¸.•*¨*•♫♪¸¸.•*¨*•♫♪¸¸
Let me first confess, I've never been out of the 'well' so to speak ~ i.e never been out of India; hence, my knowledge of authentic Italian or Chinese Dining Table layout is very limited, with most of the foreign culture and traditions being absorbed mainly from the Television box or watching a handful of movies. When it comes to Indian too, it is quite difficult to say which style is most Indian, because, India itself has so many different sub-cultures & traditions clubbed together within it. So, going by gut instinct only, and with the plethora of choices that FabFurnish offers in its site, I've arranged the following Dining setting arrangements. They maybe erroneous, but trust me, they are arranged with outmost love ;-)

And FabFurnish - OMG! You guys simply stunned me with the wide range of products you stock, with multiple payment options, and prompt home delivery right upto my doorstep that customers like me can be easily spoilt crazy. From big funiture to minutest of home decor, you guys stock everything, and I was literally tempted to buy it all. Hats off for being the Pioneers in Online Home Furniture/Furnishing retail. Such a respite it is for working people like us, from having to go out in the sweltering heat, in those crowded malls getting pushed about, and getting frustrated too with limited items that they stock, not to mention the extra expenses incurred while carrying the bulky items home. Whereas, with the amazing discounts offered at FabFurnish, along with the ability to buy with a click of a mouse sitting in the comfort of my home from a well-navigable website with clear categorization of products, saves me so much of my hard earned money. So, thanks bunch FabFurnish.

Easy Navigation and Product Categorization, along with Attractive Discounts and Free sign-up Vouchers ~ the ultimate shopping destination it is!

¸¸.•*¨*•♫♪¸¸.•*¨*•♫♪¸¸

So, without any further delay, here are my Dining Setting Layouts ;-)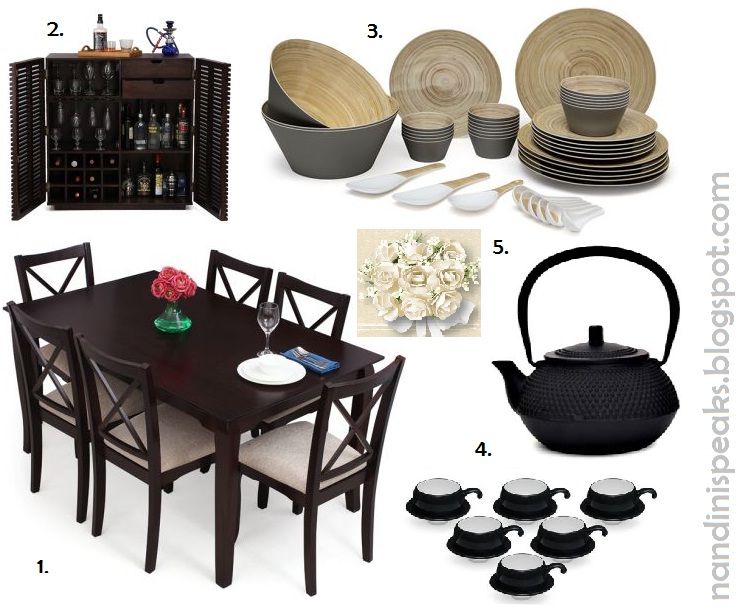 Stuff I bought for Italian Dining Setting ~ 1. Fab Home Munich Dining Table Set of 6 @Rs. 40499/- | 2. Uno Bronx Bar Cabinet @Rs. 25999/- | 3. Valerio Premium Dinner Set of 42Pcs @Rs. 5432/- | 4. Clay Craft India Lilyput Cup & Saucer White & Black Set of 12Pcs @Rs. 1163/- | 5. FreeLance Floral Cream Paper Napkins Set of 20Pcs @Rs. 199/-

Made of Solid Wood material ( Rubber Wood ), the elegant Walnut coloured Dinning table set with its Beige coloured upholstery ( made of Premium Fabric ), instantly won my heart for its uber-cool design. Handcrafted, this expertly designed exquisite set is perfect for the perfect dining experience. Chestnut coloured, with multiple drawers, wine holders, cabinets and shelves, the sturdy compact designed bar cabinet with ample storage is just the right choice. The dinner ware and crockery set along with the beautiful floral paper napkins does give an European/Italian feel to it. I'm so ready for my delicious pizza and pasta meals served in this dining setting.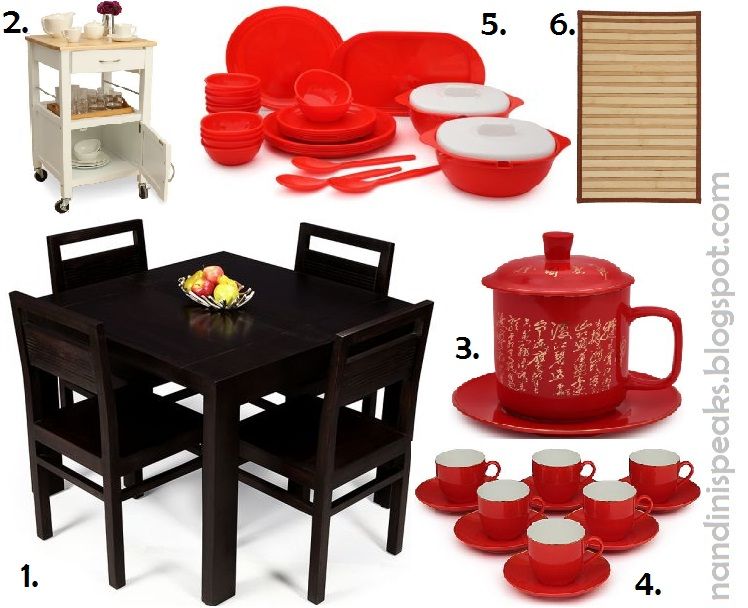 Stuff I bought for Chinese Dining Setting ~ 1. Fab Home Federal Dining Table Set of 4 @Rs. 26990/- | 2. Fab Home Boston Kitchen Cart @Rs. 6249/- | 3. Oxford Cottage & Cover Chinese Theme Red Mug With Saucer @Rs. 650/- | 4. Roxx Dazzle Red & White Cup & Saucer Set of 12Pcs @Rs. 1510/- | 5. Sugam Omega Red Dinner Set of 30Pcs @Rs. 1680/- | 6. FreeLance Stripes Bamboo Plus Table Mat Beige Set of 6Pcs @Rs. 895/-

When I think Chinese, I think 'compactness' in its design and 'red' as its prime colour. So, for dining table I chose the compact one, and for dinner ware and tea set I kept shades of red/maroon. Knowing the love, oriental people has for tea ( of all kinds ), I've added a portable kitchen cart too, that can be used beyond this dining setting ~ say outside/in the porch etc. All the furniture & utensils are durable+long lasting. So, all the delicious chinese hakka noodles, spicy manchurian soups & starters etc be ready - here I come :-)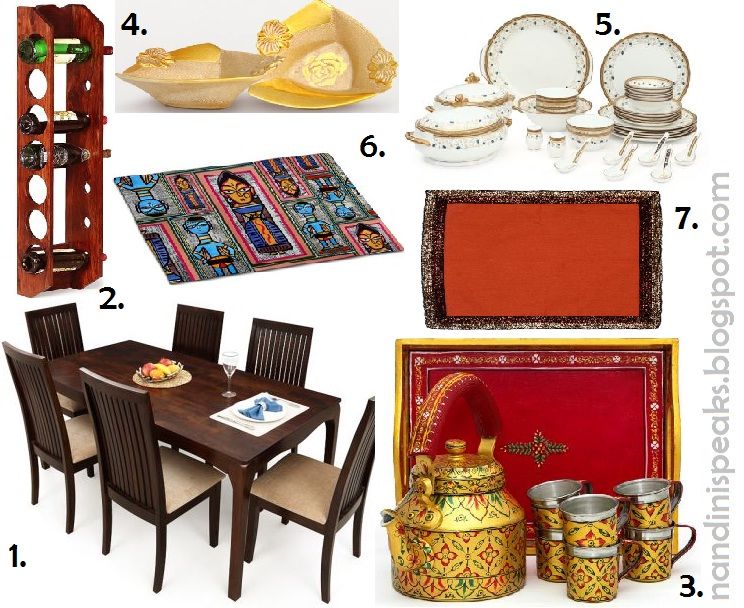 Stuff I bought for Indian Dining Setting ~ 1. Elmwood Estonia Dining Table Set of 6 @Rs. 49999/- | 2. Elmwood Flute Wine Rack @Rs. 3999/- | 3. Kaushalam Red And Gold Tea Set of 8Pcs @Rs. 4800/- | 4. Reve Ceramic Platino Bowl 2Pcs @Rs. 367/- | 5. Clay Craft India Karina Gold Dinner Set of 36Pcs @Rs. 12325/- | 6. Tungs10 Poping Art Table Mat Set of 6Pcs @Rs. 1399/- | 7. Bianca Coffee Napkin Brown And Orange Set of 6Pcs @Rs. 396/-

Colourful and full of contrast, that is India. I've gone ahead and chosen quite a mix-match of different ethnic as well as modern contemporary dining sets, keeping the base i.e dining table itself quite sombre. The tea sets instantly grabbed my attention and how! It'll instantly transport you too, to the deep traditions of India; along with the bright golden-worked paan or nuts server bowl sets served in the table mats that are equally arty ~ so Indian. The dinner ware is kept with 'royalty' in mind, of which India had no dearth of, in its hay days. And Indian food ~ we have no dearth of variety in it too, right? India is home to so many different delicacies, that this dining-set alone will not be enough to cater them all. We'll need to add hundreds if not thousands of dining settings to do proper justice to cuisines from all the corners of India. Such is the yummilicious variety that India offers \m/ Someone please start serving, my mouth is watering already, and I can barely wait ;-)

Do go through all the links above to grab them, as they're getting 'sold out' fast. Thanks a lot PioneerChef & FabFurnish for this amazing fun activity. Enjoyed it thoroughly :-)


¸¸.•*¨*•♫♪¸¸.•*¨*•♫♪¸¸
Pin It Now!
❤❀❤


This post is a part of The PioneerChef Blogger contest by PioneerChef and FabFurnish
Stay Connected & Follow my Updates on the blog's GFC | GOOGLE+ | FACEBOOK | TWITTER | BLOGLOVIN | NETWORKEDBLOGS
Winning post of #PioneerChefFest contest in association with FabFurnish
---