Breaking all myths is a splendid country,
Nestled in a corner of the Gulf's Deserts mighty,
But, surprising is that more than dunes sandy,
You find yourself where beauty of nature is plenty...

Lo' and Behold...my dream plane just landed in Oman. Come, I'll show you around as I go about discovering this beautiful place ~

¸¸.•*¨*•♫♪¸¸.•*¨*•♫♪¸¸
Where pretty lagoons adorned by pristine seas,
Pleasant locales for couples and families,
While lovers find romance near its secret beaches,
Family go boat-riding, in fabulous yatchtes,
A Paradise no less, you mesmerize,
Oh! man...Oman you leave me spell-bind.


Famous Lagoons like Khawr AlBatah, Khawr Al Maghsayl, Bandar Khayran Reserve, Khawr Najd, Khawr Sham and many more will leave you breathless with its various life-forms that exist in its unique ecosystem. Great picturesque places to explore.



¸¸.•*¨*•♫♪¸¸.•*¨*•♫♪¸¸




Where mountains come down to touch the seas,
Where Seas look divine, both above & beneath,
My heart goes pumping as adrenaline rushes high,
To explore adventures of a different kind,
Rugged beauty, nature's been so kind,
Oh! man...Oman you leave me spell-bind.


Oman has lots of mountains that brings along with it lots of flora and fauna. Must visit are Al Jabal Al Akhdar ( Green Mountain ), Jabal Shams ( Sun Mountain ), Natif- Hasik ( Water Mountain ), Samhan and Lion's Jaws Gate etc for that breath of fresh air and lots of adventure.



¸¸.•*¨*•♫♪¸¸.•*¨*•♫♪¸¸




Where civilization is near, yet so far away,
When unexpected places comes your way,
Watch the reflection of those rocky terrains,
In a mirror that is natural, unique; yet so plain,
Contrasting sights keep you hypnotized,
Oh! man...Oman you leave me spell-bind.


Visit the Rock Garden in Wilayt AdDuqm and the Canyons ( Grand & Snake ). Watch nature's works of art; of uniquely sculpted rocks-forms and deep Cliffs with your own eyes, that'll keep you stunned for sure.



¸¸.•*¨*•♫♪¸¸.•*¨*•♫♪¸¸




Where the yellow deserts beckon, and in joy you yelp,
Cos' its time to travel the famous ship of desert,
Camels so tall, on its back you're safe,
It takes you around on that unforgettable trek,
Wonders of sand-terrain leaves you overwhelmed,
Oh! man...Oman you leave me spell-bind.


Go on a Desert Safari, climb sand dunes and experience the traditional Bedouin lifestyle at The Empty Quarter, Bawshar Sands & Ramlat Tawq deserts.



¸¸.•*¨*•♫♪¸¸.•*¨*•♫♪¸¸



Where adventure don't end unless you camp the night out,
Underneath the sky, full of twinkling stars,
Keeping up the thrill, you spread out,
Wonder what gonna happen next,
While wind blows mild,
In morning you're up & ready for more of such delights,
Oh! man...Oman you leave me spell-bind.


A'Sharqiyah Sands are beautiful camping areas in the Sultanate, where the Sand colours changes from red to brown. The sea shore nearby leaves you with more activities on hand ~ like barbecues or swimming.



¸¸.•*¨*•♫♪¸¸.•*¨*•♫♪¸¸




Where exotic turtles and desert mammals reside,
View also, the scarce species, endangered,
Time to explore the fauna habitats,
On offer, are so many surprises,
On toes you keep, not a single dull moment,
Oh! man...Oman you leave me spell-bind.


Watch 5 different species of turtles that come from the surrounding seas to lay eggs on Oman's shores at Duqm Beach, Isole Al Hillaniyat, Al-Dimaniyat Islands Nature Reserve etc. Go Dolphin & Whale watching and not to mention other birds. Yeah, horse-racing as well.



¸¸.•*¨*•♫♪¸¸.•*¨*•♫♪¸¸




Where architecture paints the history of the place,
Castles, forts, museums or beautiful mosques,
Walking the lanes of cities, both old and new,
Something to learn, every step; every turn,
You let me know you and feel rich by opening up,
Oh! man...Oman you leave me spell-bind.


There are more than 13 famous castles eg. Al Ainayn Castle, Al Ainayn, Jabreen Castle etc to get insight about the powerful and wealthy Arabian culture of the past. The engineering and architecture of these ancient structures will surely impress. Forts are a plenty too - more than 9. Famous ones are Al Jalali Fort, Al Mirani Fort, Bahla Fort etc. Some of these are Heritage Sites. While there, have a glimpse of the Sultan Qaboos Grand Mosque, Al Midhmar Mosque etc other religious sites for that distinctive Islamic Art & Design.



¸¸.•*¨*•♫♪¸¸.•*¨*•♫♪¸¸




Where mountains, deserts and beaches, I've all covered,
With lots of Arts, Architecture and enthralling wildlife,
Now, is the time to go souvenir hunting,
To bring back memories and make my friends envy,
Trips to the Souks introduces me to crafts that enchants,
Oh! man...Oman you leave me spell-bind.


An absolute delight for shopaholics like me, Oman has treasures to offer. Amazing craftsmanship will tempt you to buy them off the rack. Khanjar is a famous component and can be a great souvenir, along with other wood-crafts, palm-leaves products, incenses, silver-ware, textiles goods too. Can't wait to stroll the Omani market places. And relish Omani sweets - savour the famous Halwas.



¸¸.•*¨*•♫♪¸¸.•*¨*•♫♪¸¸




My dream is to sit down for a lavish Omani dinner,
Invite all natives as well sit with the royalty,
Chit-chat, gossip, exchange each other's cultures; habits,
A giant table laden with Omani delicacies,
Taste each and every wonder, the country has to offer,
Hope comes true, this incredible dream-trip,
Oh! man...Oman you have left me spell-bind.


No visit is complete without interacting with the locals. Oman has a mixed culture comprising of Arabs, even hindus. Infact, it's different terrains has different kinda people inhabiting them; and, it'll be fascinating to visit the quaint villages and absorb its rich culture and traditions. Omanis are warm and hospitable people so would love to sit and chat with them, along with a hot cuppa aromatic Omani coffee :-)



¸¸.•*¨*•♫♪¸¸.•*¨*•♫♪¸¸


Oh...my time is running out. Well, these are only few of the many delights Sultanate of Oman offers, that I've shown. But hold on, there's plenty more - visit the Oman Tourism website link below and have your fill exploring. It'll leave you spell-bound too, guaranteed.



¸¸.•*¨*•♫♪¸¸.•*¨*•♫♪¸¸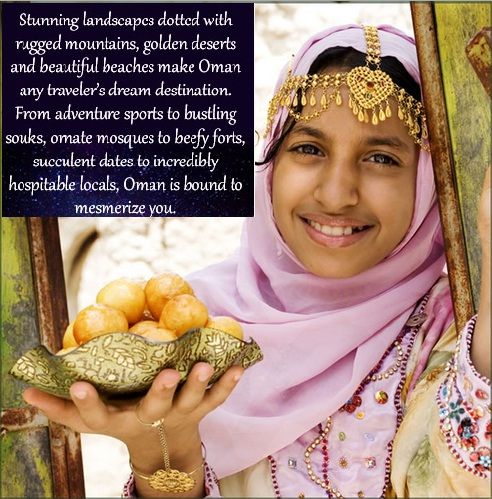 Oman's Traditional Sweet Dumplings ~ A Ramadhan Favorite
Pin It Now!
❤❀❤


This post is part of
Beauty has an address
contest in association with
Indiblogger.in
| Liked it? Then please
'VOTE'
for it >>
HERE
| ( Images - IB, Aviationnews.eu, airplane-pictures.net )
---