Hold on! If you're trying to click the 'register now' option above, then forget it. The event is long over. And you missed it.

Blogadda had announced their Awards sometime in July-Aug last year. I remember being very excited about it - because there aren't many of such awards are there, felicitating and honouring bloggers? ( except the Indiblogger Awards )! So, it was quite a new thing for us, considering some bloggers have been around for almost a decade. And though the time period for the final awards ceremony seemed quite long & far, we nevertheless waited with bated breath for the day to finally come. And come it did, atlast. On last Sunday, i.e 9thFeb'14!! And was I there? Of course I was. It was supposed to be a paid event ( costing around 1k+taxes ), but luckily I had won a 'pass' via a contest that was held for the same event. Phew!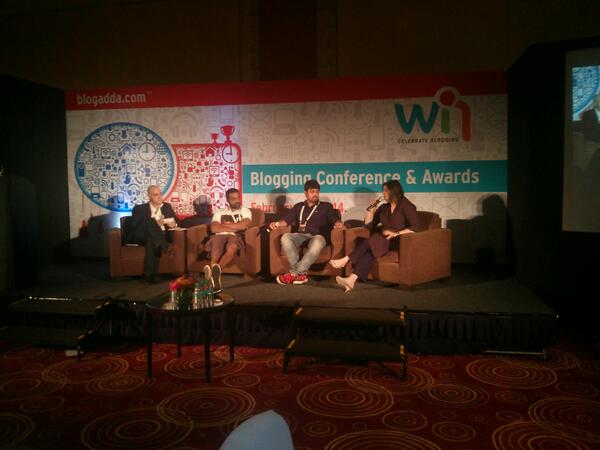 Check More Pictures From The Event - Here, Here & Here!

So, on the D-day, I was all set. I took an auto thinking it'll save time, but it didn't save me money though. And I shelled out 300bucks on reaching the venue. Courtyard Marriot is an impressive place, and for a while I was bit intimidated on entering it. However, the staff greeted me with sweet friendly smiles, so I was immediately at ease. They ushered me towards the Blogadda Events area and I was greeted with even more sweeter smiles by Blogadda's staff/volunteers who wore white T-Shirts with WIN written on their back. During registration they gave me a goodie back, asked me to pose for photo and invited me for a video byte ( which I skipped btw ). I then hunted for my other blogger friend, who had already reached the venue. So I went inside the hall and joined them.

Soon the event started and left me quite awestruck through out the day, in between tasty tea/lunch breaks. Ashwin Mushran played a great host, cracking delightful jokes and friendly banter that had us giggling away. Nirav Sanghavi, Founder and CEO, talked about BlogAdda's history and his thoughts behind it. 7 years of BlogAdda! Half awards were given just before lunch break and other before the event ended.

Ravi Subrananian first came up on stage. He asked, why did the blogger cross the road - obviously for better internet signal. He spoke about 'Power of the Word'. Pen is mightier than the sword, was said 170 years ago & we still remember it. Ravi told us that he started blogging after he started writing books and managed to write about 13 blogposts in 13 months. He was all in praise for bloggers and cautioned them to be productive while criticizing and not merely trash books. He gave his own example, when a reviewer had called his first book - a steaming pile of manure. But a negative feedback has a lot of learning in it too. And Ravi then went on to write successful books. "Be positive, Be Unbaised, Be a Blogger & not a Journo, Make a difference" - he says.


First session was by Anil P ( of Windyskies ) and Kavi Arasu. Though a bit long, Anil's session was interesting with importance of photos in blogs being the topic and Storytelling via Blogs. Indeed a picture tells a thousand words, yet a thousand pictures might not tell a single word. "When words become unclear, I shall focus with photograph. When images become inadequate, I shall be content with silence - Ansel Adams." Anil P shared his travel stories and the people he has met. One picture was quite an interesting one, which was of a Sadhu whom he met, and later went on to discover that he worked once upon a time in the army, and was representing almost every combat positions under the British Army during WW1. Kavi's session was humourous along with being insightful on how to tell our stories. He made it more interesting, by making it personal. "If he can do it, I can do it better. I would be delighted if I'm able to trigger that thought by the end of this talk. We don't know how and who our stories can touch. The universe is not made of atoms. It's made of stories. May we all keep telling stories. Going beyond being perfect and profound while sharing stories can increase the impact that it has on others." - he says. He started blogging in what he calls the 'age of innocence' - pre-Orkut, Facebook, Twitter and Ryze. Statistics ended the age of innocence for him. Parentous was the first place where @KavisMusings had got his picture first published. Giving his own daughter's example he said - How a fractured hand cast became a story. In a child's mind there are no 7 wonders but a million wonders. He gave a great insight that "writing for writing's sake" and not necessarily for others, is cool too.


Second session was by Lakshmipathy Bhat, Manu Prasad and Anaggh Desai ( in that order ). @Bhatnaturally took a look at some of the business blogs. He says - "Each medium has an advantage. Find it, use it. Once you pop, you can't stop. It's not about what the brand says, nowadays, it's about what the brand does." It was more about how companies are using blogs more and more to reach out to the people. A blog is more impactful, than perhaps a 30 second commercial that might disappear in blink of an eye. Blogs play a big role in today's advertising world by building brand visibility, recall value and credibility. Manu's session was quite long, but had lot of information packed in the slide-show presentation. From Alok to Alcohol explaining the The Big Blog Theory! While Annagh gave one with a humorous touch sharing some fun and light hearted incidents with the all important pointers too. "Scared, skeptical, but yet made it" - he says. ( Note : Almost all sessions had slideshow presentations )


Third session was with authors Ravi Subramanian and Kiran Manral. Both took in questions from the audience and answered quite a few of them. Do bloggers make successful authors? Not necessarily, however serious bloggers will always often write quite well. Written blogs will not be replaced by video blogs, well not yet. Also interesting was their view on Ebooks/self-publishing. Although they gave a rather bleak image that authors don't really earn well, they mustn't really stop writing and keep exploring all avenues ( my opinion ).


Fourth session didn't make much sense to me. It wasn't connected to blogging in any way. Maybe since Ekalavya Bhattacharya, Karl Gomes and Vasundhara Das were part of the jury ( if I'm not wrong ), they were invited for this session. They talked about Music, travelling and life etc. With previous speakers already having painted a gloomy picture with regards to books and music, @Karlgomes in the midst of all the jazz about travel, life, music added: 'Advertising is dead too!' That had the audience in splits. We were also given a glimpse of 'Saiyyon Assi', Vasundhara's upcoming number.


Fifth session had us gaping wide-mouthed as Shekhar Kapur took stage and held the audience enthralled. He spoke slow, but whatever he did speak made so much sense. He said that, the reason he tweets is because he is self-publishing and leaving a legacy for his daughter - leaving a little of you for your loved ones after you're gone. One person asked him if revolting etc wouldn't lead to chaos in society. He gave the example of M.K.Gandhi, saying that in the past, he too had done similar revolt which is now so respected. His golden words in the event were - "I have never supported Aam Aadmi Party, I've supported activism", "Music is not doing well because companies forced you to buy 12 songs when you like only one", "I'm not tweeting, I'm creating content. I'm a self publisher. Tell me how many publishers create content in a traffic jam.", "What social media has done, it has sucked inertia out of the system. Social Media is accelerating the change of pace. All social media is about content creation.", "Social media drives main stream media and not the other way around, in today's world.", "I can't tweet unless it's from the heart." After his speech, nearly half the audience ran after him to collect his autograph.


Sixth session comprised of successful pro-bloggers - Amit Agarwal, Anuradha Goyal and Arjun Ravi. Amit is the man who made blogging his career. He spoke about his Blogging Success Story. Articulate, precise that he is, Amit advised bloggers to have a website with good typography. He said writing review on a particular printer, had his blog thronging with visitors and later adsense success. He also recollected that when mainstream media either ignored or censored some important news/happenings, bloggers played an important part in disseminating and floating information around; especially during 2006 Tsunami and also protested some website like blogspot.com/ISP ban by Govt.
Anuradha's session was quite interesting one from the heart, simple and really very effective. "To be a writer one needs to be a great observer" - she says. Goa being the 15th city she lived in. She picked up stories from the various city-walks that she daily did, travelling every nook and corner in every alley, every street. She narrated an incident about how an innocent photograph ( clicked in a remote place of Bihar ), led to the rescue of a small boy who was sold into child labor. A reader of her blog spotted and recognized the boy. She also said, even if no one read, she'll still keep writing blogs. Arjun meanwhile spoke about how he focused on lesser known music bands through his blog, that has now grown so popular.


Seventh session was a stand up comedy act by Jamshed Rajan. Hmmm...I didn't quite understand what he was up to. Some made sense, some didn't. Quoting the ones that did, a bit. "Word document is an empty screen, that's an indication to write. If you are getting infamous inside the house because of your blog, then you are getting famous outside, for your blog." - he says.

The awards ceremony soon wrapped up with two workshops. I attended the video blog workshop by Abhigyan Jha from JayHind.TV ( on creating premium video content for blogs ), wondering half the time what was going on in the food blogs workshop by Kalyan Karmakar. Since it was getting late, had to skip half the session and headed home. All in all, it was a fun-filled and informative day, well spent :-)



¸¸.•*¨*•♫♪¸¸.•*¨*•♫♪¸¸

Pin It Now!

❤❀❤
This post is a part of the #WIN'14 BlogAdda Event!
---