When the India Today Conclave'14 contest was announced recently at my favourite blogger community forum @Indiblogger - See Here, all our eyes popped out of our heads seeing the monetary value of those coveted 'passes' that would be given to 5 lucky bloggers. For days, hot topic of discussion was revolving around the cost of those passes. To witness these well established dignitaries 'live' was priced at 1lakh. But then they were the ultimate winners - creme de la creme of society. Most influential people whom the masses followed and adored. They commanded such value. They have the right. They are all worth it. They've put in lots of years of sheer hard work to reach where they are today. So, they are indeed winners. And we are a privileged lot if we get to see them live, or rub shoulders with them in such a prestigious event. And event like these, hosts a galaxy of such high-profile people that include top CEOs & Celebs adding 'those' extra special moments, apart from the esteemed speakers! Check out the past conclave events and *drool* - Here & Here

However, are they the only people who can be called winners? I think we have a winner in all of us. I see a winner in every individual around me. Every AAM ADMI is a Winner! There's a story - break a stick it might break easily, but try breaking a bunch of sticks together - it won't break! That's the power of AAM ADMI! Never under-estimate them ;-) They can bring revolutions. They've thrown many a dictators out of power. History bears testimony making them 'winners' in truest sense.

¸¸.•*¨*•♫♪¸¸.•*¨*•♫♪¸¸

A construction labourer, a social activist, a school teacher, a shop-keeper and many more! They are all winners at what they do, and help keep the society moving forward!
For me, my Maa is a winner who fought against all odds to bring me and my sister up almost single handedly.

For me, my close relative is a winner who brought her young son back from the clutches of dreadful disease called cancer. I've seen so many such winners who came out of similar life threatening circumstances or not giving up yet!

For me, my teacher is a winner who inspite of a good paying, secure city school job, left it all one day and went to the rural villages to teach the underprivileged and not so fortunate ones.

For me, that boy or girl is a winner who try to better him/herself everyday, setting their own inner goals and standards that might even end up having an impact someday on the society and bring about change.

For me, that person is a winner who has guts to say 'NO' to giving or taking bribes and takes a stand for a corruption-free society.

For me, those people are winners who gave up their lives in their struggle for freedom; ( leaving a rich legacy behind ) and thanks to whom we aren't slaves to anyone anymore.

For me, common people such as the auto-wala or a laymen is also a winner, who toils the whole day to repay his loans & debts and still manages to take his family out in the evening or weekends, and put a smile on their faces.

For me, even that drug or alchohol addict is a winner, who has successfully reformed and given up such harmful habits
/vices and goes on further to influence others into bringing about a positive change in them as well.

For me, one particular blogger is a winner too, who recently donated his winning laptop ( in Indiblogger Dabur contest ) to help out a little baby in need of urgent monetary help for a complex surgery and all others who joined in.



¸¸.•*¨*•♫♪¸¸.•*¨*•♫♪¸¸


Winning does not merely mean we get a prize at the end of a challenge or struggle alone, ( yes, there are such winners too - they are called 'contest' winners - like this one :-), but in bigger realm of things - Winning is rather braving enough to face the struggle or challenge head on! The dare to go ahead, knowing very well that there are multiple obstacles in the road of life, makes us ultimately the Winner! For me 'to Dare is to WIN'! Winners are those who can motivate others to DARE!
Winners are more the givers than takers - they give selflessly and remain humble even when they reach their peak!



¸¸.•*¨*•♫♪¸¸.•*¨*•♫♪¸¸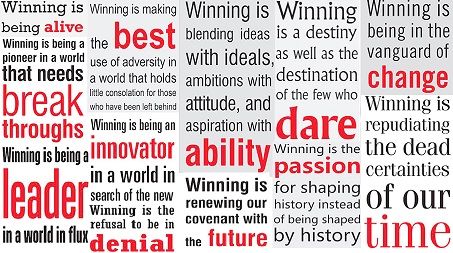 Pin It Now!
❤❀❤

This post is part of
India Today Conclave'14
contest in association with
Indiblogger.in
|
( Images Courtesy : IndiaToday Conclave Website )
| Liked it? Then please
'VOTE'
for it >>
HERE
Winning is renewing our covenant with the future. Winning is being alive. In India Today Conclave'14, winners and visionaries from every realm of human experience would come together to create a wiser and brighter world than what we inhabit in today.
---