I woke up slowly to the sounds of the sweet-chirping of birds outside the balcony, as they prepared to greet the rising Sun that had begun appearing in the eastern horizon. The weather being perfect as it was, it was the most pleasant time of the day, promising a great day ahead. A lazy smile played on my lips, as I hugged the warm blanket tight. I was glowing in happiness, of contentment. Magic had happened the night before. After years of being in a long ( quite stressful ) distance relation, we had finally become one. Yes! We took the plunge. Two bodies became one soul. United for life.

I turned on my side, as I glanced lovingly where the love-of-my-life still lay sleeping, how cute he looked. I stretched my hand out and brushed his hair softly and he murmured happily in his sleep, wanting more. Life was pure bliss, I felt it that morning. Until...that is, I remembered what he said the night before!

I sat up with a jerk, wide-eyed horror-struck - my ever alert mind fully awake - remembering everything. He said that he had an urgent meeting in the morning as his head office CEO was in town, and he might even have to invite his boss for lunch that day. Dang...it had completely slipped my mind. All the romantic feelings now suddenly brushed aside, I got up. This was the real-deal now! And real life was just too practical, not like the dreamy romantic night we just shared under those warm cozy blankets. My biggest test had begun.

Why? you ask! Well --- cooking is not my forte. And it was only recently out of love for my beloved that I started googling recipes on net, hoping to make true the saying - "A way to a lover's heart is through his stomach". And except for coffee, he hadn't really tasted anything cooked by me so far. No wonder, I was terrified. And what more, the prospect of feeding his boss too was now hanging over my head! When trouble comes, they come in doubles don't they? Before my sweetheart got up, I had to cook him something for breakfast. And it had to taste good! Yes, look good too - my ever alert mind reminded.

I hunted ingredients in the kitchen. It was new for me. But I was determined to impress him. I chose the easiest recipes. Poha and Suzi ka halwa and of course some Fruit Salad ( which was easy anyways ). I had practiced Poha and Suzi Halwa several times in my own house, so there was no real reason to worry - I assured myself.

Roasted Peanuts, Curry leaves, Black mustards peeping here and there, and the potato, onions and other condiments/spices made magic, when atlast I added the poha in. A bright yellow lemon-flavoured dish, in that supa-bright morning, good enough to set the taste buds rolling. Healthy too - my ever alert mind agreed.

Next, I worked on the Suzi Halwa. Ghee, Milk, Cashews, Nuts, Raisins, Sugar and of course the Rava; all mixed in a deep hot Microwavable Borosil Glassware; a quick dessert-type lip smacking dish - ready in a flash!

Both the dishes I had put carefully in the Borosil glassware. And they being transparent, the food, though simple, looked fabulous. As though inviting to be eaten right away. I set them in the dining table, amidst vases of fresh flowers - satisfied, that the job was well done! Since, they are microwavable, even if the food gets cold - just warm it up in the microwave without the hassle to change utensils. Isn't that good? And convenient too - my ever alert mind added.


¸¸.•*¨*•♫♪¸¸.•*¨*•♫♪¸¸


The coffee was brewing in the kettle and I had just finished cutting the fruits and mixing them in a tangy-sweet-peppery light textured sauce, all layered looking pretty in a Borosil glass salad bowl, when I heard a shuffle in the kitchen. My dashing hero was standing right there. He had gotten up and was looking ( not at me, but ) at the food with awe in his eyes. I think he never expected such a colourful layout.

Ahem..ahem...I cleared my throat to catch his attention. He seemed so lost in those yummy edibles that beckoned him from the dining table. "Good Morning, huney," I said. Hearing me, alas, he looked at me ( phew! ). Coming over, he gave a quick peck on my cheek.

"You've made all this?" He asked me in wonder, his eyes automatically glancing at the food again with great interest.
I nodded, happy that the first look of the prepared food itself, had impressed him so much. Indeed, in those Borosil Glassware, the food looked simply awesome. Every ingredient used in the dishes was visible, giving a stunning effect.
"So, what are we waiting for?" My hero asked. He was just too eager to eat, right away. So, after giving me few more quick compliments, my man started eating away merrily, as I served. I passed my test, I thought gleefully, when he said - "Not only does the food look fantastic, it tastes fantastic too."

Eating alongside him, I couldn't agree more. My self-esteem sky-rocketed. If I passed the breakfast-test with such flying colours that day, I could pass the lunch-test too, I thought, my confidence all boosted now. Heck, bring it on - my ever alert mind was ready for the challenge too.


¸¸.•*¨*•♫♪¸¸.•*¨*•♫♪¸¸


So, after I sent my dashing hero happily and well fed for the office-meeting, I got down to work immediately. Believe it or not, I decided to go bold. And chose Veg-Biriyani this time. Yes, all in a single day. I had become confident. Words of encouragements, Cool looking microwavable Glassware from Borosil and an arm-load of googled recipes can save you anyday, trust me. ( saying this from experience ;-)

The boss did come for lunch that day, and the first thing he said was that ~ he had heard I was a great cook ( thanks to my hero singing my praises obviously, I guessed, throughout that meeting ;-)

Lunch was a huge success. The Veg-Biriyani was served in a spacious

Borosil

Glass Casserole with the colourful vegetables that was used in it glazing beautifully. Imagine cauliflowers ( white ), carrots ( deep-orange ), bean and peas ( green ) - all collours from the rainbow, peeking at you from the midst of those precious saffron enhanced, long sexy and aromatic Basmatic rice. The final touch i.e the paneer shreds, fried brown onion slices and cilantro leaves sprinkled on top, made the whole dish look elaborate, spicy and yummy ~ almost gourmet style :-D
And a side dish of pineapple chunks, cucumber and tomato ( yogurt ) raita was just 'heaven sent on earth' ~ blissfully served in a gorgeous

Borosil Glassware

dish.

Only side effect of that day's success story ( of my culinary and presentation skills ) was ~ now my dashing hero wants me to cook yummy dishes for him everyday, and even the Boss keeps waiting for not just lunch but dinner invitations too. Thank God, I have Google and Borosil Microwavable Glassware at my rescue ;-)



¸¸.•*¨*•♫♪¸¸.•*¨*•♫♪¸¸
Pin It Now!
❤❀❤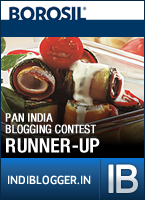 This post is part of
#BeautifulFood
contest in association with
Indiblogger
| Liked it? Then please
'VOTE'
for it >>
HERE
|
Food becomes more beautiful with Borosil's microwavable glassware. Make everything you do simpler, smarter and better. Borosil cares for your family as much as you do. That's why Borosil Microwavables range is made of 100% borosilicate glass, so you can be sure there are no nasty chemicals lurking in your food. And since you can heat all Microwavables up to 350 °C, you can cook, serve, store and reheat in the same utensil. Just like you, Borosil Perform Beautifully!
---