I am little late in writing for this event, but then I think, it's never too late to write for a good cause. So, here I am :-)

So, the day was 22nd Dec'13 - myself, along with few other bloggers were attending a meet at Khar, a social awareness programme. By 2pm we started getting restless, because we had to attend this another important event, in the other end of town. So, with hurried 'byes' to the Khar event which was anyways nearing its end too, we dashed off to South Bombay. The place was bit difficult to locate, so we went here and there clueless for a while at first, before finally reaching the destination. It is obvious, we sadly missed some parts of the beginning ( some doodling, some photo-shoot near the giant banner holding the doodles of course, some twitter #hashtag contest and some pre-christmas carols. Oh well...).

When we reached the venue, near Babulnath temple, the 30 secs of fame was going on, with everyone given a piece of paper to write - in a 'word' - what they expected in 2014. I wrote 'hope' which, I was unaware, coincided with the Meet's slogan too. Well, with the way things are currently going on, the only one thing that motivates us to look towards the next day - is 'hope'!

HOPE - is the driving factor of the Milaap project too, which I soon discovered, during the course of the meet. I'm very skeptical when it comes to NGO's ( having already written about some unscrupulous ones in the past ), so I was eager to know how this organisation really functioned. There was an interactive session during the meet, when lot of my doubts were thankfully answered ( by Milaap volunteers patiently ).

I'm glad this project is not just about collecting donations only ( as it generally happens with ngo's ), but is one that have proper empowerment plans in place, for the devadasis who are rescued from their stigmatised lives. They are given a new lease of life. The system is such that any individual can loan a certain amount ( starting as low as Rs.500/- ), which over time shall be repaid to the loan-giver by the beneficiary of that loan. Everything i.e the transactions/spending etc is trackable via their online website. Hence, the system is more reliable and transparent. Benefit of it being a 'loan' and not donation is that, the same amount can help multiple people too, by re-lending the accumulated credit.

The procedure is quite a simple one. Log on to their website, select a borrower and pay the loan amount ( gift card options also available ). The borrower then repays the exact amount, back to the lender, over a period of time.

The meet was really an enlightening one with a video of Mahananda telling her shocking story. How the cursed system still exist in many parts, and young girls still getting trapped into it. Thus, this Milaap Hope project is very important for them, which really gives them a 'hope' to live a 'life' free of that curse by being independent and empowered. And we, the urban mass can in our own little ways do our bit; i.e help empower these souls and spread some sunshine into their lives. The meet ended with an engaging group activity.


¸¸.•*¨*•♫♪¸¸.•*¨*•♫♪¸¸
See more Pictures of the Meet - Here & Read more about the Initiative - Here
¸¸.•*¨*•♫♪¸¸.•*¨*•♫♪¸¸

Our group's piece of puzzle taking shape. This lady ( Mahadevi ) along with 3 others are into goat rearing business and need a 80k loan, which they would use to buy more goats.
MAKE A LOAN TODAY - MAKE A DIFFERENCE!
Pin It Now!
❤❀❤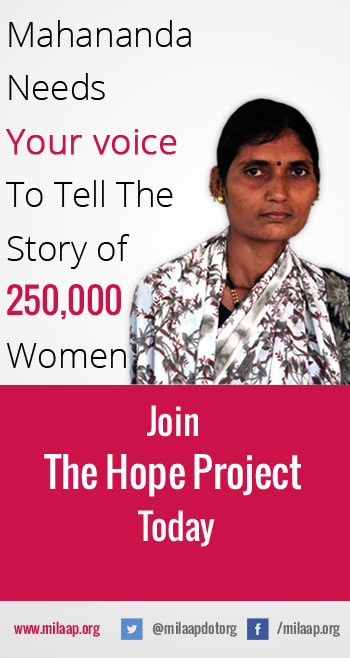 This post is part of Milaap IndiChange Meet in association with Indiblogger.in
---