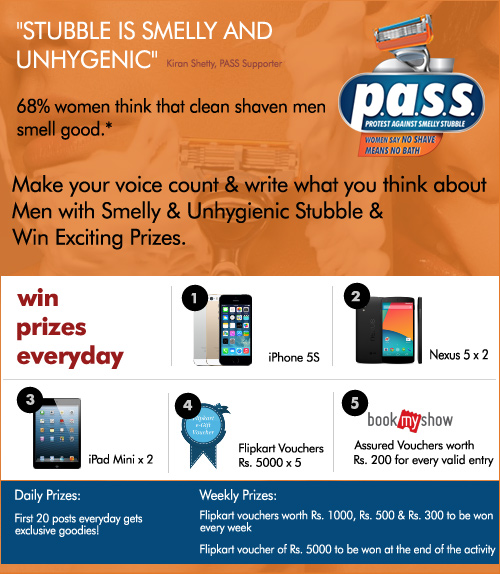 I am acknowledging
Heena Shah-Dhedhi's Tag
and participating in
(P.A.S.S.)
She rejected him at first sight; Anil couldn't get out of this hurt. It was as if his heart was stabbed right in the middle. He on the other hand, had fallen head-over-heels in love at first sight. Nisha was most prettiest girl he had ever seen. He was completely smitten by her. Her face flashed before his eyes often. And he wanted to marry her. But how? She already said a big 'No'. And the reason was his stubble. He couldn't believe it!

He looked at himself on the mirror. He always thought that, keeping stubble made him sexy, rugged and manly. Yet, all that had failed to impress Nisha. He ran his hand over the three-day-old beard. It was definitely prickly on his hands. If it hurt him, it could hurt a girl too. In hot summers, they did give a weird sweaty smell too, unless shaved daily. And did Nisha see the real him at all? He himself couldn't see his face underneath the beard, so how could she? Alas, he got it – what made her reject him.

Would there be a second chance? His father was colleague of Nisha's dad, so maybe there was a thin line of hope after all. But when?

"It's the New Years office party and whole family is invited," Anil heard his father in the living room, "the Guptas will be there too." Anil smiled instantly. Here was his God-sent chance.

At the party, his eyes searched for her. And there she was, pretty as ever. Their eyes met. She looked uncertain as though faintly recognizing him, but still in doubt.

"You've already met Nisha," Anil's father was saying, as the Guptas came near and started chatting.
Nisha stared at Anil, awed, throughout the evening. His clean-shaven look bowled her over.
¸¸.•*¨*•♫♪¸¸.•*¨*•♫♪¸¸

Cos' Stubbles are Smelly
Pin It Now!
❤❀❤

This post is a part of the
Protest Against Smelly Stubble Activity
in association with
BlogAdda
---