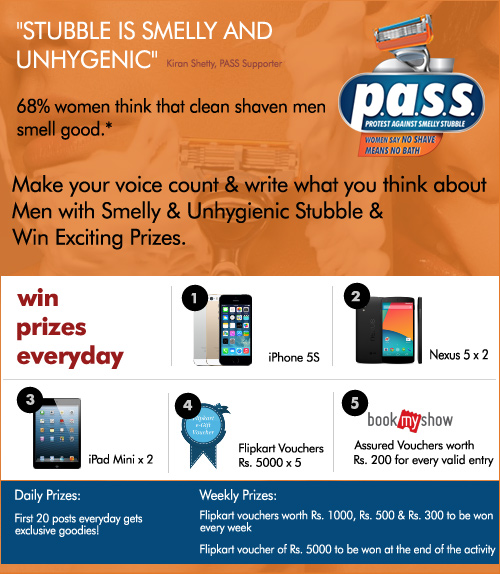 I am acknowledging
Knitha's Tag
and participating in
(P.A.S.S.)
I am tagging
Ayushi
in this post.
Andheri raaton mein sunsaan rahon par,
Har zulm mitaane ko ek masiha nikalta hai,
Jise log shahenshah kehate hain.
Whenever he came on the big-screen the above song played, and the audience whistled. He went around bashing villians, who peed their pants out of fright at the sight of him - but nothing impressed the girl.
I hate that unclean stubble - she'd frown and say. In one corner she'd sit sulking leaving the mighty Shahenshah scratching his beard, at his wits end wondering - how to woo the girl!?


One day when he was sleeping, he saw Shri Krishna in his dreams. The Lord was clean shaven, and had thousands of gopis swarming around him like bees. All were madly in love with the Basuriwala! They sang and danced in praise of the dashing Lord. Krishna then turned suddenly and winked at him. He instantly knew then what he had to do. So, he got a Gillette Razor and shaved.



The girl saw him and couldn't believe her eyes.
She danced and danced and danced.....His clean shaven look bowled her over!

¸¸.•*¨*•♫♪¸¸.•*¨*•♫♪¸¸

Pin It Now!
❤❀❤

This post is a part of the
Protest Against Smelly Stubble Activity
in association with
BlogAdda
---