"ND, dinner is ready come down," my mother called out to me as I was downloading the latest chat software 'WeChat' on my smartphone.
"Yes, maa comming in a moment," a moment usually could even drag on for hours if I was up to something on net. And recently WeChat had caught my fancy
( find more info about WeChat below )
. I was nearly done and was running the installation. It'd be ready any moment. And yes, pronto it was!
I opened the chat application to test, but it seemed someone else was already in my chatroom too. Well, nothing was really mentioned in my chat-software download page, so curious, I decided to have a closer look. My pupils got larger as I saw who it really was. YAAMRAJ himself.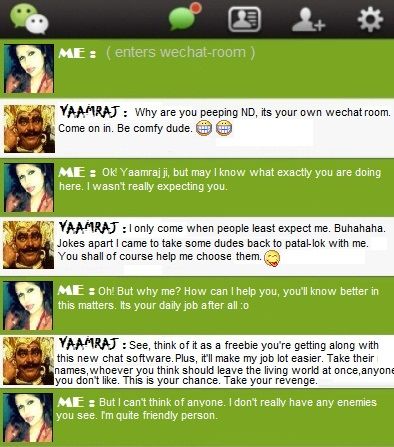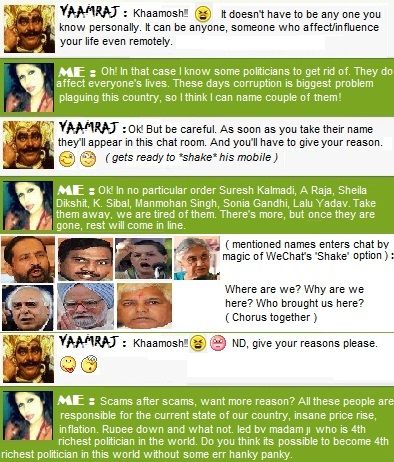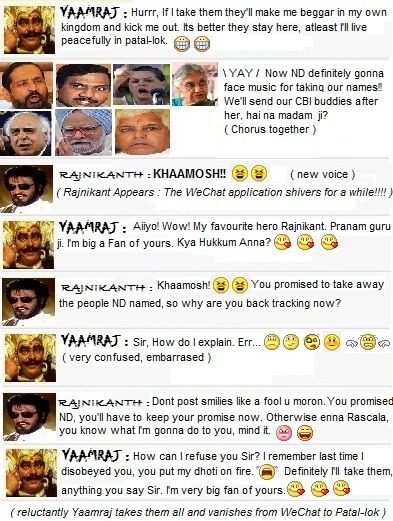 "ND, wake up ND!" I heard my mother's voice, shaking me.
"I'm not asleep maa, Rajnikant ji was here," I opened my eyes drowsily, looking at my smartphone.
"Oh! Yes, you were sleeping, that's why I came to wake you up. Your dinner has gone cold. Better stop dreaming and come down at once," my mother ordered.
I had indeed fallen asleep, as I peeked into my wechat room. There was no one there. No trace of any chat. It was all a dream. But how I wish it was all for real,
( world would've been so much better )
, remembering Rajnikant's promise.
Sigh!
❤❀❤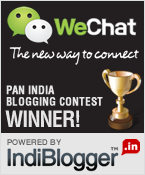 This post is part of 'WeChat, the new way to connect!' Contest by
WeChat
in association with Indiblogger | Liked it? Then please
'VOTE'
for it >>
HERE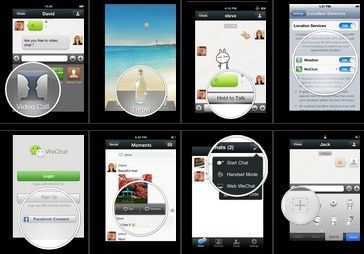 (
WeChat.com
is a new, powerful and absolutely free mobile communication tool. It supports voice/video/photo/text messages. You can also do group chats, or you can find new friends nearby to talk to. WeChat works on iOS, Android, Windows Phone, Symbian and BlackBerry devices.
Besides the cool '
Live text chat
', '
Voice
' and '
Video
' messages, it has some other really cool features like '
Shake
', '
Moments
', '
Drift Bottle
', '
Look around
' etc all loaded with some cool customized '
Emoticons
' to make the chat a really enjoyable and fun experience. )
Disclaimer :
This chat is written just for fun as entry for the WeChat contest, no offence to anyone intended.
Winning post of We Chat Contest in association with Indiblogger
---