"What?" I asked again, not quite sure that I had heard it right.
"Yes ND, you heard it right. Party at your house this Sunday. Gourmet one. You owe it to us long time now!" My friend Rita repeated on the phone. She had called up to say that all the friends in our mutual circle would be coming over to my house for a party.
Gourmet party?? Was it some joke? Were they out of their minds? I could barely make an eatable omlette for myself, much less prepare for a party at such short notice, I thought, nearly having a nervous break-down even at the thought of it!
"But you know Rita, I'm not really into Gourmet and all that fancy stuff." Being my best friend, at least she should've been considerate and understanding. "Lets plan it for some other time." I tried pleading, hoping she'd relent. "I could take you all for pizza though, treat from my side." Maybe a pizza bribe would work, I thought.
"No ND! Party Gourmet style." Rita was adamant. "You owe it to us, you can't keep postponing forever. We all had parties at all our respective places, its your turn now!"
So, that's it! I'd have to prepare a Gourmet style party for 10 of my dearest friends
( at whose homes I had shamelessly eaten over the years )
.
Only a week's notice, and I had a big task ahead of me. Of course, the fact that I had no clue where to start, didn't help at all. I thought of watching the cookery shows on Television and read couple of their cook books too. All the well known celebrity chefs appeared one by one in front of me, as I watched them in awe, transfixed and dazed. By the time I opened my pen to write down the recipe, the show would be already over. Not to mention, I didn't remember any of the stuff they blabbered. Damn it was frustrating!
Internet! Yes..Internet was next to God these days. Maybe, I'll manage to pull it off after all, I thought. I already covered Youtube, it proved dumb just like TV. So, instead I browsed all these chef's web-portals and various cook blogs/recipe websites. The recipes when on a written format looked quite easy, but would I be able to make it exactly as they looked or even tasted in real. I had serious doubts.
Rita had put me in such an awkward position, I was in misery. If I failed to organize this party, my friends may even stop inviting me to theirs, in future. I'd become an outcast. Oh! That was a scary thought.
Worried what I should do, I casually logged into my favourite blogger community site - indiblogger. The first thing I saw on their home page made me blink my eyes several times. I could hardly believe what I was seeing. They were having a contest urging bloggers to write about a Gourmet Party. It was like rubbing salt into my wounds. I was instantly reminded of my own dilemma that I was going through. Feeling rather hopeless, I tried logging off, but just then my eyes fell on a contest page link - it was simply incredible. Almost God sent! It was a link to the
kitchensofindia
shopping website.
Now, we do get all the stuff in the market too, so why this was incredible, you'd ask?
Well, dahlings! Because, as I browsed further in that new website, I found an instant solution to my problems. They had a wide range of 'Ready to Eat' dishes and desserts - gourmet style meals which were as simple as 'heat & cook'! Each of the recipes offered were crafted by the Masterchefs of ITC hotels, from royal recipes guarded closely over the ages. They also had exotic chutneys and conserves to add the perfect twist to any meal! And all of them ready to be delivered right at my doorstep. All I had to do was pick, order and wait for their arrival! Can life get any simpler than this?
This boosted my confidence no end. I'd be able to feed a gourmet style dinner to my friends now, which they never tasted ever, anywhere!
( unless of course they visited those super expensive 5 star hotels )
Ah...how they'll envy me, I thought wickedly and got started in choosing what recipes I'd want for the party evening.
I ordered the following ( great mix of veg+nonveg+deserts ) in generous quantity to go along with my naan/rumaali roti/biriyani main combo 'desi' Indian meal. I ordered some extras too, as I was intending to savor the gourmet style even after the party was over, all by myself ;-)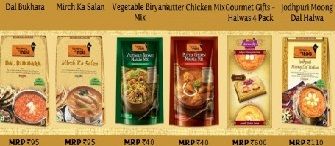 ♥ DESI STYLE 'YUMMY' INDIAN FOOD FROM KITCHENS OF INDIA ♥
DAL BUKHARA | MIRCH KA SALAN | VEG BIRIYANI MIX | BUTTER CHICKEN MIX | GOURMET HAWLA | JODHPURI DAL HALWA


♥ YUMMY CONSERVES & CHUTNEYS TO DIP YOUR FINGERS N LICK ♥
With the main hurdle now overcome'd, the rest seemed too easy. I was good at choosing right music, decor and general setting up the party mood. And since I had chosen Indian style delicacies from
kitchensofindia
, I thought of keeping the theme of my party as 'Indian' - DESI STYLE! It'd be sort of punishment too for my friends who generally preferred everything western. I'll have my revenge, I thought.
Well, a tasty punishment it'd be.
"Yes, its pure Indian style theme, so gajras, bangles, bindis, and sarees only." I said on phone to Rita.
It was now her turn to say a surprised "Whaat?"
"Yes, Rita, it's my Gourmet Party so I get to decide the theme. Indian baby Indian! Think Indian, dress Indian, behave Indian you see? And of course the gourmet dinner will be pure '
masaledaar
' Indian too. Now, you all owe that much to me at least, after all the trouble I've gone through, organizing it for all your entertainment!" I said, satisfied to hear her agree uneasily. After all they asked for it. I grinned to myself.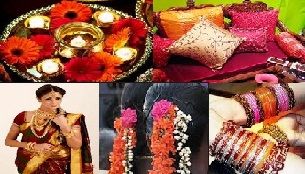 ♥ DESI STYLE INDIAN DECOR N THEME FOR MY GOURMET PARTY ♥
I didnt tell her, I was planning to make them listen Indian classical & folk music through out the party evening as well. It'd be a surprise for them as they'd be expecting western hip-hop dance numbers. I'll make them dance hip-hop at the old classical & folk songs, I thought wickedly, it'll be fun!
So, I was all set and ready for this grand Gourmet Party now!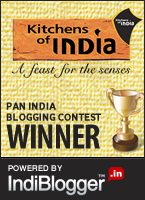 Winning post of KOI My Gourmet Party Contest in association with Indiblogger
---