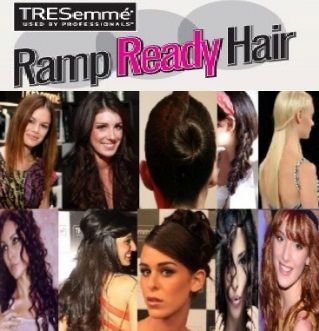 For a girl, her hair is her most precious asset. Hair makes a girl look and feel complete and gorgeous. Can we girls even imagine a life without our tresses? Hell No!
Since ages, girls have been trying to enhance their looks by trying out various hairstyles. They used natural ingredients in the past, and with research and technology advancing more and more with time, newer hair care products have entered into our lives. But something was still incomplete!
While the celebs/models flaunted their perfect salon type hair on our television screens/red carpets/ramps,
right at our faces
we the general people, were left high and dry wondering how can we ever look like them. Is it possible?
-> Its Expensive!! Thats the first worry that comes to our minds!
-> Its Unmanageable!! We cant really sit in ideal AirCooled conditions the whole day. While moving up and about our Hairstyle definately gonna get affected. We cant keep a hair stylist by our side 24x7 now, can we?
However, now with Tresemme ( an International Hair Care Brand used by professionals ) entering the Indian shores, we can rest our worries. Getting Salon type hair is indeed a reality and we can achieve it right at our homes, at an affordable price! Ain't that cool? I definitely think it is.
I had a look into the
TRESemme India Ramp Ready Hair Salon
and boy, was I impressed! There is a live interactive demo and you can actually try out the various ramp hair styles available and create your own ramp show. Diana Penty, the Indian model greets us and gives us our own virtual access cards and voila we enter the backstage of the Mercedes Benz Fashion week in New York. We also meet a celebrated TRESemmé hairstylist who shows us how to use the Tresemme products and also some interesting hairstyles. Now, this was all simply awesome. I tried various hairstyles and some have become my favorite.
Some of my fav Tresemme Ramp Ready hairstyles are as follows :

My Own Ramp Show with ' TRESemme India Virtual Salon'
The Styles I've chosen are already a rage and Hot Favorite on the Red Carpet or the Ramp!
Check them out and think for yourself, am I committing a sin by craving to have them? They are some I'd love to try. In fact, with the Tresemme samples that I was sent via Indiblogger, I'm already experimenting away and the good thing about the
TRESemme India Virtual Salon
is that you can even see for yourself how they are done! Just visit link above :-)
Enjoy the Styles, while I rush off to try more of my own Tresemme Salon Style Looks!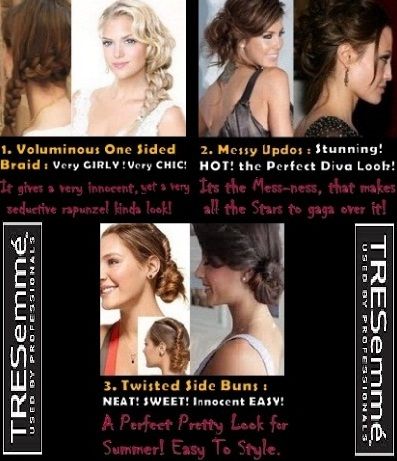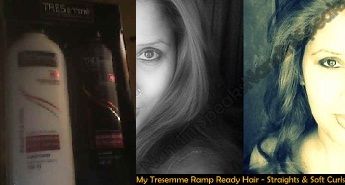 That's me, flaunting straights & soft curls ramp style. Needless to say that I'm quite satisfied with Tresemme 'cos it does keeps its promise :-)
My Tresses enhances my looks more,
My shiny, smooth locks are my pride.
All thanks to new Tresemme Style salon,
I now walk a confident stride.
I stroll, as people craned their necks to watch,
Their passions I've triggered.
My tresses are envy of many girls,
I've got the ramp style, how, they wondered.
These tresses of mine looks a million bucks,
Salon styled, they light up your fantasies.
Tresses that mesmerizes, seduces souls amore,
Only Tresemme knows my little allure secrecy.
Discovering joy beyond boundless ecstasy,
I'm a Tresemme girl, do you wanna join me?

*-*-*
The Tresemme Hair Salon Treatment comes in 3 great varieties to cater and pamper the different types of hair.
Smooth & Shine: for dry, rough hair
It is an enriched formula ( vitaminH and silk protein ) with high-quality ingredients and targeting technology that instantly restores and replenishes vibrancy for salon-style results everyday. It helps moisturize dry, rough hair. For hair that feels sleek, shiny, soft and smooth!
Shampoo available in 600ml, 225ml & 100ml; Conditioners available in 225ml & 100ml
Hairfall Defense : for damaged and breakage-prone hair
It restores salon radiance exactly where it's needed most. It is an enriched formula with high quality ingredients, enhanced shampoos and conditioners with targeting technology to instantly restore and replenish vibrancy for salon-gorgeous results everyday. Infused with keratin, it helps reinforce your hair's strength and prevents hair fall due to breakage. For longer and stronger hair!
Shampoo available in 600ml, 225ml & 100ml; Conditioners available in 225ml & 100ml
Climate Control: for frizz-prone hair
With Climate Control Complex,( containing Keratin and Olive oil ) the unique formulas helps prevent frizz all day long by creating a barrier between your hair and the weather. It moisturizes and protects your strands. It doesn't let wind or humidity destroy your style. With Climate Control, you perhaps cannot control the weather, but you can definitely control your style!
Shampoo available in 600ml, 225ml & 100ml; Conditioners available in 225ml & 100ml
( Price Range: Rs260 for 600ml; Rs128 for 225ml & Rs64 for 100ml both Shampoos & conditioners )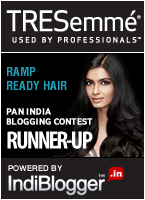 This post is part of 'TRESemmé Ramp Ready Hair #TRESemmeRampReady' Contest by
TRESemme India
in association with Indiblogger
Winning post of Tresemme Ramp Ready Contest in association with Indiblogger
Pin It Now!
---