..¸¸.•*¨*•♫♪¸¸.•*¨*•♫♪¸¸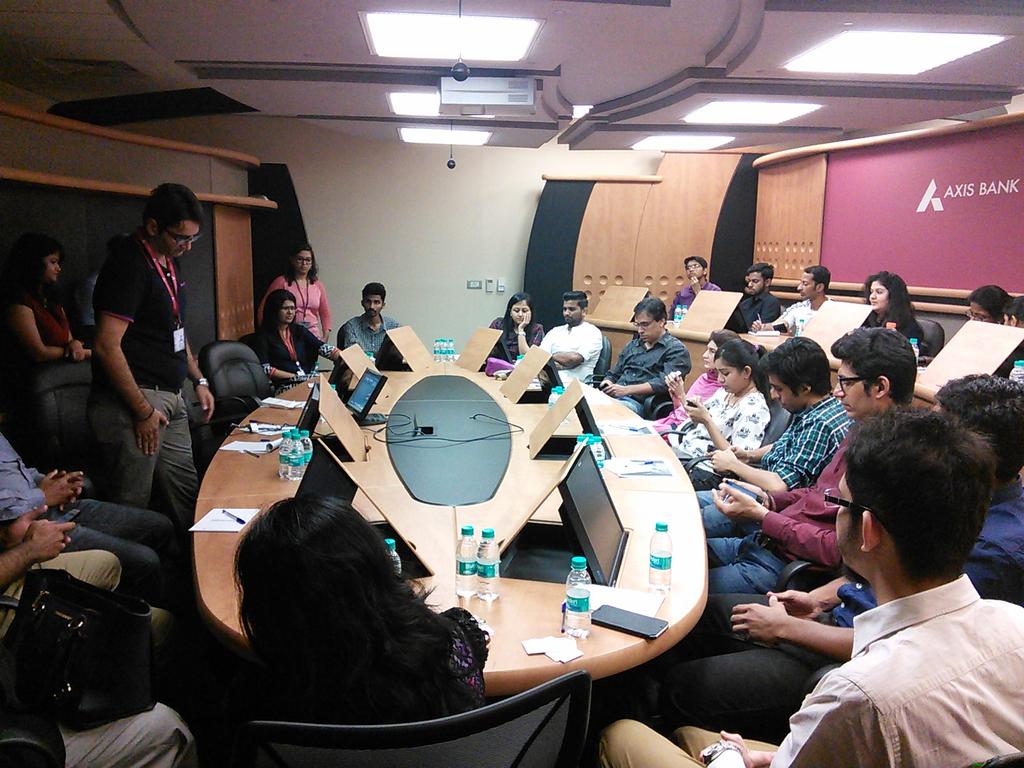 On 21st Feb, my life changed! Want to know how? Well, I became the exclusive 'Axis Acquaintance' at its Make the Axis Acquaintance event, held in association with Blogadda. I was introduced to something so amazing, that I can't thank them enough for. I know you are curious what it is all about. Well, without any further ado, let me just announce it with all the pomp and ceremony - I made acquaintance with Axis Mobile, the mobile banking App ~ the very latest in mobile banking. And few of us lucky bloggers got to see it ( the live demo ) from the creators themselves ( corporate communications team ), in their special hi-tech room, at their main corporate office.

I always found all the bank-related things very cumbersome, so much so that one of my accounts went dormant thrice, because, I hardly went to the bank to update it. It all seemed so tedious to me, not to mention, half the things ( all that banking jargon ) I never really understood. Even while shopping, we had to be ever so cautious so as not to carry too much cash along. Debit/Credit cards/Netbanking etc made it less of a burden, but still for most of the banking purposes we still had to make trips to the bank once in a while or carry our laptops around with us. And I hated the whole process. A bank is very important part of our lives. It doesn't deserve such treatment, especially, when it keeps our savings safe and transactions smooth. As though understanding our laziness difficulties, the bank has now itself moved, right up to our pockets. Pockets? Yeah, you heard it right! We carry a phone in our pocket, don't we? Well, the bank has got inside our smartphones now - as an app! Hail Technology - I Salute thee...

Axis Bank, with over 10lakh mobile customers, is one of the first to introduce the 'mobile banking app' ( a first of its kind ) to its customers. Thus, positioning itself way ahead of its competitors, setting its own benchmark and standards for others to emulate. And we got an exclusive peak into it, with answers straight from the great thinkers/
developers of the app. It was an early morning session, where a group of bloggers interacted first-hand with the makers of the app. Oh, the information that flowed, with all the interactive question & answer sessions - it was all so overwhelming. We all had screens in front of us, where the demo of the app was shown ( simultaneously to all as in a conference ) and explained in details. The whole experience was very informative and enriching. A free, simple user-friendly, usability driven app, it is downloadable from playstore/IOS and works in these ~ android, iphone & windows smartphones.



Adding more value to our mobile banking experience, the App allows you to do almost everything ( i.e all services normally offered while visiting a bank ) ~ checking account ( credit, current or savings ), balance, loans, recharging, transferring funds, paying utility bills, making special requests etc. All features are upfront in a single click and can be changed from the menu in the dashboard, as per your want in the main screen ( where four options shows as short-cut ). And within a single session, multiple accounts that a user has, can be maintained.
Of more than 50 features that the App offers, some that instantly caught my eye are ~

Easy registration - So, you are not a regular internet banking user? Nothing to worry. Just download the Axis Mobile app in your mobile and you are all set. Yes, your number is all that it requires for an instant app account. ( though you may need a visit to the branch to get your app authorized with the number ). Smartphone is cheapest way to access internet, and banking by phone most convenient. If one wants to change the app account's unique mobile number, one can simply visit the nearest Axis bank/ATM.



Glimpse of the Axis Mobile App as shown in the Demo


Safety - After downloading the app, an unique mPIN ( that can be reset on the App itself, incase one forgets ) is specially assigned to your phone number, and one can access the app only through that number. Except for the phone number, everything else is editable/customizable in the account eg. email id, looks & feel of the app etc, and everything can be personalized ( including picture syncing from social accounts like FB/twitter etc ). The mPIN session expires whenever one is inactive/idle for few (3) minutes, thus, ensuring full security. If someone else has the mPIN, it won't be of any use, as they won't have the phone number required for access. And no worries about phishing etc either, even if the mobile is lost. As only you'll know the mPIN. In case of loss/theft of phone, one can just terminate the app account by blocking the number and even blocking/replacing DC & CC is possible. Switch on and off your debit card on the go. The Axis team vouches for the App's full-proof high security features - making mobile banking extremely safe and secure for its customers. The App is designed keeping customer's convenience in mind, with easy language and prompts. Kudos, for being sensitive to user experience.

Adding Beneficiary - One of its incredible features is adding ( bank or non-bank ) beneficiary instantly ( with a whopping limit of 10lakhs too ), just by the person's phone number ( no need of knowing person's bank details if Axis user or IFSC codes ), or photo ( either clicked or from facebook ). How simple is that! This whole process was demonstrated 'live' by Pramod Mulani of Axis Bank, who added a blogger as a beneficiary, and not just that, he even transferred an amount instantly into another blogger's axis account, right before our eyes, that too with just a few clicks and using only the person's mobile number ( in less than a minute ). All transactions are logged in the app, hence, one doesn't need to scratch their heads if they can't remember. Its all there. Cool haan!



Glimpse of the Axis Mobile App as shown in the Demo


Risk Protection - All risks are protected for 5 days, so that any error occurred during transactions can be looked into and corrected in that time frame. So, customer is worry-less. Also, initially the transaction limit is 30k.

Precise clicks - Some apps has way too many clicks needed, to reach the ultimate purpose. Axis has cut-short all that. It has limited amount of clicks ( all seamlessly connected ), and just the ones needed, for the task to be done in quickest possible time. The whole app has been very carefully and thoughtfully built, with inputs by customer-behaviour experts, keeping minutest details in mind - what or how customers will click, what features they'll find easy etc.

Scheduling - the payments for future! Made possible only through this amazing App's 'Pay Now. Pay Later' options. So, you can decide and schedule much in ahead, with no worries of forgetting at the last moment. Yes, it'll remind you gently, when payment date is near. It allows you to select your own ATM withdrawal limits as well.

Rewards Points - These are Axis Banks's loyalty points for the customers, for every normal banking activity that they do while using the App ( even on loans ), delivered instantly ( via email ) and can be redeemed via Axis's various e-partners like flipkart/
amazon/bookyshow/pizza-hut etc. Pan-Banking being the fastest way to redeem points. Find dining and other offers & discounts too, as well as nearest branches/ATMs in real time, using the app's integrated in-built Map/GPS feature ( viewable as list too ).
Moreover, Axis Bank is also planning to introduce referral reward points too, thus, one can earn more rewards per referral. And with additional features like Mutual funds, Demat accounts etc on the pipeline, and plans of setting up 100 Wi-fi enabled branches Pan-India, it is all set to change banking forever.



-0-


Needless to say, it was a great event, with all the blogger's eyes glued to the screens all the time, lapping up the new fun way of banking via Axis Bank mobile app's incredible user-interface. Highly interactive event it was too, with bloggers being bloggers naturally getting all their doubts cleared as well, throwing one challenging question after another. The discussions were fruitful and the lunch that followed next, was sumptous. I came back from the event having more knowledge than I ever had on mobile banking. So, finally, here's a more pictoral recap of this awesome Event & App!


..¸¸.•*¨*•♫♪¸¸.•*¨*•♫♪¸¸


The day that was :-) Pramod Mulani fielding questions; bloggers tweeting; coffee and Axis Mobile.



Banking just got to the next level with #DigitalAxis - banking on the go for people on the go! Get AXIS MOBILE APP now if you haven't yet
Pin It Now!
❤❀❤
( Images - ©Mine & Axis Bank ) |
When it comes to dealing with our money, banks are the safest and most trustworthy options. Though necessary, there are times when we wish that banking would be made simpler. There are other times when we need to do some important transactions at the bank, but can't leave office early enough to make it to the bank on time. When smartphones have made our lives easier in almost all the other spheres, why not something as important as banking? Keeping this in mind, Axis Bank has launched a brand new mobile app with more than 50 features, with many of them being first of its kind. With the new Axis Bank app, you can view account details, schedule bill payments, add beneficiaries, transfer funds, redeem your reward points and do much more. In short, all the services offered to you during a visit to the bank are now available at your finger tips. This app will save you a lot of time, won't it? With the extra time you have, you can now have a fun day out at Axis Bank. 'Axis Acquaintance', is a fun filled day at the Axis Bank where you can enjoy some great activities and interact with Axis bank officials personally.
Stay Connected & Follow my Updates on the blog's GFC | GOOGLE+ | FACEBOOK | TWITTER | BLOGLOVIN | NETWORKEDBLOGS
---