"Want to be Dare-Devils, then, pass the entrance-test," the leader said; a twisted smirk playing in his face, "and that's 'Be
Obedient
; stay put inside our Hotties' until times up!"
Pointing his finger at the hotties – half-buried vertically into the ground, he added in a
raspy
voice, "in that position; and remember, no sign of fear or you're out!"
The newbies looked nervously, but went ahead in
somber
mood.
"What are you doing," the leader's assistant asked horrified, seeing him light the petrol-trail behind the cars.
As the cars went up in
flames
with the entrants inside, the leader smirked, "No sign of fear, I said; they didn't obey!"
❤❀❤
This 100 words 5 sentence post is for Friday Fictioneers - ( Image Copyright – © Jean L. Hays )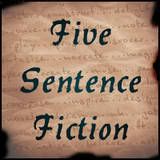 Pin It Now!
Copyright 2015 © Nandini Deka
Stay Connected & Follow my Updates on the blog's GFC | GOOGLE+ | FACEBOOK | TWITTER | BLOGLOVIN | NETWORKEDBLOGS
---