Deeply
absorbed
in his thoughts, Reban looked at the anchor peeking out of the wet-sands, helplessly.
Oh, how he wished he had one that day, the day her
frantic
cries for help got drowned in the depths of the ocean.
Without a second thought, he too had jumped into the waters, but by then it was too late; she was lost already
forever
.
A tear trickled down his cheeks, surprising himself; he was never the one to cry
yet
her loss was unbearable.
As the
fresh
breeze blew across the valley, he felt her fragrance near;
her spirit never left his side.
❤❀❤
This 5 sentence 100 words post is for Friday Fictioneers - ( Image Copyright – © C. Hase )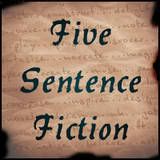 Pin It Now!
Copyright 2015 © Nandini Deka
Stay Connected & Follow my Updates on the blog's GFC | GOOGLE+ | FACEBOOK | TWITTER | BLOGLOVIN | NETWORKEDBLOGS
---