¸¸.•*¨*•♫♪¸¸.•*¨*•♫♪¸¸
Melbourne and me has a history of love, so unique.
When through the vast cinemascope I had, its first ever glimpse,
'Salaam Namaste Melbourne,' its RJ crooned,
Seeing the exotic locals & sights, my heart too swooned,
Ever since, my hearts been humming Melbourne Melbourne,
I know, it too is yearning to greet me, with a warm Welcome.
Be it solo, with family, couple or with friends,
Melbourne has something to offer, for one and all.
And maybe this year, luck will favour the lovers so apart,
Yes, Melbourne is my love, I'm coming; destiny shall play its part.
Yeah, so the year was 2005 and Melbourne simply stole my heart. The famous movie 'Salaam Namaste' was based in this fabulous city, and my eyes kept looking at the mesmerizing backdrop rather than the actors in the movie itself. So, enchanted was I. Its been almost a decade since then, I'm still awed. Two years back, I joined the IB Blogger community and what did I first see - a visit Melbourne contest that had just concluded. I wanted to kick myself as I was late. Ah, what did I know! Some time later, the winner of that contest started flashing her Melbourne pictures proudly and I went green with envy. And more recently, another blogger took off to Melbourne city and has been raving about her trip since - you can imagine me pulling my hairs off, for not being able to go there myself yet. So, when IB threw another chance via this contest - I knew, I had a shred of hope left. Let me share some Salaam Namaaste movie pictures, that had Melbourne all over them - the reason really I fell in love with it - the most livable city!

One can see the mesmerizing sea/beaches/cliffs, unique architecture, harbour, greenery & amazing activities that attracted me to the place. A visual delight, do watch the movie if you want to be captivated by beautiful Melbourne and of course watch these incredible videos. Melbourne offers so much more, that a single blog-post would not be enough! So, the incredible odyssey continues...

With Melbourne in my dreams, I fell asleep last night with this half written post. And would you believe it if I say - I WON IN THE CONTEST ( in my dreams of course )! And, I was like Wowee! Let me pack straight-away. There's so much I want to see and do that I feared if the 5 day trip would be enough. But, I'm the sort that makes the most out of situations - so, I'd make my Melbourne trip fun and memorable one nevertheless. Here's the Check list of Melbourne - why it is my and everyone's Number.1 choice!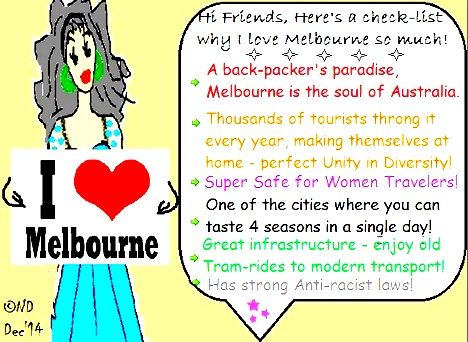 So, check-list done, I followed my blogger friend's journey as an inspiration. And damn yes! She has definitely been one. I kept track of her journey to take tips for my own. And here's the complete coverage. One can get a tourist visa with all the proper documents submitted, from the Australian Embassy. And once that's done - Melbourne --- Here I Come :-) Choosing a flight would not be a problem because Melbourne is a world-class city with world class connections from every corner of this world.


Getting around - Once I land, I take my friend's route of backpacking around the city and beyond, to get the taste really of a Solo Woman Back-packer ( I've heard lots that Melbourne is very safe for women and been confirmed by my friend too, who had first-hand experience ). I hire a car to self-drive around, especially, if I want to travel outside the city ( and camp overnight in Caravan Parks, thus, meet other travelers too on the way ) - else, Melbourne's own local transport after buying the Myki pre-paid top-up cards ( from few designated shops ) is a smooth cake - and a must experience! It can be used to travel in trains, trams and buses, without waiting in long queues. Just hop & swipe! Easy hah! And to make a traveler's life more easier is the Victoria Public Transport App. Just put your destination and time of going ~ it'll show up which train/tram/buses to take! Superb! With all stops clearly marked, one can never get lost.

For accommodation - there are a plethora of choices - from top class hotels to budget ones, from hostels to flat-sharing. I'm a well prepared traveler, so my arrangements are pre-decided/arranged. Trust me, planning in advance helps rather than any last minute hasty decisions, especially while travelling abroad. I'd like to divide my fantastic tour into two parts - first experience all the popular destinations and then try the off-beat ones! So, here are the must-visit popular ones first. Enjoy ;-)



¸¸.•*¨*•♫♪¸¸.•*¨*•♫♪¸¸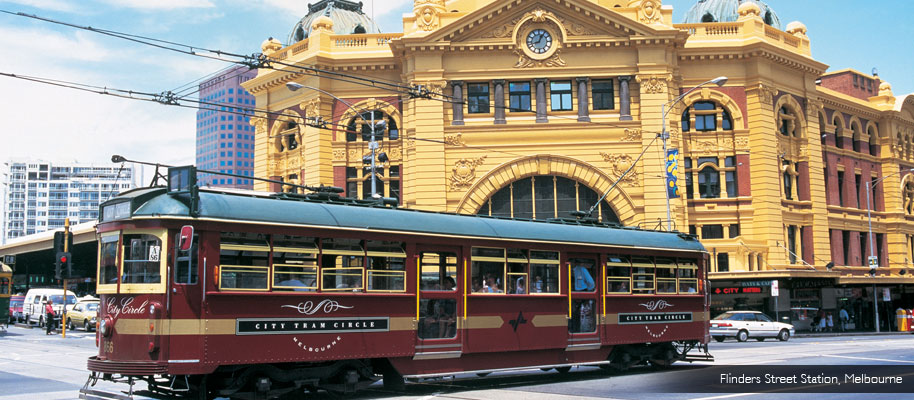 Finders Street Station
~
With its architecture, jaw-dropping,
Reminding of era bygone, so captivating,
Visible from far away, it is mesmerizing,
Stands tall, proud, and inviting.

This is one of Melbourne's prime and oldest landmark monuments. And you won't miss it - because, it'll show itself to you ;-) With the rich history that Australia has, one can find many Victorian era buildings of Gothic architecture still standing all and magnificent. Look out for the St. Paul & St. Patrick Cathedrals too which are a visual delight and many more well preserved heritage sites.


Eureka SkyDeck 88
~
Dizzying heights, I so love,
Touching skies, high above,
The world at my feet, I see,
Looking up at me - high mercy.

Well after absorbing up the rich architectural heritage of past, one can move on to taste the modern architectural splendor of the present times too; and Melbourne has plenty of that. The most notable is obviously the Eureka SkyDeck 88 that allows you to practically touch the sky. Get a breathtaking bird's-eye view of Melbourne from up there esp sunsets. Oh..my dreams, for real do take me there! Its the perfect place for that perfect Selfie, right ;-)


Bathing Boxes, Mornington Peninsula ~
Pristine seas, colour that is bluer than blue,
Kissing your feet gently, the sandy beaches too,
Lined up are those colourful bathing boxes,
Ample privacy, yet, oozes feeling of community too.

Integral part of Mornington Peninsula ( considered Victoria's favourite recreational destinations ), these colourful and attractive structures are Victoria's prime cultural heritage and unique identity, that have been built over the past century by various community members. Ideal for beach use, they can be rented for shelter, storage of boats, accessories, and other equipment used commonly; in the beach or boat.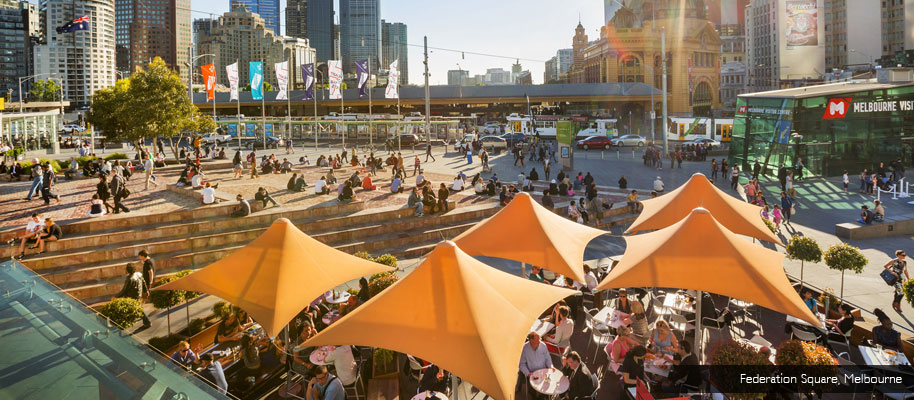 Federation Square
~
Where the square stretches an entire city's block,
Clubbing together is a plethora of classy events,
Specialty stores, bars and restaurants many,
Unique meeting place it is and a cultural hotspot.

One of Melbourne's iconic place, the FedSquare is built cleverly on top of a concrete deck above the busy railway lines, it also has another section with open space. This is where all the action is, when in Melbourne. Right across from Flinders Street Station, and at centre of the city itself, here one can enjoy various events throughout the year, meet whole lot of people or just use the free WiFi connectivity and get networking. Now, wouldn't it be fun to live-blog my experience from there ;-)


Shrine of Remembrance
~
Where all those martyrs laid down their lives,
While drafting the current Paradise,
Each of their sacrifices, I humbly salute,
To their message of love I shall contribute.

An important place of remembrance of all those great souls who laid down their lives in World War 1. It is one of the largest war memorials in Australia, dedicated to paying respect to all the Australian martyrs who took part in the war. Engraved are these words in the memorial - "Greater love hath no man"!


Melbourne Street Art
~
Be it narrow lanes or alleys,
Bearing fragrances of fresh colours many,
Master-pieces they are, all set-up,
By stencils, murals or paste-ups.

Being a hardcore art lover, I find it fascinating that Melbourne is hailed as one of the world's greatest street-art capitals. Here, public spaces provide as a gallery and stage for artistic expression and with permission from the authorities too; though private buildings may require owner's permission. And when its all legal, 'art' gets twice enhanced and plays a contributing factor to a vibrant urban environment. And it doesn't stay static - it can change everyday, thus, giving infinite new expressions. Amazing, isn't it? Street-art also includes street-musicians and one may end up hearing some wonderful piece on the road itself. Art is respected in the city by everyone. I'd love to spend hours and hours in these lanes esp Hosier, admiring art.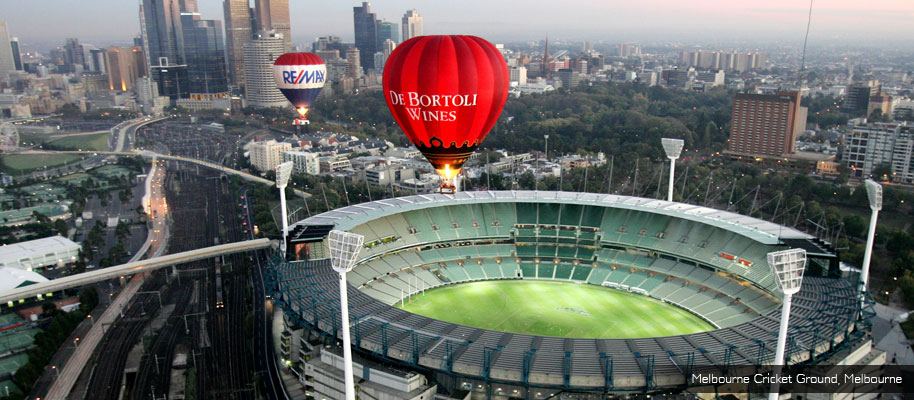 Melbourne Cricket Ground
~
Born in a cricket crazy nation,
A visit to the MCG, is a definite must,
This is where all those matches were played,
Featuring all my favorite cricket-stars.

Largest in Australia and entire Southern Hemisphere, this is sort of a Mecca for cricket lovers. Well maintained and a fully equipped stadium, it is within walking distance from the city centre at Yarra Park ( part of Melbourne Sports & Entertainment Precinct, which is the premier sporting precinct in Victoria ). Not just cricket, this stadium holds many other world-class sports events too and many prestigious clubs and associations are it members ( eg. Football Clubs, Commonwealth Games, Summer Olympics etc ). Hope to catch a live-match of ICC World Cup'15 while there :-) Ah! What an amazing experience it would be.


And when at Yarra Park, why not visit the famous Yarra River too - which means the ever-flowing. From indigenous Australians of pre-historic times to the modern European settlers, this river has been a life-line of sorts - primarily used for agricultural purpose. In recent years, this beautiful river has been used not just for transport but also many recreational activities like kayaking, rowing, canoeing and swimming. One can also just simply stroll on its banks or read a book by its side, and an artist can even splash his canvas with the captivating landscapes around. Special highlight of this place is the annual 'Moomba festival' that celebrates the Yarra River's increasing cultural significance to Melbourne. It is a carnival of sorts bringing whole Melbourne together in its festivity. Another similar place full of green-delights for nature lovers would be the Fitzroy Gardens, one of the most historic and aesthetically pleasing gardens in Melbourne. And while there, do not miss the famous Captain Cook's Cottage and re-live pages of history.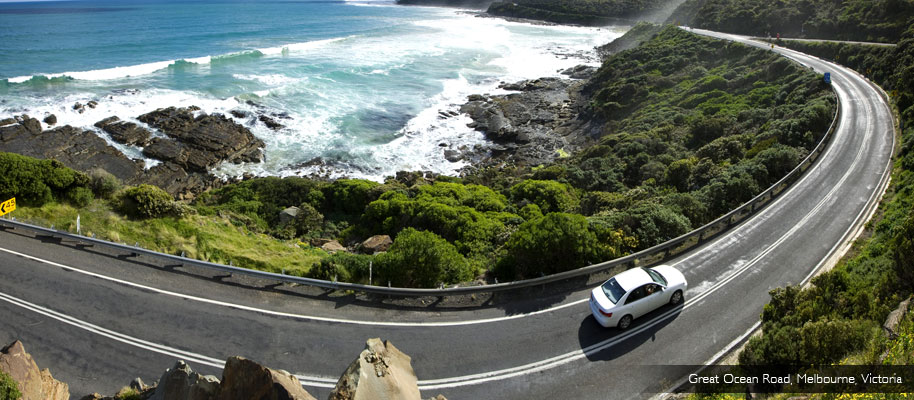 Great Ocean Road, Victoria ~
I am a happy back-packer; the road being my home,
Lustily I enjoy, as I cover the curvy path, long,
Excited all the way and enthralled many-folds,
Thrilled by the luscious sexy-beauty of the Great Ocean Road.

An Australian National Heritage listed no less, the Great Ocean Road is a 243Kms stretch of road along the south-eastern coast of Australia. With a panoramic view, it is one of the world's most scenic and dramatic coastal drives and everyone's favourite must-visit. With the road running along the cliff, it is surreal to watch the sea with white waves crashing on the rocks far below and bits of mesmerizing greenery peeping at you here and here. One can also visit the Limestone caves ( esp the famous 12 Apostles, ) in the cliffs ( takes 4 hour drive on the GOR ) and the therapeutic Hot springs too!


Melbourne Wildlife
~
Where birds and animals too speak their own language,
They run, hop or fly in their full carriage,
Rich and unique is the fauna here,
Miss not them, they add to the pleasure.

Melbourne has its amazing share of wild-life that one just simply cannot miss. Infact, the popular Melbourne Cup will give a glimpse of its impressive horse-racing sport. Famous as "the race that stops a nation", it is a 3,200 metre race. On this day the entire state gets a holiday. Such a high profile event naturally calls for high-fashion too. Everyone is dressed in their elegant best ~ men in their 3 piece formal suits and women don attractive head-gears. Well, Melbourne is a fashion capital - where one never dresses out of fashion!


Melbourne is also famous for Kangaroos ( whole Australia is home to them ) - the best place to watch them in their natural habitat is at the award winning Ballarat Wildlife Park. Whale, Dolphin, Seal, Penguin and sleepy Koala watching in Phillip island ( 90 minutes from Melbourne ) is a must activity too that promises all the fun for everyone, especially those with families. The island offers sheltered bays/swimming beaches ( also ideal for beach cricket or volleyball ); it has renowned fishing hot-spots and a coastline for surfing, that is rugged. One can enjoy watching those penguins ( hundreds of them ), cruise the waters, soak up all the action at world-class Australian Motorcycle Grand Prix and also take part in other engaging events that makes this place a hot-circuit of activity whole year round.


Anti-Gravity Hill, Woodend
~
Not far from Melbourne ( 1 hr drive ), is a baffling place ( and one of the most well-kept secrets too ) that defies gravity, situated in Straws Lane, Woodend. Eg. If I stand near the bottom of a hill facing up-hill, and tip water on the road; it won't flow downhill, but instead, will flow up. Do it with a ball and the same thing would occur - it'll roll up the hill. And while running too, you feel you are running down-hill, when infact you are going up. If you put your car in neutral gear, at bottom of a hill - it'll slowly roll up too; and the hill is quite steep, making this phenomenon very mysterious. Can't wait to experience this fun spooky thing for myself.



¸¸.•*¨*•♫♪¸¸.•*¨*•♫♪¸¸


Do the Kite-surfing at Melbourne's most famous St.Kilda Beach, Hop on a Hot-air Balloon and fly over Melbourne, Yarra Valley & the Vineyards, go Zooming up the Dockland's giant Ferris Wheel/Southern Star, Learn the past's rich history at Melbourne Museum, Unleash the shopaholic me at Queen Victoria's Market, get Amused at Luna Amusement Park, Visit the peaceful Iskcon Temple or simply Enjoy the idyllic picturesque villages close by at Dandenong Ranges ~ pick Strawberries; explore forests nearby and click tonnes of Selfies ~ Well, Melbourne does indeed seem to offer plenty; infact, my blog-post is running out of space covering so many...

And last but not the least, mingle with locals over cuppa hot Australian coffee and try their various cuisines. Hope to see and experience all of them with my own eyes making my dream a reality and blog my 'real' experience next time! Till then take care, Mate~

¸¸.•*¨*•♫♪¸¸.•*¨*•♫♪¸¸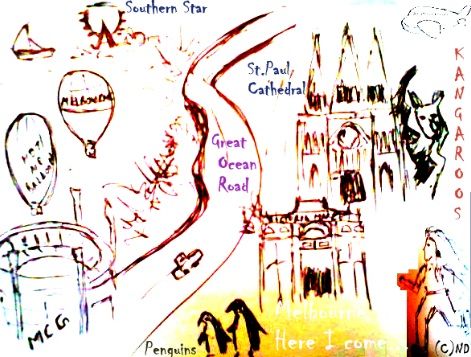 QUIZ : So, which of these places would you want to visit in Melbourne and why? - WIN an Awesome Prize for the most spectacular answer!
❤❀❤

(
Images Credit
- VM, IB, SN -Filmapia.com, Bollylocations.com, Youtube, 4Aus.com, Junkpit.net, Wikipedia, Mountmacedon.org.au, Adventurestoday.org, Planetden.com, Keepcalm-o-matic.co.uk & Sketches are ©Mine ) |
Cosmopolitan, elegant and chic, Melbourne has a passionate soul and a welcoming heart. From thrilling world class events and renowned architecture, to café-lined streetscapes and verdant parklands, there's always something new and exciting to discover in Melbourne.
Stay Connected & Follow my Updates on the blog's GFC | GOOGLE+ | FACEBOOK | TWITTER | BLOGLOVIN | NETWORKEDBLOGS
---