¸¸.•*¨*•♫♪¸¸.•*¨*•♫♪¸¸
Day - 1 ( 30thOct'14 ): These days we get news mainly from facebook and twitter, and that's how I came to know about Tata Literature Live, The Mumbai Lit Fest event to be held at NCPA. Well, I was aware of it earlier too ( as I'm aware of almost all lit fests e.g Jaipur Lit etc ), but I had missed attending the previous editions, esp last year's when I forgot the dates completely after making my mind to attend. However, this time the dates were just on 1-2 days, hence, I didn't forget so easily. Being a creative-arts buff ( with music, writing & art my passions ), literature have been part of my life ever since I wrote my first little poems and stories in school days and got them published in either Children's corner of local dailies or on our School Magazines. So, naturally I got enthused up at the prospect of seeing and hearing the literary giants up close and personal. And being an avid blogger, this is one event that was perfect to cover on my blog. So, I was all ready to go. Boy! Was I excited or what. My journey started from home around 11.30AM, but being from the suburbs it took quite some time to reach the venue; what with travelling in local train & shared-cabs et all.


1.30PM-2PM : Good thing about the #TataLitLive was that entry was free ( first come first serve basis )! One had to get the Daily pass and for certain performances ( indicated in red dot on the itinerary ) another special pass. Since I was there till around 7pm, I took passes for whatever I could cover during that time-period. The registration people were polite, helpful; infact one girl on seeing me standing and confused, literally guided me through the entire schedule ( though it all flew over my head within seconds ). There was still half hour to go before the opening ceremony at 2pm, that's when I decided to head to the cafeteria at the back and get a quick bite. After browsing the menu, I settled for sandwich, which would be quickest to make. But inspite of the waiter's assurance to get it ready within 10 minutes, he took almost 25! As I started to get wary, sitting and glancing at my watch again and again nervously, wondering if my sandwich would ever turn up -- it alas did! Thank heavens for that, else, I was just about to cancel the whole order and leave. For some delegates there was some coupon-system, but since I went on my own ~ I paid the 390 bucks for the food. It was almost 2.10 when I finally reached the NCPA Experimental Auditorium with the function having already started.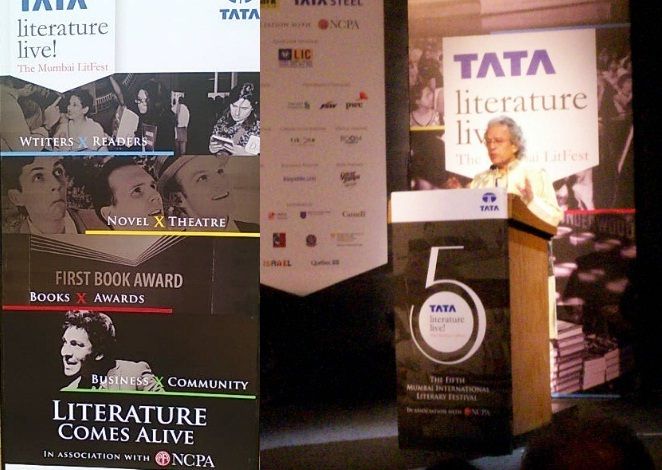 2PM-3PM The Experimental Theatre at the #NCPA was all geared up for some action on Day 1 of #TataLitLive2014. And it was obvious from the packed house, that I was not even let fully in. There were some empty chairs ( for media contingent ), but the ushers asked me to go up and sit somewhere in the gallery instead. Since I had no intention of doing that, I just stood where the ushers were standing, near the entrance and took in, whatever was happening ( while clicking some odd pictures too ) making up my mind in the meanwhile to enter early in rest of the sessions so as not to miss a seat :|

THE OPENING CEREMONY : Mukund Rajan, brand custodian and chief ethics officer of the Tata Group ( the main event sponsor ), addressed the audience at the #TataLitLive
2014 on the opening ceremony. Festival Director, Anil Dharker, delivered his opening address to the packed house announcing all ( that there were quite a few!) of the awards at the #TataLitLive2014. Mr. K N Suntook, NCPA Chairman made a speech on the pivotal role culture played in society at #TataLitLive2014 opening ceremony too. He also spoke about India's burgeoning fundamentalism, among other things. Carwyn Jones, the First Minister of Wales, was there to promote #WalesIndia relations at the opening ceremony at #TataLitLive2014. "Literature gives expression to the human condition. Literary festivals are an important part of that process," he said. This was followed by the unwrapping of the long-awaited #TataLitLive2014 brochure ( priced at Rs.50/- ), by Mukund Rajan, K N Suntook, Anil Dharker, Gulzar and Carwyn Jones while Dilnaz Irani compered rest of the event as the emcee!

An interesting fact by Carwyn Jones remained in my mind through rest of the event, that Welsh language is from Sanskrit. Infact, he uttered a few sentences in Welsh, which to everyone's surprise in the theatre, was quite different from English and had nothing in common at all. Come to think of it, most European language do sound very different from English too.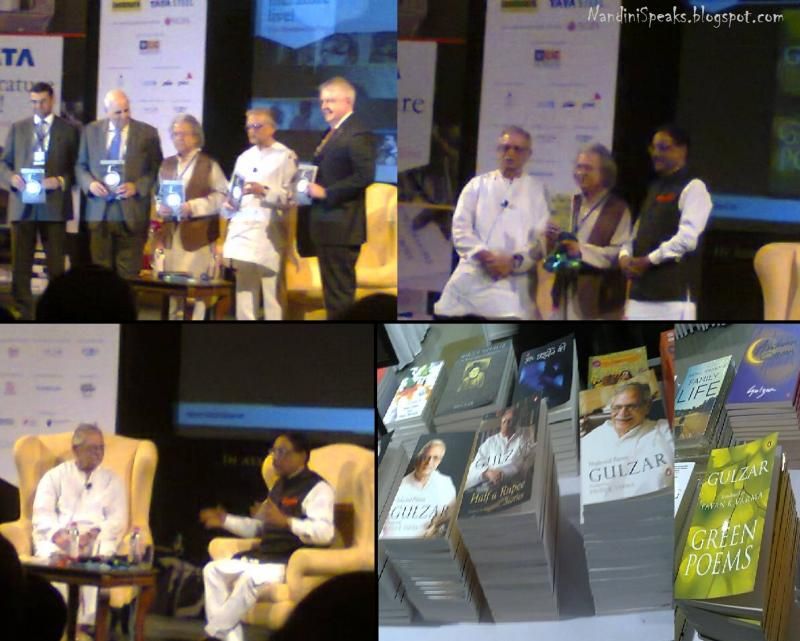 2PM-3PM The short opening ceremony was followed by launch of Gulzar's book 'Green Poems' and his conversation with the translator/politico Pavan Varma. Mukund Rajan, KN Suntook, Anil Dharker, Gulzar and Carwyn Jones unwrapped the book. And as the others took leave of the stage, the duo sat centre-stage. They are supposedly old friends, creative partners and both more eloquent than the other. The launch of Gulzar's Green Poems saw an almost full house going "wah! wah!" at every verse. Personally, I feel, when a person reaches a certain stature/status in life/society or work-field, even ordinary lines are lapped up by the the audience as extra-ordinary. I've heard Gulzar mostly via his works in movies or T.V Serials, and his words are generally simple ( with nature itself doing the talking via his verses ) talking of life or its complexities. Maybe, this simplicity of his words connect to the audience most. He read his poems in urdu, while P.Varma read them in English.
I came out after a while to check the books displayed. And within few moments Gulzar too appeared to do a book signing near the place. All of a sudden the almost-empty hall was flooded with people and photographers; the former to get his autograph on the book they purchased and the latter paparazzi kinda click-click.




3.30PM-4.30PM Siddharth Dhanvant Shanghvi addressed the crowd during the next session "When The Ink Runs Out" at #TataLitLive2014 — introducing the Pulitzer Prize winning poet, Vijay Seshadri, Ben Okri and #ManBookerPrize winner Anne Enright. What do writers do when they run out of inspiration? "How do we reach that point of modest derangement to write?" asked Ben Okri
"One word for unhappiness is creativity", believes Anne Enright, author of 'The Gathering'. While Vijay Seshadri believes in going back to the point where you got stuck, and starting all over again. Yes, even a Pulitzer Prize winning poet can have a bad hair day!
This session was interesting because you got to see the other side of an author, when he gets confused on what exactly to write. And it happens a lot, to all. He seeks ideas. Sometimes he writes a word, but cannot go ahead. Maybe years later, he finds the next word, and again after a long time-gap the next. Thus, finally he completes his sentence and gets the story idea from it. This was a brilliant analysis by Ben, citing his own example, when he faced a dilemma of sorts. There was lighter moments to the session, with talks about many writers often taking help of the booze at times, as then their imagination truly takes off. However, to write one doesn't necessarily need to be on a high or drunk - Seshadri clarifies.



The next session was actually a play ( made from an auto-biographical book by same name ). The play or one-man-act, started off in a humourous manner with Martin Moran narrating his own childhood brushes with the Catholic church and its often very strict and righteous nun/priests etc. You don't realize when it gets serious, and then it really hit you - on what it is all about actually. Child-sexual abuse ( sexual trespass ) at the age of 12-15, that he had to face by an older man and the whole aftermath. The affect it had on his life. And his journey to forgiveness after almost 30yrs.
http://www.thetrickypartbook.com/index_content.html | http://en.wikipedia.org/wiki/The_Tricky_Part


The day ended for me, ( there was more going on ) with a musical performance by Ghazalaw at #TataLitLive2014, which is a collaboration between Welsh musicians and Ghazal artistes. The crowds had already filled up the place. I took in some of the soothing melody as the cool breeze gently blew that evening, before heading home.

Oh what a day it was....really enjoyed it. I skipped the next 2 days ( as I was attending another event ), and went again on the last Award Nite on Day4. This day I went via a blogging community I was part of. See link given below to read my fabulous experience on the final day :-)



¸¸.•*¨*•♫♪¸¸.•*¨*•♫♪¸¸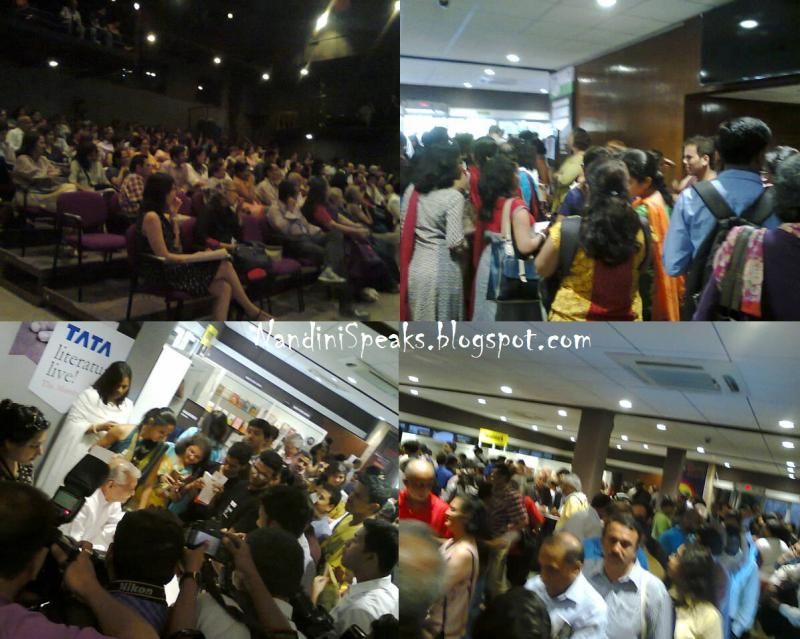 the people...@tataliteraturelive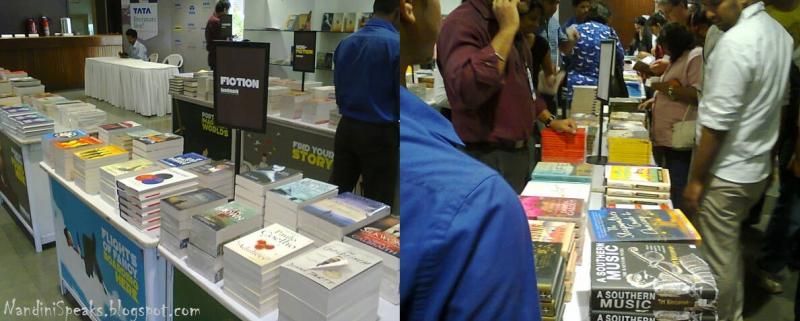 the books... @tataliteraturelive

¸¸.•*¨*•♫♪¸¸.•*¨*•♫♪¸¸
❤❀❤


( Images - ©Mine & LitLive ) Read Awards Nite ( Day4) - Here! | See Better Resolution Pics of #TataLiLive2014 - Here & Here!
Stay Connected & Follow my Updates on the blog's GFC | GOOGLE+ | FACEBOOK | TWITTER | BLOGLOVIN | NETWORKEDBLOGS
---