¸¸.•*¨*•♫♪¸¸.•*¨*•♫♪¸¸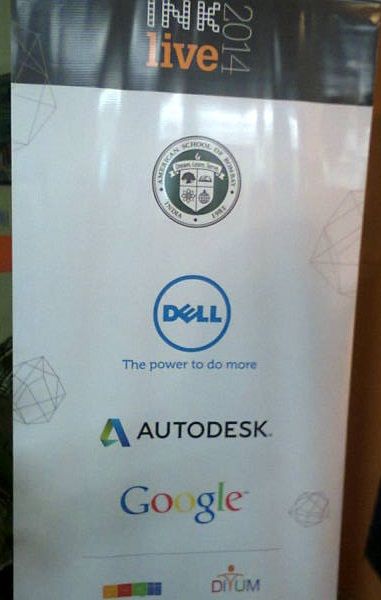 Blame it on my cab-driver who got me lost and took me all the way to Dhirubhai Ambani American School, BKC, instead of American School of Bombay, Kurla, which was my destination where I was actually headed. So, obviously I missed out on the Opening Ceremony and Introduction to the 2014INK Conference 'Beyond Boundaries' by founder and curator @lakshmipratury. However, I was lucky enough to catch the 2nd Segment onwards and that was quite an experience in itself. But first, lets get an idea what INK, INKCONFERENCE, INKTALKS and the INKLIVE is all about!
What is INK? - 'IDEAS. Inspiring STORIES. Surprising PERSPECTIVES. Captured and shared -- from the most unexpected sources' says its website. INK takes all on a fascinating journey that expands their horizons.

What is INKConference? - INK Conference is an annual 3 day event, where a part of the community gathers together to celebrate successful milestones of the community's journey; a celebration of thinkers and doers from diverse walks of life. Change-makers from every walk of life ( world's visionaries – CEOs, entrepreneurs, artists, technologists, scientists & more ) share their stories, ideas and perspectives at the INKStage – in an 'intellectual Mardi Gras'; where occurs a cross-pollination of ideas and chance encounters for the next big breakthrough. INK is part of a movement to change how the young and young at heart view their world, goals and ambitions, particularly in emerging economies.

What is INKTalks? - INK gives away all of the knowledge it collects at the INK Conference to the world at large — for free — through its website, INKtalks.com where one can catch its live webcast too of all its sessions.

What is INKLive? - To broaden the reach beyond the Conference, INK events are hosted at organisations, companies and colleges throughout the year. One of such is also known as INKLive which is specially organised by INK itself, close to the main venue. It has its own workshops too, besides the live telecast of the main event and also has interaction with various INKSpeakers, INKFellows & INKPeople.
The theme for INK2014 was 'Beyond Boundaries' held from October 31 - November 2, 2014 in Bombay/Mumbai @Grant Hyatt! This year it was also partnered by bigwigs like DELL ( who held a special workshop & contest ) with special focus on youth esp college goers ~ to motivate, inspire, empower, engage and to give opportunities & exposure in their journey to become future leaders.

¸¸.•*¨*•♫♪¸¸.•*¨*•♫♪¸¸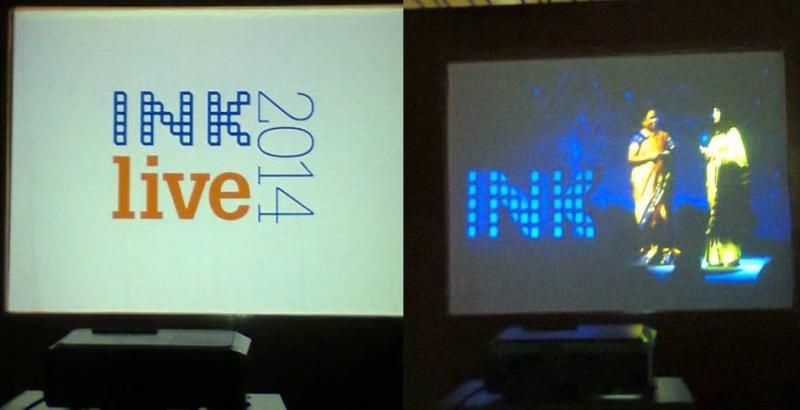 Day - 1 ( 31thOct'14 ): So, it was INKLive where I was headed. An opportunity given by INK's Blogging partner Blogadda. Unfortunately, though it was a 3 day event, I could only attend first day's pre-lunch session. Here's an account of it.
From 11:30 1M - 13:15 PM, the 2nd Session was "Reaching for the Stars" where Lakshmi narrated her recent rafting trip and of being covered by blanket of stars at night, while introducing the co-host Vani Kola ( a Venture Capitalist MD Kalaari Capital ) who in turn taught everyone how to dream big. She said, building companies is equal to cooking. More it is shared, more it is fulfilling. It is not employment but it is wealth creation instead. The session featured various Speakers as well as INKFellows ( which is a yearly program of young, global and cross-disciplinary community of path-breakers who will be the shapers of tomorrow; they are given scholarships and opportunity to speak at the conference too )
The place had special security arrangements and geo-tagging of the location was prohibited. With registration done and double frisking I entered the venue. There was a coffee-break of sorts, and it was quite a huge crowd in that small hall. Registrations for the various workshops were to be done during lunch break.



The INK Live venue & the crowd gathered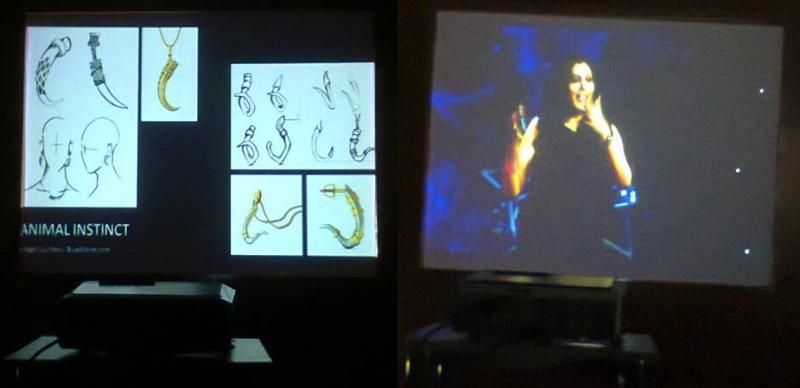 1st Session was by INKFellow "Shipra Jain" - Jeweller. Shipra Jain is the vice president of Design and Merchandising of BlueStone.com, a leading online jewellery retail brand. Why do people buy jewellery? Why do women love jewellery? Shipra spoke on the evolution of jewellery; from how in the past it was the only piece of 'property' a woman got to 'own', to how today it has become a woman's way of self-expression ~ i.e the evolution of consumer behaviour / motivation for jewellery purchases and its correlation to design. In the past jewellery was kept only for special occasions or bought as investment to bail out from financial problems in times of difficulty, but today woman wear jewellery for different occasions and in every day life too. Different situations have different types of jewellery specially made, that are not of specific design as it used to be earlier ( the usual cluster design with minimal gold and more diamonds ). They are more versatile, as versatile as women have become today ~ playing various roles in the society - from homemaker, sports-women, working women, socialite etc. Some designs are experimental and innovative too. Design in jewellery as a medium of expression is finding its solid bearing, Shipra says. She shared some interesting insights into the saleability v/s experimentation debate in the jewellery design industry. Jewellery industry is normally very secretive and has hidden costs, Shipra believes in breaking such norms. Shipra advocates for being transparent and is paving a new way to buy jewellery in India ~ thus, being the game changer in today's jewellery obsessed world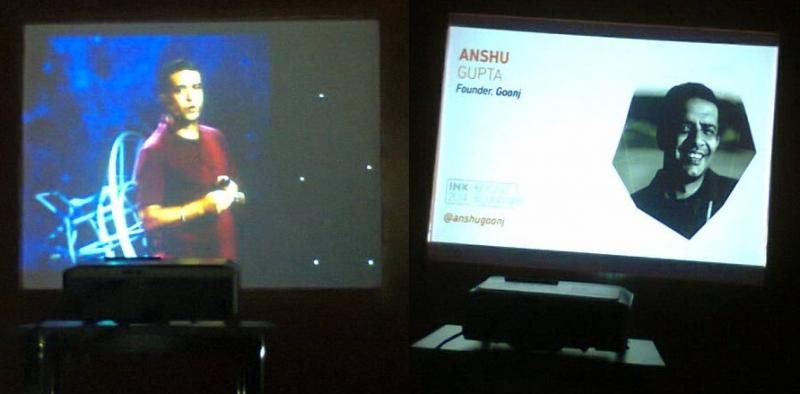 2nd Session was by Speaker "Anshu Gupta" - FOUNDER, GOONJ. A primarily volunteer run organization based in New Delhi that provides clothes and other basic amenities to millions across India by turning one person's waste into a resource for another. Awarded the 'Social entrepreneur of the year award' by the Schwab foundation, Anshu has come a long way in his efforts to bring wider attention to the most ignored basic needs of human. This was one eye-opening session that had me spell-bound. In Bombay we don't really know how menacing winters can be. But in other parts of India, it is another story altogether, where winter can cause so much disasters - main being death! Anshu spoke about redefining disaster by defining undefined disasters. Yes, winter can be called a disaster - if you have no cloth; because it is not about cold, but its the lack of clothing. He narrated a chilling story of a daughter of a man ( who picks up dead-bodies in Uttarakhand ), she hugs them to keep warm in the winters. Disasters, Donation, Distances, Detail, Distribution and Dignity, its all about the D's. People give donations, but many times they give rotten food, unusable clothes, broken utensils etc. Respect the dignity of the receiver, says Anshu. His NGO works on getting the donations to the place of need and giving it in a way that maintains the dignity of the receiver ~ focusing on quality over quantity and defining what to give ( they have certain protocols for it ). In rural places too people have dignity, he says, because begging is mainly a city phenomenon. You don't see beggars in villages. Goonj is also doing some good work for dignity of women in rural India ~ humanity is more important than anything else, Anshu concludes.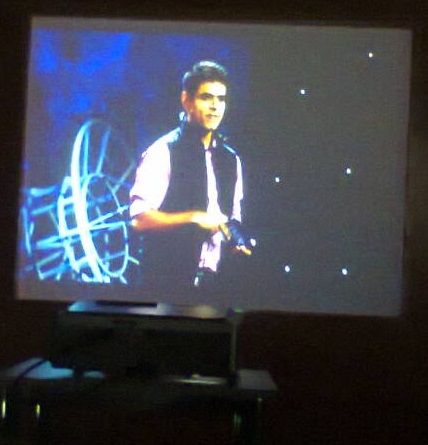 3rd Session was by INKFellow "Anjney Midha" - Venture Capitalist, Partner KPCB. Anjney is a partner at the American venture capital firm Kleiner Perkins Caufield & Byers, where he focuses on consumer digital investments and ProductWorks. "It has become easier for people to build products but not companies" says AnjneyMidha. He shared information about #DormRoomFund inspired by the learnings from Grameen Bank, leveraging the value of peer networks. It is a very interesting concept currently running in major US universities for couple of years now, where students collect funds to lend out to other students in need. It is a by-students and for-students company.



4th Session was by Speaker "Raghava KK" - Artist. Raghava KK is a renowned Indian artist and a tech entrepreneur, named by CNN as one of 10 most remarkable people in 2010. He is the CEO and co-founder of Flipsicle, a tech startup, which brings together creativity, technology, and empathy. He also Co-Chairs INKFellows Programe. This session was light and entertaining tongue-in-cheek kinda. Photo is not truth, but a point of view, Raghava says. Can the photograph ever tell the truth? On social media platforms like facebook etc, raghavakk curates a perfect family life, but life at home can be anything but that. Thus, photos not always tell the truth, ( citing recent example of a viral picture of a boy sleeping between tombs of his parents, which was actually an act ), yet sometimes it does. His theory on visual perspective and our perception of the truth that 'we see' was quite insightful. Not only we are recording our life, we live what we record. Every form of media starts by recording real life, only to ultimately transcend it. Not only have we entered the digital age, the digital age has entered us. 'Ask in words, Answer in photos,' with that Raghava KK launched his fun app Flipsicle@INK2014, that can be downloaded from itunes.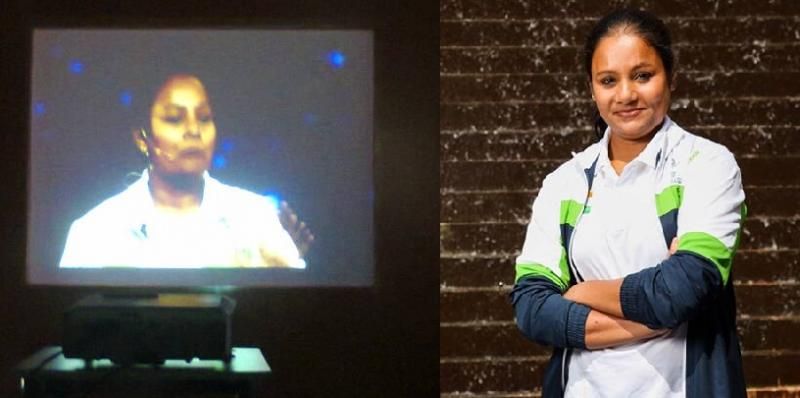 5th Session was by INKFellow "Arunima Sinha" - Mountain Climber. Arunima is a former national level volleyball player who was thrown off a moving train in 2011. In order to save her life, the doctors had to amputate part of her left leg. Inspired by Yuvraj Singh, who successfully won his battle with cancer, she was determined to climb Mount Everest. In 2013, Arunima became the first female amputee ( and the first Indian amputee ) to make the climb. When Lakshmi announced that the next speaker would be speaking in hindi, whereby INK's goal was to have a repository of talks in as many languages possible, I had no idea what was coming. I hadn't read her bio beforehand, hence, I was quite dumbstruck as Arunima Sinha began narrating her story. It is a story of pure resilience, will-power, self-determination and not giving up attitude even when struck by such trauma. To be lying helpless for hours in the railway tracks, with her legs almost ripped off by a moving train then going on to climb not just Mt.Everest, but several other mountains around the world - she deserved all the standing ovation she got. Its a story how a human spirit can defy gravity. "Logon ka sabse bada problem yeh hota hai ki woh physical appearance pehle dekhte hain. Jaisa hum sochte hain, humari body waise hi response dene lagti hai. Handicap-ness lies in the mind/head and not in body/limb. Conquer your mind and heart, then no mountain is unclimbable. Handicapped by imagination - you loose everything. You can do anything with energy and enthusiasm. Luck too favours only those who are determined to win. Oopar wale ne mujhe bachaya hai toh sirf itihaas likhne ke liye. Abhi toh iss baaz ki asli udaan baaki hai, abhi toh maine laangha hai samandaron ko, poora aasmaan baaki hai," some truly golden words by Arunima. She also said how her mentor ( Bachendri Pal ) played a pivotal role in what she is today, by trusting her first, aiding and inspiring her. She had to face various scorns of society when she had lost her legs - with people gossiping that she wanted to commit suicide or had ran away etc. But she was determined to show them. In her mountain climb too she faced hurdles like lack of oxygen, numbness of her hands, seeing dead-bodies lying around of other climbers who failed to make it, but she went ahead ( even when her guide sherpa almost gave up ) and raised India's flag on top and not just clicked pictures but recorded a video too. Nobody expected her to return alive, but when she did everyone's reaction was an astounding - "Pair nahin hai, kaise chalti ho? Khaati kya ho?"


6th Session was by "Shantanu Moitra" - Music Director, Composer. A man on a mission to save folk musical traditions, Shantanu is a renowned Indian music composer and restorationist. He has worked on many landmark Bollywood films, including "Parineeta", "3 Idiots", and "Madras Cafe". It was the last session before lunch, and what a session it was too ~ truly amazing, soothing, melodious and very deep and thoughtful as well. Accompanying Shantanu was Monali Thakur ( actress/singer ) who performed on some of Rabindranath Tagore's famous poetry. Tagore wrote poetry for almost every occasions, and many were relevant politically to those times i.e the freedom struggle in India that was going on. He also had close friendship with Gandhi, but often their ideologies were quite diverse to one another. While Gandhi said, always fulfill the promise you make, Tagore would say - While fulfilling the promise, if you discover you are on wrong path, abandon it. He had written the powerful piece "Where the mind is without fear." First was 'Amar Shonar Bangla' and also a number Tagore wrote with lot of political depth but masking it as fun to distract the British from understanding the hidden meaning. "If you are not in conflict, you are not an artist! Artists need to be politically aware," says Shantanu. "Greater you become, greatest is the almighty." In Shantiniketan when Gandhi had once arrived and was hesitant, Tagore wrote ~ Ekla chalo re. Shantanu got us all to sing it too :-)


The 2014 INKConference Stage

The 2014 INKLive Stage


There were also short sessions at the INKLive stage featuring some incredible INKPeople ~ 16year old Bani Kohli and 17year old Prakriti Singh on the work their NGOs does ~ (1) NGO 'JaiJan' - that collects waste food from hotels/
restaurants and distributing it to those needy. (2) NGO 'Praanaadhar' - by raising funds and arranging for safe drinking water by installing water-purifiers at various remote villages/old-age homes to ensure free & safe drinking water to all. In just two hours of attending INKLive, I had learnt so much. I wish, I could've covered it all. Hopefully the next time!

¸¸.•*¨*•♫♪¸¸.•*¨*•♫♪¸¸
❤❀❤


Thank you #INKLive2014 and Blogadda
Stay Connected & Follow my Updates on the blog's GFC | GOOGLE+ | FACEBOOK | TWITTER | BLOGLOVIN | NETWORKEDBLOGS
---