¸¸.•*¨*•♫♪¸¸.•*¨*•♫♪¸¸

"Kuch aaya kya aaj, post-master ji? ( Did anything come today )" Nathu asked the village post-man looking expectantly. Since last six years, every single day he'd leave his little corn-farm, and walk hurriedly to the post-office at the stipulated time of arrival of its sole post-master. And everyday, only this one question left his lips, was there any news from his son.
Its been over six years, that he had heard anything from his only son Raju, who had gone to vilayaat ( abroad ) for his studies. First few years, he had received two or three postcards from Raju, but then suddenly that too stopped coming. Both Nathu and his wife waited eagerly everyday for news from their son. And everyday the post-man would shake his head in negative. "Kuch nahi aaya Nathu Bhaiyyo. Chor do yeh ummeed. Apka beta vilaayati ban gaya hai ab toh, bhul giya hoga tum logon ko. Aaj kal ke baache, duniya hi badal gaya hai. ( Nothing came, leave this hope. Your son has become foreigner now, he must've forgotten you all )."

It pained Nathu, that even today he'd have to take home the same bad news. He and Maalti ( his wife ) had spent all their savings for Raju's education. Only recently he had secured his farm back from mortage, after toiling day and night. He was about to leave the post-office, his head low grieved when he heard the post-man call him back.
"Nathu, I have one good news though. Your post-office savings will be maturing next month. Why don't you go to vilaayat, to meet your son yourself? The money will be enough I think."
Nathu shook his head uncertainly looking at the post-man as the latter continued, "Atleast you know which university your Son had taken admission and his last address. You can find out from there Raju's whereabouts. I can bring in some more information about the place that will be of help."

"Ka bolte ho post-master ji. Vilaayat aur hum jaise chote log? Humku toh englishwa bhi nahi ata. Jaisa Raamji ki iccha, humri takdeer mai yehi likha tha. Jai Shri Raam ji ( what are you saying, small people like us in abroad? I don't even know english, whatever is God's wish )."
"Think over it Nathu, and Jai Shri Raam," the post-man looked on as Nathu headed home. He felt sad for the old man. He wished he could help him somehow. The next day, however, brought some unexpected news.


¸¸.•*¨*•♫♪¸¸.•*¨*•♫♪¸¸


As usual Nathu hurried to the post-office, hoping he was not late. The afternoon Sun was scorching over his head, and beads of sweat trickled down his body drenching his old farmer's clothes. From a distance, he saw the post-master pacing up and down the little post-office verandah, with an envelop clutched in his hand. He looked quite different, because as soon as he saw Nathu his face lit up. "Kaha the Nathu, kab se tumhari intezaar kiye jaa raha hu ( where were you, since when I've been waiting for you )".
Nathu was puzzled, as he stood uncertainly near the steps. "Come inside Nathu, I have very good news for you today." The post-man ushered him inside, in the little office room where there was just a table and a chair. Nathu began to sit on the floor when he was stopped. "Not there Nathu, sit on the chair. See this?" The post-man asked waving the envelope he held, in front of Nathu. "You have a letter from your son, Nathu. Want to know what he has written? Raju ne khat bheja hai. Kya likha hai maalum karna hai ki nahi?"

Nathu nearly collapsed hearing the news. He recovered somehow and urged the post-man to go ahead and read. Not very literate, the post-man was his only option to get the letter read properly. "Likha hai sab khairiyat hai. Maafi mange hai ki bohot dino se sampark nahi ki. Woh kuch ban jana chahta tha pahle. Bhagwan ki daya se ab Engineer ban gaya hai, naukri lag gayi hai, aur agle mahine uski shaadi bhi hai. Pitaji aur mataji dono ko vilaayat bulaya hai. Thikana bhi bheja hai, jagah ka naam hai 'Little India', woh bhi videsh mei. ( Writes everything is okay. Asks forgiveness for not writing long time. Wanted to become something first, and now is Engineer by God's grace and got a job too; and will get married next month. Has invited you both )."

"Shaadi???" Nathu was confused hearing that, "ke bole ho, post-master ji?"
"Haan shaadi," the post-man said again, before continuing, "He ( Raju ) writes, marriage is to a lady of foreign nationality, whom he met in the university. But she is more Indian by nature and heart, having seen Indian culture widely spread in western countries and also having spent time with him. Yoga karti hai aur Kathak seekh rahi hai. Aage likha hai, fikar maat karo saare aadar aur sanskaar se bharpoor hai, hone-wali bahu."

Nathu could barely believe his ears as the post-man narrated rest of the letter. His son Raju, had sent plane tickets for both him and his wife too, along with other visa instructions. By the time he reached home, jubiliant Nathu was another man altogether totally changed. Initially surprised, Maalti never saw him as happy in the last six years. "Sunti ho ji, Raju ki maa, hum videsh jaa rahe hai! ( did you hear, we are going abroad )," he kept saying over and over excitedly, and got busy taking out his only suit-pant-shirt he had, from an old trunk. He could barely wait to see his son.



¸¸.•*¨*•♫♪¸¸.•*¨*•♫♪¸¸


"Hum sahi jagah aaye hai kya ji, yeh toh mahal jaisi badi hai, ( are we at the right place, this looks like a big palace )," Maalti looked around the huge airport terminal. Both Nathu and Maalti had arrived at the Delhi International airport from their little village, all set to catch the flight and go meet their son in a foreign land. The last few days were like a dream. Simpleton villagers, they were nervous too at this new inpromptu adventure of theirs . "Hum to kahe hai ki gaon hi laut chalte hai, hum log videsh mei kaisey tikenge, yahi pe yeh haal hai. Waha to pata nahi shakahari khana milega bhi ya nahi, ya Gaai/Bakri khani padegi humko, aur videshi log toh bohut hi ghamandi log hote hai ji ( lets go back, how will we cope in foreign land when our condition is like this here only, will we even get to eat vegetarian there )."
"Chup rahiyo bhagwan. Hum apne bete se milne jaa rahe hai. Jaisa Raamji ki iccha, kuch na howe hai videsh mei humko, ( Be quiet, we are going to meet our son. Nothing bad will happen abroad )." Nathu tried to be brave, but inside he too was trembling nervously. Many apprehensions flooded his head too.

"Luthanisa, lufathaniya....Yi ka naam hai re; bolat hi nahi paa rahe hai," confused by the flight's exact name, Nathu looked around looking for someone to guide them in the airport, when he saw someone walk up to him.
"Sir, kya hum apke madat kar saktey hai, ( Sir, can I help you? )" one of the airport's ground security-stuff then directed them to the Lufthansa Airlines Check-in.
"Yaha to sab itna hi-funda hai ki daar hi lago hai ji, ( everything is so high-class, feel scared )" Maalti said nervously, as their baggages were scanned, but got the surprise of her life when the Lufthansa ground crew gave her a warm friendly smile. Haain, itna bhi kharab nahi hai yeh hi-fi log toh, she thought to herself, feeling somewhat re-assured, "par haawai-jahaz mei toh sab firang honge, ( but, will it be same inside the plane too )," ~ her doubts began nagging at her again.

She was in for more surprise when not firang but Indian air-crew greeted them warmly, when they reached the door of their air-craft while boarding, "Namaste!" they said warmly, folding both hands in typical Indian style of respect & welcome. "Lufthansa Airlines mei aapka swagat hai, ( Welcome to Lufthansa Airlines )" and guided them to their seats.
"Yeh log to hindi bole hai ji, ( they're speaking hindi )" Maalti whispered in Nathu's ears, as they were seated inside the plane. One of the flight crew member came upto them offering Sherbets and showed the entertainment screen, and said pleasantly, to call for help anytime they needed. As the spacious and luxurious plane started for take off, both Nathu and Maalti tried flicking the buttons of the small pre-recorded entertainment TV Screens in front of them. A Fashion channel suddenly popped up in front of Nathu's screen.
"Ki dekhe ho, aap bhi na," Maalti scowled at him, seeing a foreign female model, but immediately began chanting, "Hey Raam Hey Krishna," and bowed before the screen in reverence, when she saw the foreign models wearing outfits with Indian motifs in them. Some had Indian dieties of Lord Shiva and Lord Krishna in them too. "Yeh log toh humri devtawo ko apne kapdo mai pahne hai ji, ( they're wearing our idols in their clothes )" she said astounded.
"Yi Phaaashion hai," Nathu said, barely taking his eyes off the pretty foreign models.

Curiosity flickered, Maalti too started browsing the channels in her own TV screen. On one channel she saw one foreigner teaching how to cook the perfect 'Indian Curry' in a cookery show, on another India's successful Mangalayan Mission to Mars was being featured, in one USA President Obama was wishing everyone a very 'Happy Diwali', inviting India to join in many of USA's endeavours as global partners, and his White House too was lit with Diyas, in another channel the Indian PM was being honoured in an international forum with foreign diplomats and dignitaries listening to him with great attention, yet in another a Bollywood Masala movie was going on; in one channel ~ at a certain top foreign movie-awards show some foreign actress was wearing a bright red Indian Saree and Bindi on her forehead as she received the prestigious award, while in another a foreign music channel was playing some Indo-Bhangra-Classic Fusion rap.
Maalti's eyes were wide and glued to the TV screen as she kept flicking back and forth at the channels, barely believing what she was seeing; with her mouth gaped wide-open too. As she clicked more, more surprises followed. She saw one foreign lady teaching Yoga in one channel and in another a foreign doctor was describing benefits of Ayurveda and Herbal medicines procured from the Himalayas; an international geographic channel was showing various Hindu Temples located in foreign countries, with an Iskcon devotee ( of foreign origins ) appearing on the screen and talking about Shri Rukmini Krisna and the holy Gita, in one channel there was also news of how SRK fans in Canada/USA/
Russia/Spain etc other countries had broken barricades to come close to the superstar, creating a frenzy of sorts, with the police finding it hard to control the mob.



¸¸.•*¨*•♫♪¸¸.•*¨*•♫♪¸¸


By the time the air-hostess came with a food-tray, that too filled with pure Indian veg meal with a pleasing aroma reminding one of ghar-ka-khana ~ Maalti was totally astounded by it all and nearly passed out in her chair. She was overwhelmed how she was proved totally wrong and all apprehensions laid to rest.
"Yaha toh sab India hi India hai, Raju ki baapu ji," she whispered incredulously, biting into the tasty chappati-sabji that the Lufthansa air-hostess had left her with. After lunch, Nathu flickered through some flight magazines, which were a repeat of what Maalti had earlier seen on the TV screen.
"Haan bhagwan," Nathu agreed, "Yeh log toh humri soch se bhi jaada hi Indian hai ( they are more Indian than you think ). Never did they felt more comfortable, than flying the Lufthansa Airlines, as the plane lovingly and with the crew filled with care totally Indian, took them closer to their son and future daughter-in-law :-)



¸¸.•*¨*•♫♪¸¸.•*¨*•♫♪¸¸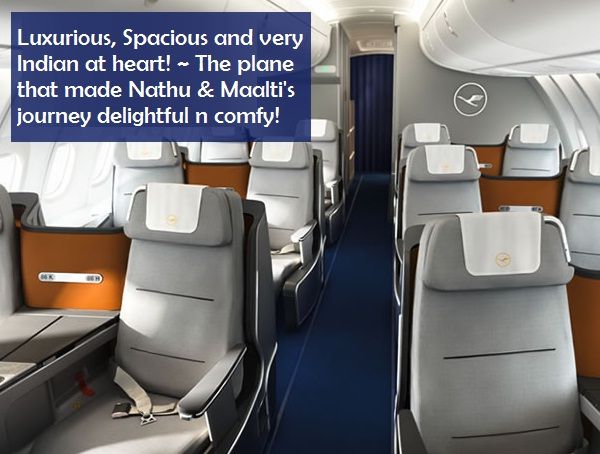 Pin It Now!
❤❀❤

Stay Connected & Follow my Updates on the blog's GFC | GOOGLE+ | FACEBOOK | TWITTER | BLOGLOVIN | NETWORKEDBLOGS
---