¸¸.•*¨*•♫♪¸¸.•*¨*•♫♪¸¸


Living in India, one thing you can't escape is its vast bouquet of festivals. I think there's not a single month, when we don't have some occasion or the other to celebrate. But come Oct-Nov, then there's a flood of it, lasting all the way till New Years Eve. 'Diwali' of course being the most awaited one, when we are in the most spending mood. During this time, not just we shop for ourselves, we gift others too; hence, it adds to the celebrations. Even a non-believer like me, can't help but take a plunge into the shopping extravaganza head on. Who doesn't like to to shop, right? For me everyday is a shopping day, more so, during shopping-seasons like festivals :-) But I get too scared of the crowds during this period in those shops and Malls. The wait it takes, for the over-worked busy salesmen to finally turn their attention us, the trail rooms where the line is never-ending. Not to mention missing out on most of the stuff, that's already flown off the rack. It can be tiring, frustrating and damn irritating. However, these days with e-commerce being the added blessing in our lives, we can shop from the comfort of our homes at just a click of our fingers, not to mention the huge sales & discounts, premium sites like Myntra offers. Making shopping such a delight rather than a chore. Talk of being royally pampered!

In recent years, Myntra has emerged as one of the top e-shopping destinations in India; specially in fashion, accessories and other lifestyle products. I can't really recall any other site that's as famous as Myntra. Out of curiosity, I did a check on its alexa rankings ~ it is 37th most popular website in India and 434th globally ( last time I checked ), out of millions of websites out there. Whoah! And the range of products it stocks, will tempt you no end. Easily navigable, I wanted to buy everything that I saw, it its pages, but my pocket yelled at me to curb my greed. Thus, I zeroed in on four different looks for the festive season. Drool away while I preen!!



¸¸.•*¨*•♫♪¸¸.•*¨*•♫♪¸¸



Here are the 4 exclusive Ethnic looks I created using the fabulous products from Myntra. Click on the shopping links below each look to grab them ~ they're disappearing fast ;-)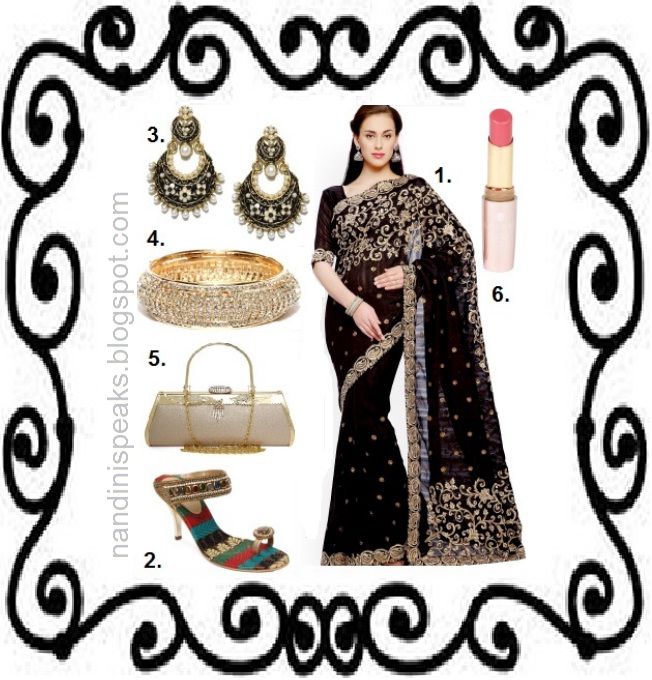 Stuff I bought for Look 1 ~ 1. Designersareez Black Bhagalpuri Silk Partywear Saree @Rs. 2,849/- | 2. Catwalk Women Gold Toned Heels @Rs. 999/- | 3. Anouk Black & Off-White Drop Earrings @Rs. 499/- | 4. Anouk Muted Gold-Toned Bracelet @Rs. 649/- | 5. Alessia74 Cream-Coloured Clutch @Rs. 1499/- | 6. Lakme 9 to 5 Pink Ambition MP14 Lip Color @Rs. 360/-

LOOK 1 : Its been more than a decade now, since I last wore a saree. Yes! that long! So, this season I wanna do something special with my ethnic look that I'm planning, which will surprise everyone. Saree is something everyone will least expect me to wear, so why not blow them away with a lovely pure-desi number. Plus, Saree always has that 'ethnic' look about them, no matter what their colour or fabric is. Afterall, it is the national dress of India, if I'm not wrong ;-) Myntra offers so many variety that I was lost at what to pick.
I wanted something suiting the festive occasion, but not too flashy as well. After literally scavenging through the site, I picked this elegant black Saree. It is so ME!! Accessorizing this beautiful designer silk embroidered saree was so much fun, I tell ya. Look for yourself what I chose. If Saree is unusual choice for me, the Heels are totally unexpected. I fell in love with them instantly. Good thing is that, they'll match other dresses too, thus, are versatile. Next, the crescent-shaped earrings with pearl-like bead and stone studded detail was too cute to resist. I had to pick the bracelet for the same reason. The royal clutch and awesome lipcolour finishes my look :-)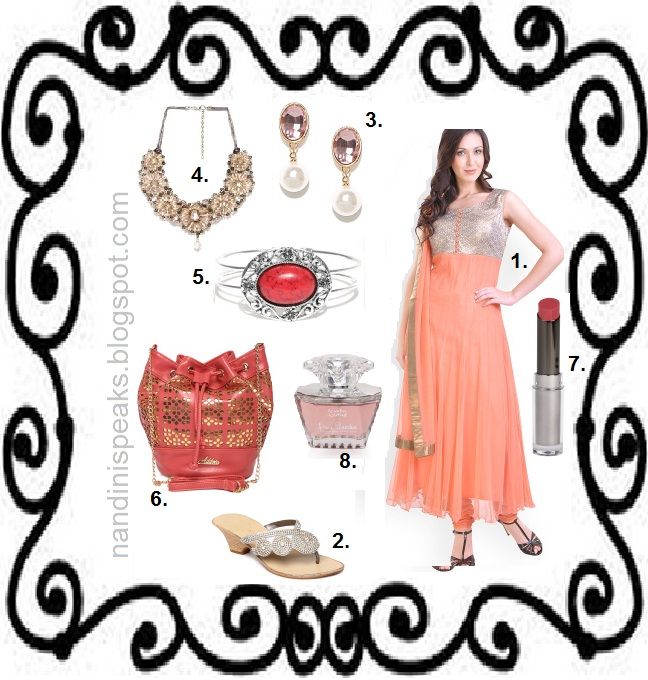 Stuff I bought for Look 2 ~ 1. Libas Orange Salwar Kurta @Rs. 2079/- | 2. Catwalk Women Silver Toned Sandals @Rs. 999/- | 3. DressBerry Pink Drop Earrings @Rs. 345/- | 4. Adrika Pink & Peach-Coloured Necklace @Rs. 337/- | 5. DressBerry Silver-Toned & Red Cuff Bracelet @Rs. 345/- | 6. Addons Coral Pink Sling Bag @Rs. 2299/- | 7. Lakme Absolute Gloss Addict Berry Rose Lip Gloss @Rs. 720/- | 8. Creation Lamis Women Spring Paradise Perfume @Rs. 699/-

LOOK 2 : I, so loved this Salwar-Kurta set that comes with Dupatta. It is chick, elegant yet ethnic; what more can a girl want! And the colour so dreamy. With embroidered details, this woven salwar suit has a square neck and its churidar has tapered legs. With festive season being a busy one, preparing for guests, running around the house etc; this suit will be hassle-free to get work done while looking pretty. I've matched it with slip-on sandals which I feel will look good. I couldn't resist the cute earrings as well as the neck-piece that I noticed. I've kept a contemporary style bracelet ~ all accessories I've mix-matched. The sling bag is so adorable - its just made for the dress, don't you think? The Rosy coloured lip gloss will make my lips so lucious and a dash of perfume totally irrestistible. Don't you love my look 2? I think its gorgeous!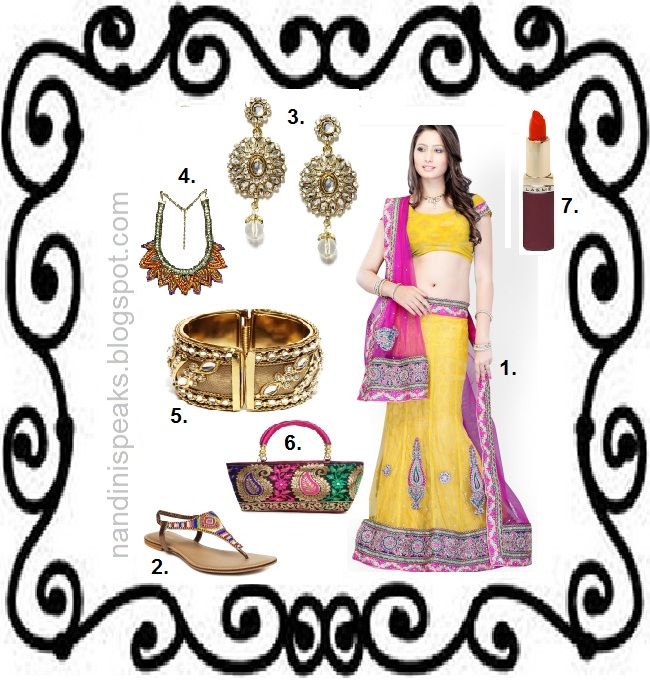 Stuff I bought for Look 3 ~ 1. Diva Fashion Yellow & Purple Net Lehenga Choli @Rs. 3599/- | 2. Wet Blue Women Multi-Coloured Sandals @Rs. 1599/- | 3. Anouk Gold-Toned & White Drop Earrings @Rs. 349/- | 4. D Muse Multicoloured Necklace @Rs. 999/- | 5. Anouk Gold-Toned Cuff Bracelet @Rs. 599/- | 6. Anouk Multicoloured Hand-Bag @Rs. 999/- | 7. Lakme Enrich Satins 359 LipStick @Rs. 219/-

LOOK 3: Going ethnic is incomplete without a gorgeous Lehenga-Choli-Dupatta set. This particular colour combination blew my mind. The accessories i.e sandals, earrings, necklace, bracelet and hand-bag are pure indulgence. I'm doing bit of mix-match again. I'm keeping my lips bright this time. All set to celebrate \:D/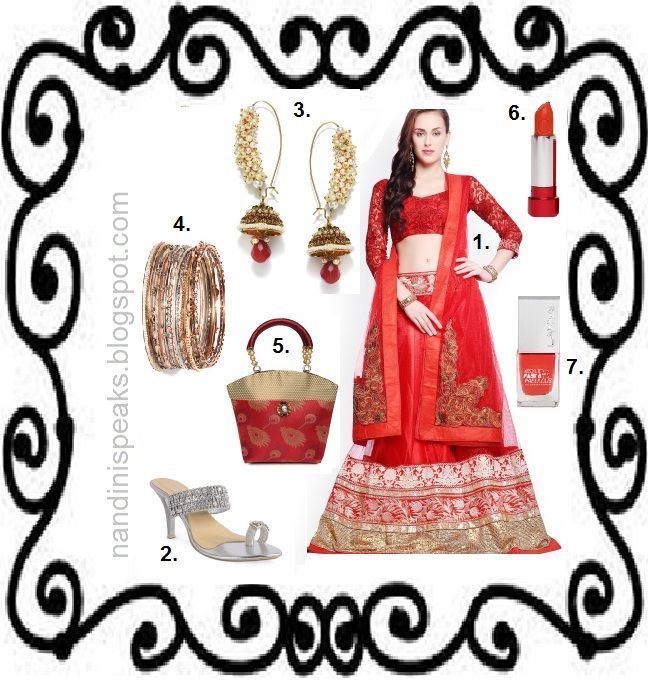 Stuff I bought for Look 4 ~ 1. Designersareez Maroon Embroidered Net Lehenga Choli @Rs. 6749/- | 2. Sole Fry Women Silver-Toned Leather Heels @Rs. 4037/- | 3. Sia Art Jewellery White & Blue Jhumka Earrings @Rs. 1050/- | 4. Accessorize set of 15 Bangles @Rs. 1345/- | 5. Anouk Red HandBag @Rs. 799/- | 6. Lakme Lip Love Tangerine Flame LipStick @Rs. 652/-| 7. Lakme Absolute Fast & Fabulous Flaming Orange 13 LipStick @Rs. 180/-

LOOK 4: Adding bit drama to my wardrobe this festive season, I'll go for a bit heavier look in my final ensemble. The colour I chose is definitely drama, and this Lehenga-Choli-Dupatta set is just right for celebrations time. It has net overlay, contrast embroidered detail and zari work. Ooh...looks so cool, doesn't it? I've chosen elegant heels, jhumka earrings, lovely dangling bangles and a cute red handbag along with bright lipstick and nail colour. Party Time \YAY/

So, there you go!!! All my ethnic ensembles are ready :-) Loved creating them. Thank you Myntra for the infinite choices you gave.

¸¸.•*¨*•♫♪¸¸.•*¨*•♫♪¸¸
Pin It Now!
❤❀❤


This post is part of #UniqueEthnicLook contest.
Stay Connected & Follow my Updates on the blog's GFC | GOOGLE+ | FACEBOOK | TWITTER | BLOGLOVIN | NETWORKEDBLOGS
---