¸¸.•*¨*•♫♪¸¸.•*¨*•♫♪¸¸
Tell us how the Garnier BB Cream fits into your daily routine to give you perfect looking skin without the hassles of makeup?
On 1st week of this month my birthday went. Everyone and their khandaan ( who knew me ), called me up to wish 'happy birthday' asking immediately 'where's the party'. I got fed up cos' I wondered what was so 'happy' about it and what's there to party! Gone are those school/college days, when I used to get excited about my up-coming birthday ~ at the thought of growing up fast. These days, I cringe at the very thought of another birthday. My friends asked me to upload B'Day pics on FB, and I was like "Are you all mad? I was hiding on that day, forget pictures ~ I didn't click any." I've been growing increasingly paranoid of having my pics clicked. What if I look ugly and dull, or my skin looks multi-coloured with the uneven pigmentation that I often noticed, with the scorching sun having done most of the damage too! What if some dark-circle or fine-lines shows, that'll instantly have my so-called friends making wild-guesses gleefully about my age ( that I do my best to hide these days :D ). So, with thousands of worries like that, who'll take the risk of throwing parties, clicking pictures and uploading them on social-media sites with me looking like an old-hag? Not me! No way!

I'm not a make-up person, infact I hate them. So, even though I've heard a lot about foundations, pan-cakes, compact powders, concealers etc, I've been staying far away from all these. I think, putting those, makes one's face look more like a white-painted monkey instead of a beauty. Not to mention, all that sticky, greasy, uneasy sweaty feeling one gets with those stuff plastered in the faces, to boot. Yikes! Sigh! So, I guess, there's not really any choice for someone like me, who prefers to look and feel natural. I do wish though, I had the confidence to click my pictures and upload them as it is without having to load myself with make-up. Was there any product to my rescue, that'll hide my blemishes without making me look artificial? Ah..well...
I saw an offer from IB to try out Garnier's new BB cream. Though apprehensive, I applied for it. It says that, it is India's first BB Cream, and mine too ( I thought ); what's the harm in trying, right?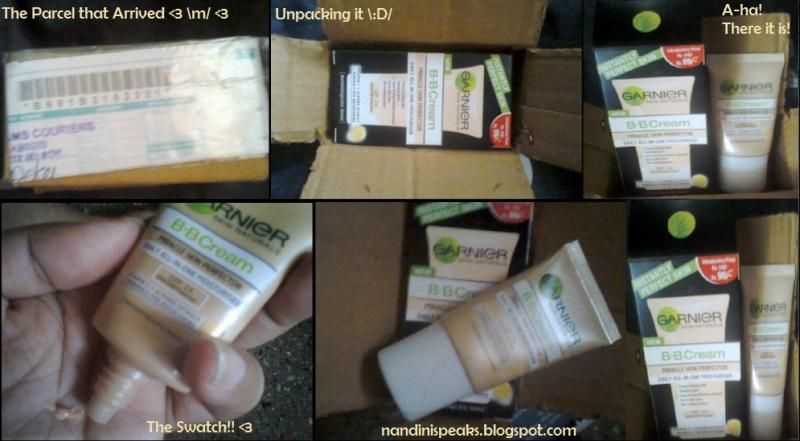 With only 100 odd samples up for review, I consider myself lucky one to receive it within few days of applying. So, my experiment kind of started immediately. To start off ~ I loved its smell. It is strong, but girly girly kinda. It has a tube opening, hence, could squeeze the exact amount required. The introductory price of mere 18gms @Rs119 99/- though, had my eye-balls popping out a bit ( 40gms tube comes @Rs.199/-). It claims, it has got essential Vitamin C, almond extracts and minerals in it, giving a 5 pointer benefits. Dermatologically tested, it also has SPF24 for both UVA/UVB protection besides moisturizing. So, without wasting any more time, I did a little swatch before applying it on my face. The tube is tiny, so had to be careful ~ so as not to squeeze out its whole contents.

As a skeptic of any kind of make-up ( except my fav kajal and lip-liner ), I won't say I was thrilled to bits with the results ~ but, yes, I was glad I didn't look like a white-painted monkey. Will I use it often? Ahem! Well..it'll take a bit getting used to ( blame it on my abhorrence to anything make-up kinda ), but, I'll definitely recommend it to those seeking lighter version of make-up cum moisturizer. Yes, it is light textured ~ hence, easy on the skin letting it breath and not like some thick asbestos stuck onto your skin like it generally happens with other skin products. It is 'all-in-one', so one doesn't have to carry whole lot of creams, lotions, suncreens etc; just the BB will be enough ~ thus, time-saving. Will I click my pictures after using it? I already did! But uploading it ~ Well, I guess, I'm bit too shy, so, that'll have to wait till I meet Deepika Padukone ;-)

India's first Beauty Benefit Cream for Instantly Perfect Skin

Product Info - People often wonder what a BB Cream is; which is essentially ~ Beauty Benefit Cream. BB's being the 'all-in-one' kinda all purpose cream. It has Foundation, Moisturizer & Sunscreen in it.
Its Key Ingredients - It has 3 essential ingredients ( see pic above ), besides whole lot of others. Its VitaminC has antioxidant properties that boosts skin glow and brightness; its Mineral Pigments beautifies the skin making it flawless and its Almond Extracts has 8Hr Moisturizing formula.
5 Point Benefits of BB - Fairer Looking Skin, Healthy Glow, Lines & Imperfections Reduction, Even Skin Tone, 8Hr Moisturisation.
Price Range and Package - Introductory price for 18gms pack is currently Rs.99/-, comes in a tube pack with 36 months validity.
My Experience - Positive.
Will it fit my routine - Definitely.
Recommend to others - Most Certainly.



¸¸.•*¨*•♫♪¸¸.•*¨*•♫♪¸¸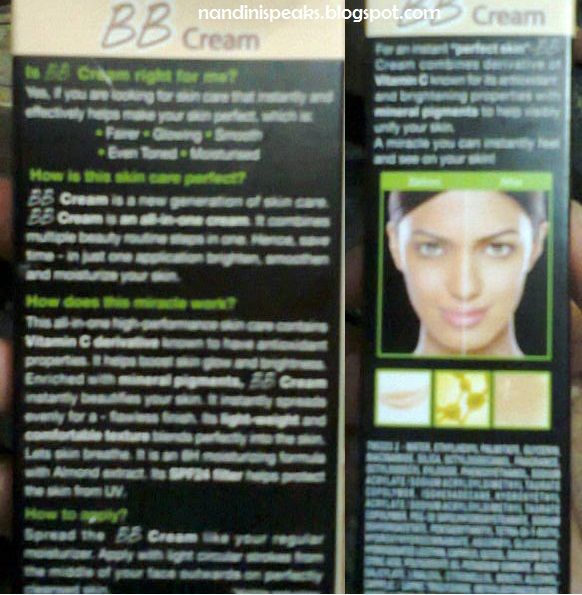 The front, back and side cover of the pack ~ with ingredients and usage information.
¸¸.•*¨*•♫♪¸¸.•*¨*•♫♪¸¸

Pin It Now!
❤❀❤

( Images - ©Mine & Garnier ) | Switch to Garnier BB Cream - The Miracle Skin Perfector. Enriched with mineral pigments, BB Cream instantly beautifies your skin making it brighter, smoother and moisturized in just one application.
Stay Connected & Follow my Updates on the blog's GFC | GOOGLE+ | FACEBOOK | TWITTER | BLOGLOVIN | NETWORKEDBLOGS
---