First let the pictures do the talking here :-)



Our Zest MasterClass Teachers :-) #ZestupYourLife @GOA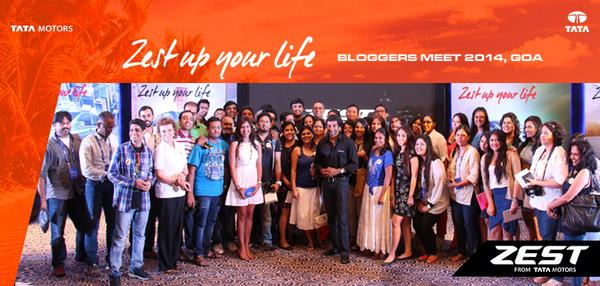 The Graduates of Zest Weekend MasterClass :-) #ZestupYourLife



¸¸.•*¨*•♫♪¸¸.•*¨*•♫♪¸¸

A pretty ZestFul Day - \YAY/


Since yesterday the day's gone so fast - Flying from Mumbai, Goa, Narain Kartikeyan, Miss.Malini, TataMotors, MasterClass, Test-Drive and the Zestilicious Food- it's been Overwhelmingly Zestabulous :-)



¸¸.•*¨*•♫♪¸¸.•*¨*•♫♪¸¸


Day - 1: It all started with an invite from Blogadda, to the Tata Motor's Zest Launch in Goa. Last time I visited Goa was when I was in my Xth std, so, no doubt I was all Zest-up thinking about it. Tickets arrived via email soon, and the journey got real! I started packing straightaway, first thing being my 'Driver's License' because I'd be driving ( 'The Zest' )! Yes, driving, that too after a gap of couple of years. Whoah! I could hardly wait.

In the morning, I made a dash to the airport. Can you believe I was the first one to arrive, cos' no one had checked in yet ( the jet-airways counter staff told me ). So, I had coffee in the Airport Coffee shop and tweeted away - first being my flight Boarding Pass! While on journey I recognized some faces instantly - the other awesome bloggers from my city :-)

After about 40-50 minutes flight, we landed in Goa, and met all the other bloggers ( top 50 ) who landed too - from other cities. We hopped on a bus, that took us cruising on a 40 minutes enthralling ride via the luscious green Goa landscapes to our resort - Zuri ~ The White Sands, munching the snacks that greeted us on our bus-seats packed in a cute Zest blue goodie-bag. The Blogadda team greeted us warmly at the reception with red-tikka and all; and directed us to our rooms where we freshened up.

We had lunch first - a sumptuous buffet spread. At 5pm, we had a brief meeting with the Blogadda team who gave us the agenda for the 2 days. High Tea followed next. After that we had an hour or so before our Zest MasterClass began. Some bloggers strolled about the premises clicking Selfies or tweeted away, some went to the beach nearby, some sat chatting, while some went up to their rooms. At 7pm, our Master Class started with the petite & chirpy hostess of the #ZestupYourLife event, Miss.Malini. We were in for a surprise when Narain Karthikeyan - the ace driver - made an appearance endorsing the Zest. He told us about his involvement with it. We listened in awe, while hoping to click a selfie with him ;-)

The class got more serious when the Team ( corporate communications/marketing ~ Minari Shah, design ~ Sandeep & technical ~ Anand Kulkarni ) from Tata Motors, came one by one to explain the 'Horizon Next' endeavour of Tata Motors - i.e the 'human' centric motto behind making of the Zest. This is an innovative approach - where the customer's interests are kept as prime concern. Be it safety, looks, affordability, fuel efficiency, speed, comfort, connectivity or even the after-sales services; Tata Motors is not compromising with the new 'Zest' on any of these factors. Everything has been planned and designed to great details with 300+ robots ( read my review for more about it ), to make it a world class car with intense product focus. A Q&A session followed, where Miss. Malini asked few questions to the Tata experts for more insights into the product ~ i.e Car with Personality.

There was a demonstration area set up too in the main event-hall ( Unicorn ), where Tata representatives ( real engineers & designers ) were present to explain the various features of the Zest ( with mini models ), also try for ourselves 'the sound-system' at the Harman Kardon booth. With snacks and drinks served, it was a highly informative time spent. Dinner followed next, and though we planned to go to the beach afterwards to chill-out, we crashed for the night. Next morning would start at 7am!



When finally the two lovers met ~ Me and Zest!

¸¸.•*¨*•♫♪¸¸.•*¨*•♫♪¸¸


Day - 2: I'm a late riser, so I had to set my alarm at 6am. But guess what ~ My eyes opened much earlier than that! Such was my Zesthusiasm! A quick bath and I was down in the Waterfall cafe of Zuri. Loading myself with some yum-yum eatables for breakfast, I quickly rushed to change into the Zest Blue T-shirt. The Flag off would nearly start, and I couldn't miss that. The line of cars looked as though we were in some car rally/race. Yeah! Test-Drive it was. Finally, the flag off was done by Minari Shah of Tata Motors.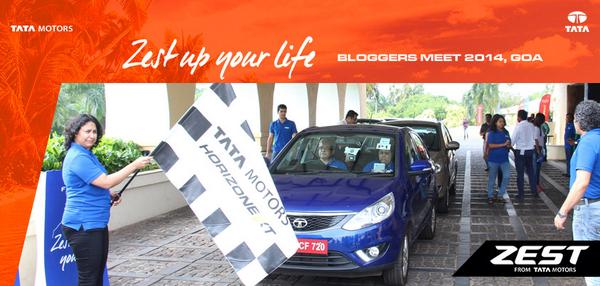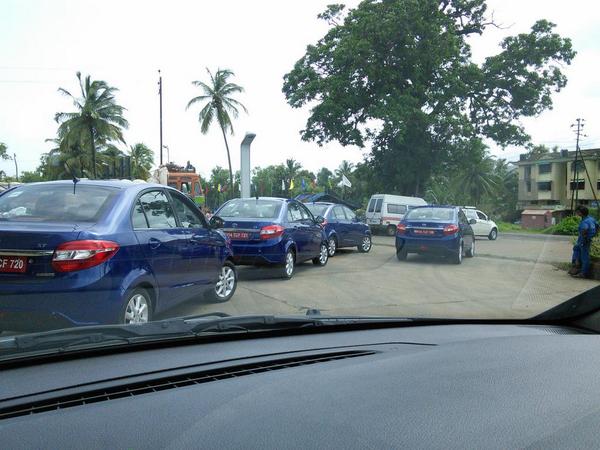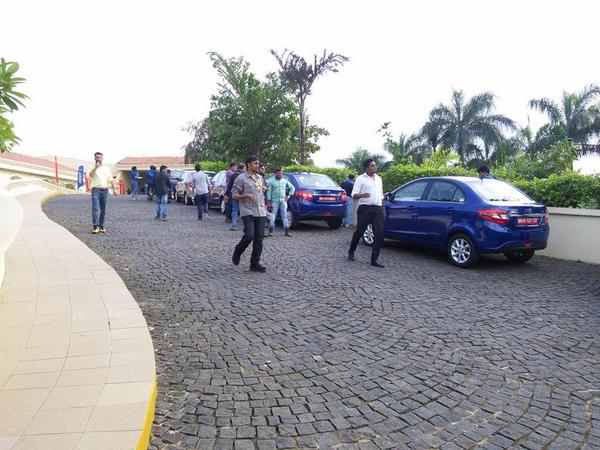 So, sitting comfortably behind the wheels, we were all set. But wait! It was couple of years since I last drove, so I was bit jittery at first - what if I forgot how to drive? But like cycling, once you learn driving, you never forget it. I drove the manual version first, and soon we were out in the Goa roads vrooming away! I loved to be behind the wheels once again, and simply loved handling the features of the Zest ( steering-wheel, power-windows, accelerator, brakes etc ). Its so easy and smooth ~ like butter, no kidding.

There were boys holding red & blue placards throughout the way showing us direction ( left or right ), and a few pit-stops. We halted the car to click pictures. There was also emergency car following us. And did I forget to mention, this whole test-drive experience was recorded 'live' via the Go-Pro cameras fitted in the front of the car? Yes, recording the conversation, any difficulties we faced while driving, reactions etc. I think its quite a cool way. ( I'd love to see my drive video ). I drove the automatic version next, and it literally bowled me over. I never thought it'd be so easy - it was my first time! Without a clutch or gear - the car with automatic inbuilt features is a sheer dream drive. The 'sport' mode takes the cake!



Amazing ride on the Goa streets in Zest!

When the other blogger took over driving, I got to enjoy myself in the passenger seat and really admire the interiors & ConnectNext features ( see video below ). Imagine a car that reads out your SMSes on a single touch, or Bluetooth connecting all your devices, and even recognizing accent of your voice? I mean, this was simply Zestsome! And though the car is small sized, it can easily fit 5 and still have room for more. I fell in love with Zest head-over-heels.



After that awesome drive, we reached the venue again, and headed straightaway to 'Live-Blogging'! Two posts in just about an hour - we are Bloggicians!



And Finally it was time to leave. Oh! What a Zesty experience it was. Hats off to both Tata Motors and Blogadda for pulling off this grand event so successfully. This experience will certainly remain in my memories forever. Wish it was for a longer duration though - but then, don't we always want good things to last a bit longer ;-)


¸¸.•*¨*•♫♪¸¸.•*¨*•♫♪¸¸

Check out our Zest Test-Drive Video @Goa Roads!!!
❤❀❤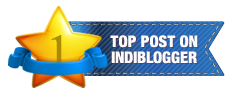 Thank you TataMotorsZest and Blogadda | Also read about it - Here! | See more Pics of #ZestupYourLife - Here & Here!
Stay Connected & Follow my Updates on the blog's GFC | GOOGLE+ | FACEBOOK | TWITTER | BLOGLOVIN | NETWORKEDBLOGS
---