When you've been hearing a particular place's name right from your childhood days, you definitely dream of going there some day. As you grow up, when you discover the beauty of that place via Television/internet or travel magazines, your curiosity level goes up manifolds. And further more, when you learn that the place is one of the top tourist places ( and richest too ), with people thronging in from all corners of the world, and a disciplined eco-friendly place as well with very low crime rates - you yearn to set your foot in it, at least once in your lifetime. Add to that, you discover a very useful travel application like Skyscanner that finds you the most cheapest rates ( accommodation+travel ), and you simply cannot wait anymore. You just have to take the plunge! And that's what happened to me. If you haven't yet guessed the place that I'm longing to go, then here it is - SINGAPORE!!! Yes! That's the place I want to #TravelSmart to this year, i.e 2014! And #Skyscanner will take me there soon ( hopefully ;-)

Why do I want to go to Singapore? Well, reasons are many. Firstly, I've never taken my mother along for any trip, so it is 'one' I'd definitely want to take her along. It is close by too, so convenient for her; and save me money as well. And of course to fulfill my childhood dream of visiting this place :-) With English being one of the dominant languages in Singapore, I'm sure that my mother and I ( two women travellers ) will find it extremely easy and won't feel alien or lost. For Indians, Singapore Visa is easy to obtain too and quite hassle free.

Being one of world's top tourist places, Singapore naturally has some really cool tourist spots, that had me drooling away when I first saw their travel brochure. Man! Need I prove more reasons why I wanna go there? See for yourself!

Welcome to Singapore via #Skyscanner!
Left to Right : Merlion Park, Singapore Zoo, Flyer, Marina Bay Sands Sky Park & Sentosa.

Be it Cultural, Outdoors, Museums, Famous Landmarks, Amusements, Sports, Live Performances, Aquariums and Zoos; Singapore has something for everyone to explore and enjoy. Keeping visitors engaged with a plethora of activities, Singapore no doubt, makes one visit it again and again.

1. Nature : My nature-loving mother will surely love this. The Singapore Botanical Gardens which is kind of a rain forest, with lawns, pond and an Orchid garden - will be ideal to be close with nature, within the city itself. Not satisfied? Then stroll off to the famous Singapore Zoo! An amazing place with open cages - catch glimpse of the wildlife in their natural habitat ( Wow! ). Jurong Bird Park with almost 600 species of exotic birds is not to be missed either, while Mount Faber will give a totally different experience via the cable-ride and its mesmerizing view below. There are other Nature Walks and Day/Night Safaris too, to keep the nature lover on their toes.

2. Entertainment : First thing that comes to mind is the Sentosa Island, comprising of 3 beaches, resorts, theme parks, Casino and the famous Universal Studios ( located in the Resort World ). While in Sentosa, a must visit is to the Marine Life Park, which is world's largest oceanarium ( at S.E.A. Aquarium ) and for the rush of adrenaline juices, plunge into the wet & wild fun at Adventure Cove Waterpark. You can spot some historic forts too ( e.g Fort Siloso ), and from the Tiger Sky Tower, view the whole island itself. Ain't that amazing! Marina Bay Sands located in the Marina Bay area, is a newly opened resort and joined with Singapore icons like statue of the Merlion, Esplanade and Singapore Flyer ( that offers a breathtaking 360° panoramic view of Singapore ). It has casino, sand sky park, hotel, restaurant, cafe, food-kiosk and lots of shopping opportunities. A hangout for many foreign tourists, Boat Quay and Clarke Quay is filled with restaurants, pubs/clubs, crowds and music. Singapore has lots of live performances & shows. And Flight Experience Singapore is an amazing unforgettable virtual experience. Fly to more than 20,000 worldwide airports with its stimulators. Singapore surely knows how to entertain.

3. Culture : I personally love this. I can spend hours in a museum or art gallery, which preserves the past. Asian Civilizations Museum is a good place to start. From India, Middle-east and south-Asian countries, there's lot of treasures from the past to admire, dating back to almost 9th century. Buddha Tooth Relic Temple and Museum is a place to discover things related to buddhism in a totally relaxed and soothing environment. National Museum of Singapore is the oldest musuem housing important artifacts/relics of centuries gone by. And for the modern generation's wonders Singapore Science Centre has some cool stimulating stuff going on eg. interactive rides, omni-theatre etc.
Little India Singapore, a tamil neighbourhood in Singapore that has kept its ancient cultures/traditions alive and vibrant will be of special interest to us, i.e Indians. They are reportedly more religious than our own native tamils, figure that!

4. Shopping, Spas and Food : There's lot of shopping to do while in Singapore, famous being The Orchard Road district. Rest are VivoCity, Bugis Street, Chinatown, Geylang Serai, Kampong Gelam & Arab Street, North Bridge Road etc many more for shopaholics to shop their fill merrily.
Indulge in some Bath Culture Foot Therapy, for some pampering with old traditional methods/herbal-remedies and massage away your stress & worries in the Oriental Spas.
Last but not the least - Food, food and more food! When you travel, your visit is incomplete without tasting the local cuisines and delicacies. And me being foodie will absolutely love this. Experience Cookery Magic in an authentic Singapore Home - learn to cook. There are also plenty of food courts to explore all around the city - a perfect place for me to lose myself in ;-)


Besides the places to visit; while travelling, it is also necessary to learn a bit about the local currency & expenses ( to spend/shop ), local customs & rules, the right time to travel, the necessary guides/maps ( preferably mobile ), weather conditions and health vaccinations ( if any ), and of course never forget to carry a cam to record all the memories :-)

Left to Right : Universal Studios, Gardens by the Bay, Marine Life Park & Adventure Cove.

Now for the best part, how do I make this dream destination a reality? With Skyscanner of course!! Here's how :-) Go to the website and choose your destination/date etc and hit search. It'll bring up the cheapest options - that simple! Not just flight, you can check hotels and car hire too. A perfect companion for the traveller in you. I'm Loving it! Singapore, here I come!!


¸¸.•*¨*•♫♪¸¸.•*¨*•♫♪¸¸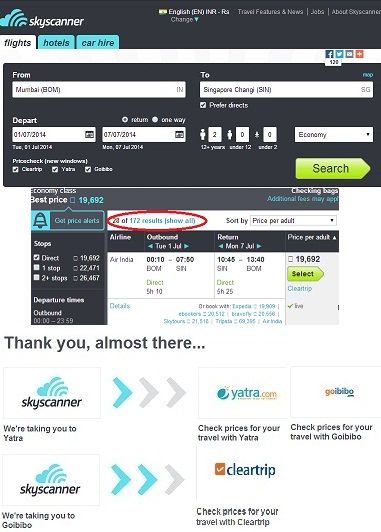 Pin It Now!
There's a new Travel Wonder,
Its the sleek n savvy Skyscanner,
All solutions to your worries, lies in this App,
Cos' it scans and bring results, in a zap,
Never you have to fret about finding cheap rates anymore,
It brings you the world's best airfares & more!
❤❀❤

This post is part of
#Travel Smart with Skyscanner
contest in association with
Indiblogger
| Liked it? Then please
'VOTE'
for it >>
HERE
|
( Images Courtesy : Google & YourSingapore.com )
Award winning 'Skyscanner' compares over 1000 airlines & online travel agents to find you the cheapest air tickets with a click of a button. It also helps you find the cheapest hotels & car hire. With no hidden costs whatsoever! Finding cheap air tickets has never been so easy! Recommended by: The Independent, The Guardian, Which? Travel, BBC Radio 1 and more!
---