Due to the overwhelming popularity of Big Boss reality show, I invited some of its infamous participants for a discussion on my WeChat group. Below is the chat-script of that discussion ;-)
Topic given was : How would you inspire and mobilize India's youth to vote in the Indian General Elections 2014 using social mobile apps?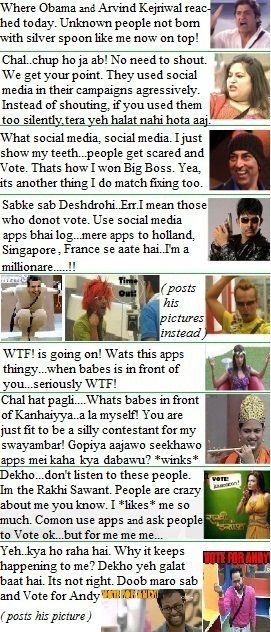 ( from top : ArmanKohli, Dolly Bindra, Vindoo, KRK, Imam Siddiqui, Pooja Misra, Rahul Mahajan, Rakhi Sawant, Andy )

¸¸.•*¨*•♫♪¸¸.•*¨*•♫♪¸¸





Phew!! Oh well, did you really expect them to talk on the topic seriously for long? Thankfully since it is my blog, I could edit them short before they fought amongst each other. Now for the serious part :-)

Much as I dislike his shouting and bullying, Armaan is right about one thing though. Yes, today where Obama and Arvind Kejriwal reached is primarily due to social media. Social media are more effective unlike Television or any other media, because larger public is a part of it. They follow leaders/celebrities and can directly interact with them. For corporate and politicians etc, these are cost effective PR mediums too.

Social media sites and apps has many interactive groups, where a larger number of like-minded people can be members of; and here they form opinions, have discussions etc. Thus a single tweet, status update or forum message posted, reaches millions instantly creating dialogues ( political or social ) - that at times goes viral. All top news & media houses are thronging these social networking sites too, because of the rippling effect that it has, where everyone can share their ideas and participate. People feel politically empowered, while earlier they were totally cut-off.



Obama & Co had tapped this potential and generated mass support, by spreading the word through social media; encouraging other voters and also raised huge funds. While in India, a virtually unknown Kejriwal too followed suit, by his India Against Corruption movement where opinions of common public flowed and mass support gathered. With these two examples, it is clear how much effect social media has on the public today. It is simply mind-blowing. I don't support either of these two politicians, but do think that their methods are very clever.

Social media has other advantages like usages of parody/memes ( besides hosts of other features ) - thus creating fun along with the participation. It also has the wealth of wide data-bases of users, as the number of users, groups and pages of political parties are increasing many folds everyday. Infact today, like the corporate/celebrities, all politicians & parties too have become social media savvy and has an official twitter/facebook account ( they specially employ people to manage these accounts ). Millions of literate users actively follow these pages and most of the users are from the urban cities/towns - i.e well educated.

Thus, the educated lot are now more aware of whats going on than they used to be earlier. The leader/party shares their ideologies through social media, which are then passed on to friends, followers, groups & pages through sharing/liking/retweeting etc. The AAP party had even arranged their meetings/protests and other agendas etc through facebook, twitter, sites and their blogs - which are followed by millions, and that's how their popularity grew and within a short time have reached top office of Delhi ( though its questionable that they are forming coalition with the same party, whom they had accused of corruption ). Lakhs had thronged the streets on Anna Hazare's call against corruption via social media :-)

With all political parties wooing the public more and more through this medium, it has now become important for us users too - to become alert and follow + vote the right ones ( e.g just because I praised AAP for their success in utilizing social media to its fullest potential, that do not necessarily make them a good party ). So, Do VOTE and ask everyone in your social networks to exercise their rights as well in choosing the right candidates. Like someone wisely said - it is the only chance you get every 5 years to clean up the rot!



¸¸.•*¨*•♫♪¸¸.•*¨*•♫♪¸¸

Pin It Now!
❤❀❤

This post is part of
Indian General Elections 2014
contest in association with
Indiblogger
Liked it? Then please
'VOTE'
for it >>
HERE
(
WeChat
is a new, powerful and absolutely free mobile communication tool. It supports voice/video/photo/text messages. You can also do group chats, or you can find new friends nearby to talk to. WeChat works on iOS, Android, Windows Phone, Symbian and BlackBerry devices.
Besides the cool '
Live text chat
', '
Voice
' and '
Video
' messages, it has some other really cool features like '
Shake
', '
Moments
', '
Drift Bottle
', '
Look around
' etc all loaded with some cool customized '
Emoticons
' to make the chat a really enjoyable and fun experience. ) |
( Images - Google )
---