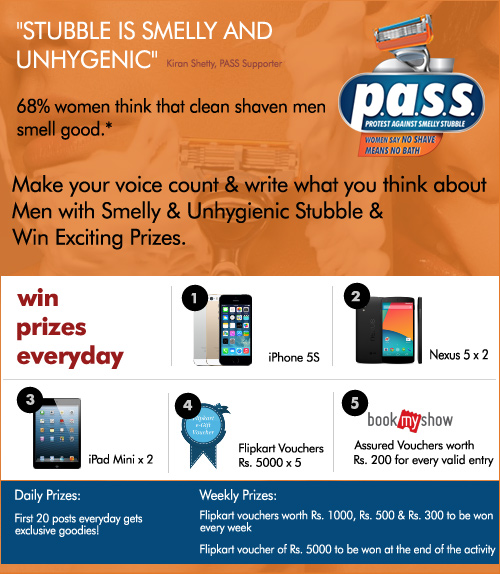 "Hey you Gorgeous, Aaati Kya?
Will take you to Lonavla, Khandala!
We'll paint the town red,
And take you to most happening dance.

The seductive voice was hard to resist,
Where's it coming from, my eager eyes searched,
"Yes, I'm talking to you," it said again,
"Look pretty, when you search me everywhere...."

I got up following the voice, as it beckoned,
Its playful hints had me floored,
In the busy mall, I asked all directions,
That'd take me to this man with microphone...

Alas! I reached the main control centre,
Amazed, my images captured in its monitors,
"Welcome! So you found me atlast,"
His back greeted me, as he spoke these words...

I was curious to see who he was,
Pray-fully hoped, he'd give me a glance,
But when turn, he slowly did,
I was disillusioned, petrified!

His face was hidden with bushes in his chin,
That had grown wild, like jungles of Amazon basin,
I wanted to run, fearing I'd faint,
The smell of the ugly stubble, had me threatened.
Underneath that forest, he looked scary and mean,
Like clone of terrorist Osama-bin-Laden...

"What's wrong," he asked, "Not happy to see me?"
No way, I thought, aghast at the sight I'd seen,
Covering my nose, I twitched my brows,
I hate that smelly stubble, nearly yelled my lungs....

"Wait a moment dear," he looked concerned,
"I'll be back, in just a while..."
Reluctant I stood, fiddling my thumbs & toes,
Could anyone's fate be more worse?

A sound behind, snapped me back from my thoughts,
I nearly fainted again, at the sexy new sight,
He was back, the bushes now gone,
Dashing, His clean shaven look had me bowled.

He questioned me again, with a wink,
Till end of the world, I was ready to go with him.

¸¸.•*¨*•♫♪¸¸.•*¨*•♫♪¸¸
Pin It Now!
❤❀❤

This post is a part of the
Protest Against Smelly Stubble Activity
in association with
BlogAdda
---