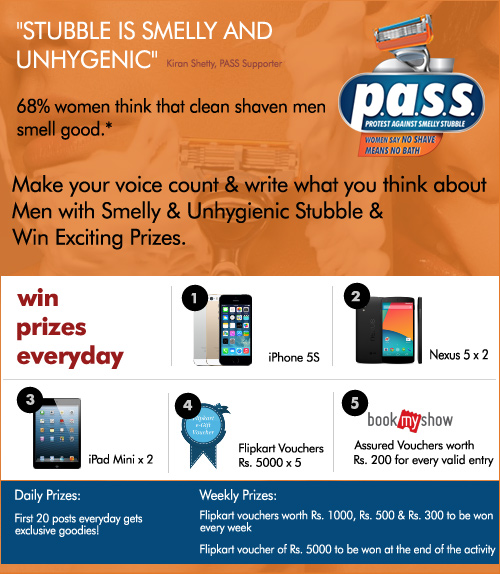 I am acknowledging
Uma Anandane's Tag
and participating in Protest Against Smelly Stubble
(P.A.S.S.)
and would like to tag
Ranjith
for this post
"They'll be arriving anytime now, I don't want any mischief from you. Is that clear?" Nisha's mother tucked a pin in her saree.
It was first time Nisha was wearing a saree, and already fidgeting uncomfortably. She was a tomboy. Being girly was headache for her.
"Oh, mum! I've promised you na?" Nisha said irritated.
"I'm not too sure about your promise. Listen, this time it's your papa's colleague's family, so I want you to be careful how you behave."
"Mum, I already made my conditions clear."

After lot of cajoling, she had agreed to see the groom. Reaching nearly past her marriageable age, simply agreeing was a big sacrifice too, of her freedom.

The guests arrived and the entire Gupta family was excited. Nisha breathed in and out, calming her nerves. She dreaded what was going to happen next. She didn't want to disappoint her old parents.
"Nisha, bring in the sherbets and meet the guests," her mother called from the living room where everyone was seated.

Their eyes met first. His dark, hers light. Hair neatly combed, he was broad shouldered with a gym pumped body. Nose chiseled like a Greek God. And his lips….his lips, his cheeks? Nisha tried to search frantically, but all were hidden beneath the stubble. Nisha was aghast. Began so perfect, yet the beard marred it all. Nearly three-fourths of his face was hidden.

There they were all staring at her, admiring her from head to toe. But she couldn't even see the boy's damned face! How could she approve? She thought furiously.
She placed the tray roughly and went off to her room. She didn't care what others thought. She found the perfect excuse to reject now.

"I hate that unclean stubble! Not gonna marry a man whose face I can't see."
¸¸.•*¨*•♫♪¸¸.•*¨*•♫♪¸¸

Cos' Stubbles are Smelly
Pin It Now!
❤❀❤

This post is a part of the
Protest Against Smelly Stubble Activity
in association with
BlogAdda
---