I stared at the marriage invitation card. Along with it was a personal note signed by Disha. "ND, You have to come for all the ceremonies," it said.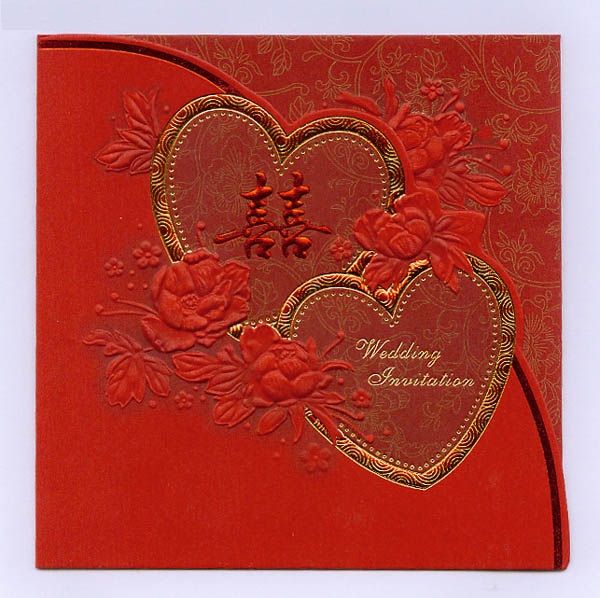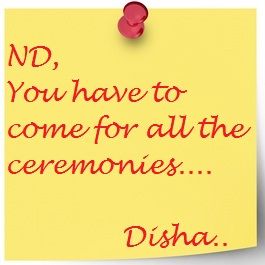 The invitation card, the scribbled note, the flight tickets.

Time flies, and how! I thought to myself, my eyes a bit moist. Disha was my best friend in school and we grew up together. We were like soul sisters. We shared all our ups and downs together, and had a bond stronger than blood. Somewhere down the line, after I shifted away from my hometown, a couple of years ago ( where Disha also lived ), we had lost touch for a while. Except the times when I went there, which was bit rare to be honest. However social networking sites like facebook etc, made it possible to catch up again and keep abreast of happenings in each other's lives.

Yes, every girl gets married one day. They go away to their groom's place and childhood friendships do get affected in the long run. We had re-bonded just recently over internet, so this news was bit difficult to accept so soon - that we might part again. I was very happy though, with the news of her impending wedding, but I was also sad somewhere in my heart. That things won't be the same anymore.



The projector rolled flashing pictures of years gone-by, rekindling memories.

Clutching the wedding card in my hand, I sat down in the sofa of my hall. It was getting dark but I didn't bother to switch on the lights. Instead, I turned on the projector, that flashed images on its big screen, as it rolled. This was the old collection which I watched often, reminiscing old memories. But today was different. Today, these memories became all the more precious to me. Because, they had Disha too in many of them. It was so much fun those days. I couldn't help but be nostalgic.

In school days, we didn't have cable TV or internet, so fun was mostly visiting each other's house, playing cards for hours on end, going out for shopping or movies, just hanging around each other's compounds gossiping about others ( esp filmstars, bullies & show-offs of our school ). We used to always take evening walks together and chatted away about almost everything under the sky ( yeah boys too! ). Sometimes we use to play badminton too in our compound, while the neighbourhood boys would come and ogle at us. Disha would be so pissed off, that at times she'd throw her badminton-racket at them ( nearly hitting them ).

I can't forget those times when in the early wintry month of January, we had our Magh Bihu ( harvest ) festival ( also known as Makar-Sankranti elsewhere ), when we'd build a small makeshift-hut 'meji' of bamboo, dried coconut leaves/twigs/branches/straws and burn bonfire at night. On that day, we'd cook food outside too and keep awake the whole night, saying horror stories to one another. Our other friends and family members also sometimes joined and gave company. In the morning, we'd all gather and say a prayer; then burn that thatched hut down throwing various pulses/
grains etc into the blazing fire as a ritual - for a good harvest the next year. Sometimes during that festival, at night we'd sneak into our other neighbour's houses and steal wood or other burning material for our bonfire. Oh...it was too fun. At times, we nearly got caught, and we'd run with their dogs often barking and chasing after us, in the night.

I stopped the projector suddenly and stared into a picture. It was flashing one of those photos that was clicked near the bonfire, during a particular Bihu night. Disha was such a pretty young lady, always laughing and making everyone happy around her. I used to love her company so much. It feels odd, for so many years I've been staying away and missing those bonfire outings of ours. I had changed a lot in Bombay over the years, but her nature was still the small-town innocent unassuming type, which I absolutely adored and missed.

Memories were certainly making me emotional now. I restarted the projector. The next picture it flashed, was when we were in middle school. I had taken my sister's mini camera along to school. We were in the bus stop standing for our school bus that day.
"You know I managed to take Rs.100/- from my brother's pocket today, while he was having bath," Disha said suddenly, with a crooked smile. "Lets go to the movies. Salman Khan's Maine Pyar Kiya is screening in Apsara Cinema Hall." She had a mischievous glint in her eyes.
"What you mean?" For a moment, I was not sure if I was hearing things right. "Are you suggesting, what I think you are suggesting?"
"Oh yes! I mean exactly that. Let's bunk school today," she was nearly jumping up and down in excitement.

I was unsure for quite a while, but when she said again "Salman Khan", I just yelped in joy too. Slowly, moving away from the other students who were also waiting for the bus, Disha and I slipped out into a narrow lane ( behind the bus-stop ), before anyone could notice. The movie was at noon, so till the ticket counters opened we sat hiding in one corner - hoping nobody we knew came to watch that movie. I had clicked this picture of hers then. Oh man! The things we did, and the consequences we faced as an aftermath. Yes, both our families found out and we got the rebukes of our lifetimes. Not that our mischief stopped after that ;-)

I remember, there was an obese neighbour whom we used to tease mercilessly everyday. The man was much older than us and whenever we passed by his house, we used to throw small pebbles in his house and call him 'motu motu' ( fatty ). Many times the man heard us and would get very angry. He'd chase us with a stick in his hands, and we'd flee from there - only to return stealthily later and repeat the same prank.

I stopped the projector again. Remembering all those memories were making me just too emotional now. I couldn't watch anymore, with tears threatening to nearly overflow from my eyes. Yes, I'd definitely go for the wedding, I decided. She was the only person who was so close to me ( after my family ). In this city of Bombay, I've made many friends, but none were so much fun like her. Now having grown much older, we've both matured, and as far as I know any boy who marries Disha would be the luckiest. I didn't want to miss the wedding. I had to be present on that day. It was important to both of us. I noticed, she had attached flight tickets along with the invitation card too. This was so typical of Disha, the most genuine and caring soul in this world.



¸¸.•*¨*•♫♪¸¸.•*¨*•♫♪¸¸



Only 1 week was left for the D-Day. I hoped she was following the skin-care regime I taught her, the last time when I met her. It was almost 1 year ago. I was at my hometown and naturally I visited her house too. Disha had some kind of tissue-patches plastered all over her face on that day.

"What's up gal, what are those white things stuck in your face?" I had asked, concerned.
"What to tell you ND! I'm having all these skin irritations from cosmetics. You know how much I love cosmetics. I do beauty blogging too. But some of the products are having bad-effects on me. It has dried up my skin completely, making it look and feel so dull. So I'm just putting vitamin-E oil patches to recover from the annoying dryness and ugly rashes," she had sounded quiet upset.
"Do you follow the cleanse, tone and moisturize regime regularly?" I asked her.
"What's that?" she asked curiously.
"Its simple. Everyday we should cleanse, tone and moisturize with the right facewash/cream to keep our skin healthy and supple."
I then, gave her a list of some trusted brands that I used. Now with her wedding so near, she would have to be extra careful, I thought. If she was having same problem, I had an even better solution too, this time. I smiled at the special hamper that I had with me, and got packing.



¸¸.•*¨*•♫♪¸¸.•*¨*•♫♪¸¸



My plane had landed twenty minutes ago and I was on my way to Disha's place. The smell of my home-soil greeted me, making me exuberant. As my cab approached the bride's house, I could see the decorative shaadi-pandal and people rushing about in preparations.
Wow! It looked really beautiful - with flowers, colourful satin and balloons everywhere. I glanced around as I got down to pay the cabbie.

"NDDDDDDDDDDDDD!!!" I turned around at the excited shriek coming from behind, "Oh my God ND! You've really come," I could see Disha running towards me.
Hold on, I wanted to say, brides are not supposed to run out like this. But seeing the excitement and happiness in her eyes, I knew Disha didn't care for such formalities.

"You are looking beautiful Disha, glowing like a bride already," I said, looking at her admiringly.
"So are you ND. What have you put on your skin? Its shining," She looked closely at me, running a finger down my cheek.
"Nothing really. You know I hate make up," I replied.
"Yeah yeah...I know I know. Comon in now. You can tell me the secret later," Disha pulled me inside.
"Have all the ceremonies already begun?" I asked.
"Yes almost. I'm so glad you could make it ND. Today there's Sangeet and tomorrow Haldi and you know after that what," she gave a shy look at me.
My my the blushing bride, I wanted to tease her.

After I washed, Disha came into my room. She was looking worried. I raised my eyebrows questioningly.
"Oh ND...What to tell you! Its the same old problem. My skin is acting weird again and not tolerating the make-up. I'm so worried, the Sangeet starts any moment now." She was literally panicking.
"Why do you use so much make-up anyways? You know they cause allergy. And besides, you're so pretty you don't need all that." I replied.
"Aaare..I had almost given up. I was following your cleanse, tone and moisturize formula regularly. But due to this wedding I've been using a bit of make-up and my skin is acting crazy already. Its so rough. I get scared wondering whose skin I've touched, when I touch mine."

"Try Dove," I suggested. For a few months now, Dove has been my faithful partner. I had carried along the DOVE hamper specially for this reason, because I trusted it. And I knew I'd suggest it to her, if she still had those dry-skin problems she had earlier.
"But Dove is just a soap, how on earth can it help?" Disha asked, with a puzzled expression.
"No its not just a soap. Its sheer magic," I replied. This girl had to know about Dove, I thought.
"But how can it help yaar?" She was still confused.
"Wait a moment," I said. An idea came to my mind. "We'll do a simple test now and you'll find out, exactly how. Get me the soap you use everyday."
Disha went to her own room and came back with a her soap.
"Will it take long?" she asked.
"Not at all, just do as I say," I convinced her. She also got bit curious, wondering what I was up to.


The Dove Guessing Game Experiment!

I took out a pink satin ribbon from my toileteries bag, and tied it gently around her eyes near the basin.

"I'll put little of your soap in one cheek, and, little of dove in your another. After washing, you tell me on which side I had put Dove and which side I put your soap. Agree?"
"Oh sure, that'd be easy," Disha said enthusiastically, "In any case all soaps are same, so it'll feel same on both sides."
"Don't be too sure about it," I replied back, and I lathered the soaps.
One her right cheek I applied her own soap and on left, Dove. Her eyes were tied so she could not see anything. She waited patiently, while I did the experiment on her. After a while, when I finished lathering both the sides properly, I opened the ribbon. I asked her to wash it off and then feel her face, on both the sides.
"Now tell me the difference," I said, challenging her. I was confident my experiment would work.

"Oh ND, why is my left cheek feeling so soft and creamy?" Disha asked instantly. "My right cheek is feeling as usual, but my left cheek...Oh my! It's so smooth like a baby's. I can't believe it. Is it Dove?" She looked at me unbelievingly.
I nodded my head.
Disha looked at herself in the mirror excitedly, "And oh..it looks bit brighter on the left too. Shining, just like yours. A-ha now I know your secret gal."
"Yes, regular use of Dove will keep your skin soft, because its unlike any other soaps that leaves your skin dry. Dove Cream Beauty Bathing Bar replenishes your skin's lost moisture and hydrates each time you use it."
"It is simply amazing ND! I should've used Dove much earlier," Disha said, admiring herself in the mirror. "My cheek never felt so smooth in my entire life!" She was caressing her own cheek in excitement. "Thank you so much ND, for convincing me that Dove is so much more than a soap. I'll use it regularly from now on."

"It's a girl's best friend," I said.
"Oh yes, I can feel that already. Even Akash will be a very happy husband now," She was blushing again.
"This has been great ND. To have you here on the most special day of my life, and also getting introduced to the magic of Dove. I'm truly blessed," Disha hugged me.
"Let's go for the Sangeet now. And yes keep the Dove with you. You'll need it for rest of your life." I smiled at her.
"You're so sweet ND, my bestest best friend. I love you baby," We hugged again, before Disha rushed off to wear her special Sangeet Lehanga-Choli.

In a flash the big-fat Indian wedding got over, of course after spreading lot of joy!

¸¸.•*¨*•♫♪¸¸.•*¨*•♫♪¸¸


I switched the projector on. Its been days I was back from that 'big fat Indian wedding ceremony' of Disha's. I had got copies of the wedding pictures and looked on as they flashed one after another, from the projector, reminding the precious last moments spent with my best friend. Phew! Whatta wedding it was. Music, Fragrance, Fun, Food - all overflowing. Disha was away in Australia now, where her Husband Akash was posted. Not sure if we'd meet again anytime soon. Well that's life...it goes on. Thankfully and hopefully we can always keep in touch via facebook. And our special bond with 'Dove' will always keep us connected :-)

¸¸.•*¨*•♫♪¸¸.•*¨*•♫♪¸¸
Pin It Now!
❤❀❤

This post is part of
Dove - Guessing Game
contest in association with
Indiblogger
| Liked it? Then please
'VOTE'
for it >>
HERE
---