When we were in school, on TV, we always used to see an advertisement "Malaysia - Truely Asia". I used to love the tune so much that often I'd hum it. Of course that time, I didn't have much idea about the country or its captital city Kuala Lumpur. But after internet made its way into our lives, I finally got to see the 'magic' behind that old television jingle. Being a travel buff, I devour travel sites and travel to places though their mesmerizing pictures and videos/travel shows. Given a chance I'd love to visit them too, for real. Seeing pictures of the city of Kuala Lumpur left me speechless. I had this idea that only cities in western countries looked so modern. But Kuala Lumpur proved me so wrong and made me re-think. Here was a place that could beat any western cities hands-down! It looks so hi-tech, I'm simply awed! So its obvious that - it is one of my 'must visit' Dream Asian Destination in my ever bulging wish list. I Hope I land there soon! With AirAsia I just might!
Kuala Lumpur at night!
Kuala Lumpur has some interesting tourist places to visit as well as some really engaging activities for entertainment while being there.


Its main attraction is of course the Petronas Twin Towers, standing almost over 450+ metres tall - which are symbolic to the city. Its massive shopping arcades will keep the shopaholic in me busy. I'd also love to stand on the bridge that connects the two towers and have my 'kodak' moment.

The KL tower is another famous impressive sight, and what more you can gorge on yummy food as you glance around from its top.

Being an islamic country, it has interesting collection of islamic art/texts to explore and learn too, along with its attractive mosques.

For the history and culture of the place, a visit to the Natural History Museum is must.

For a taste of history/ ancient archaeology - one can also visit the enchanting temples around ( both hindu+buddhist ), shrines and caves - "Batu" being the famous one - housing the famous gigantic statue of Lord. Murugan.

For nature trips Kuala Lumpur offers - The Bird Park - to watch a variety species of birds.

While there, one can also admire some colonial architectures.

Enjoy more shopping at some famous shopping streets eg. Petaling, Pavilion, Central Market, China Town etc

Lastly the food, food, food! Need I say more?
Whoah, now with so many sights to see and things to do, can I be blamed for being impatient to land in Kuala Lumpur as soon as possible? And if I get lost there, there is always The Little India which can help me find my way back :-)
¸¸.•*¨*•♫♪¸¸.•*¨*•♫♪¸¸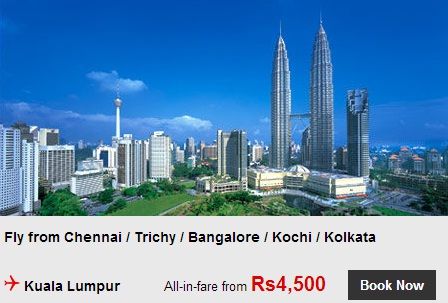 Online Booking is now available up to 4 hours before flights - So
Pin It Now!
❤❀❤

This post is part of
"World's Best Online Travel Fair"
of Dream Asian Destination contest by
Air Asia
in association with
RippleLinks
|
Air Asia has great fares for travelers visiting Kuala Lumpur and Bangkok! Both are Dream Destinations with sumptuous and delectable food, gorgeous temples, unbelievable shopping, relaxing spas and much much more!
---