Being from the North East, I have some kinda default affiliation with the South-Eastern countries, with half of the population ( of the state I belong to ) having their ancestral roots somewhere there. Though I am not Ahom, the Tai Ahom population from my region has strong roots in the South China/Thailand region and growing up amongst them has indeed made me understand the oriental culture more ( though majority of them have absorbed in the Indian culture ). In ancient times, there were well established trade links linking the north-eastern states to the South Asian countries, but over time politics have sealed those borders. But they haven't been able to seal the hearts.
I remember while in school, we had flights from Guwahati-Bangkok and I used to dream of jumping ( a.k.a flying ) borders, but of course being a minor I wasn't allowed at that time. However, now having grown up, I can spread my wings anywhere I wish.
So, given a choice of a dream Asian Destination I'd like to travel to Bangkok, the capital of Thailand. Its so near that I'm sure it'd be the 'least' jet-lagged trip, and certainly the most pocket friendly ever with low fares ( specially offered by AirAsia ) - hence, one can explore more! Being a tourist destination with tourists from all corners of the globe thronging in, there's a wide range of accommodation available ( suiting one's budget ) with good transport facilities. And Thai people are wonderful hosts with colourful attires ever ready to greet tourists. Also to be honest, I'm a big fan of Thai cuisine as well which is unique, spicy, tasty and is quite different than the other oriental cuisines which are rather bland. So food is also a big motivator for me wanting to visit the place.

I have read a lot about Thailand esp Bangkok and the most amusing thing I read is - that most of the clothes that bollywood actresses wear for movies are picked up from the Bangkok streets. Now, being a shopaholic I'd definitely want to check that out. From road-side shops to expensive malls, one can get souvenirs, famous thai silk fabrics, handicrafts as well as modern trendy clothes & lots more.
Also fascinating fact is Bangkok has the "royal" living along side the general population, which indeed sparks my interest many folds - now, who wouldn't want to spot the royal 'ruling' family, right?
Bangkok at night!
Bangkok has a good mix of both the old and the new, thus is ideal for the tourist who wants to taste bit of the history - ( grand temples *including golden temple of Buddha*, numerous attractive pagodas, royal palaces ) - as well as relax and let their hair down in a modern spa or a pub. Bangkok is famous for its night life and entertaining river cruises, its famous floating market, nature trails like safaris and even marine parks and museums. And add to that here are some awesome beach locals like Phuket/Pattaya where one can escape too, in midst of the pristine coral reefs ( that has lots of sea/beach sports+adventures to indulge with ). Now who wouldn't want to join the party called Bangkok?
¸¸.•*¨*•♫♪¸¸.•*¨*•♫♪¸¸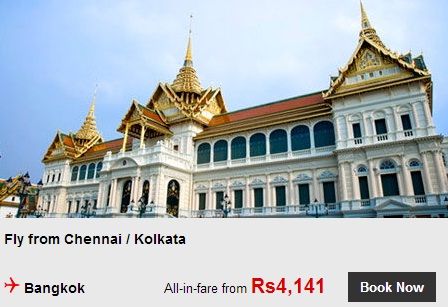 Online Booking is now available up to 4 hours before flights - So
Pin It Now!
❤❀❤

This post is part of
"World's Best Online Travel Fair"
of Dream Asian Destination contest by
AA
in association with
RL
|
Air Asia has great fares for travelers visiting Kuala Lumpur and Bangkok! Both are Dream Destinations with sumptuous and delectable food, gorgeous temples, unbelievable shopping, relaxing spas and much much more!
---