We in India, of late are seeing books/blogs written increasingly using a different kinda peculiar English, nicknamed as 'Hinglish'. While purists look down and frowns upon this new age language, criticizing it wholesomely, Indians all across are readily lapping it up, and using it as their birth-right. More and more authors hence, use this kinda language in their books in hopes to sell. But the question is, what ultimately rocks? English ya Hinglish?
To find out, I invited some esteemed authors to my WeChat.
( find more info about WeChat below )
Lets see who they are and what they have to say about it.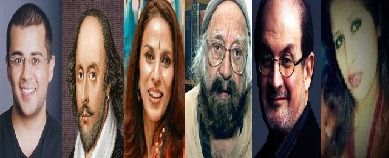 Chetan Bhagat : Aaaj mere paas paisa hai, bank balance hai, readers hai, fans hai, tum sab wanna-be-Shakespeares ke paas kya hai, sirf ek jhola?? Hinglish rocks big time! \m/ Its so cool man!
William Shakespeare : Ahem Ahem, I'm here Chetan, please behave. Besides, do you really think fans gonna remember you for centuries like they remember me, eh? Wakey wakey silly boy!
Chetan Bhagat : Oye, Willy don't be silly. You are different. I was talking about those Brown Britishers a.k.a Indian writers who wanna behave like their British masters. Angrez chale gaye, angrezi chor gaye - like those wanna-be-Shakespeares, hahaha!
Shobhaa De : I agree with you Chetan. Though, I'm little high society than you, but yeah 'Hinglish' is our common source of bread & butter, so, it definitely rocks. But mind you, only my kinda high society 'Hinglish', not yours. Yours is too LS - Low Society!
Chetan Bhagat : Shobha Aunty, oops I mean Shobhaa de ji, but you just write only kinky stuff. My stories are deeply rooted in Indian soil, Indian souls and Indian values. You may be a high socielite, but my stories are high on real morals and touches people.
Shobhaa De : Aah, showing butt backs is moral? And besides behave Chetan, here I am supporting you and you are insulting me. For your kind information, what you call 'kinky' are study material in colleges of Shakespeare's own native country, England.
William Shakespeare : *Gulps* ( nearly has a heart attack on hearing that ) *Thinks* - Whats gone wrong with the Britons!!.
Chetan Bhagat : Shobha ji, the amount of fans and money I've collected within such a short period is uncomparable. See your age and mine, you been here longer, but 'sixer' to maine maari. I'm a phenomenon. How many films have been made based on your stories? None, right? Mine atleast 3 and counting. All Indian writers are currently jealous of me including our great+ grand uncle Shakespeare's die hard fans i.e those wannabes, hahaha!
William Shakespeare : Shut up you silly Indian. Money is not everything. All my stories have been converted into plays, serials and movies around the world. You are just an 'ant' in front of me.
Chetan Bhagat : Aare isse kisne bulaya yaha yaar? I'm talking about the wanna-be-indian shakespeares not William Shakespeare himself. See ND, if your writing has to reach every indian i.e the masses, then only my style of writing will get you there. Not everybody understands all those big, unpronounceable classic literary words and unheard rarest of the rare phrases. So you see, 'hinglish' is the only way to go, that too my kinda style only \m/
Shobhaa De : Masses? Eeeks, so low society! No class at all!
William Shakespeare : What rubbish! If you wanna reach global audience, then you'll have to kick all these nonsense 'Hinglish-Winglish' and apnawo only pure, 'shudh' Shakespearean English.
Me : Wow, Shakespeare ji, you know hindi words, thats awesome :-) Where did you learn, tell us please. ( *very impressed* )
William Shakespheare : No, not really ND. Not much. Its just the bollywood effect, it is spreading everywhere ( *Thinks* - like a virus! *Growls* ). England today, is filled with illegal asian/indian immigrants, who plays their cheap bollywood songs out so loud, that you can't help but pick up a word or two from there *Hmph!*
Chetan Bhagat : Ha Ha! See what I told you, even Shakespeare himself is influenced by bollywood, so 'hinglish' is not far behind. I'm sure he must have seen 3 idiots too. Come on, admit it Shakespeare. You won't become small if you admit it. Do it Willy!
William Shakespeare : Ok alright. I might have seen it. Whats the big deal anyway? You people are spread everywhere, so our cable TV has to show those cheap bollywood movies most of the times. But, still I say, English is the global language and ND will be a worldly acclaimed author only if she follows my footsteps.
Chetan Bhagat : Ha Ha! She'll definitely end up as a pauper. Listen Shakespeare, you were great no doubts about it, and those times were different. Aaj kal mehengaai ka zamana hai. And here, I'm talking about those wanna-be-shakespeares who are Indians, their plights are pathetic. No sells, miserable! Aare isse koyi samjhawo yaar. In India, only Chetan Bhagat sells, nothing else.
Shobhaa De : Ahem Ahem, let me remind you ignorant soul, in India only SRK and Sex sells. And trust me, only my kinda books guarantees full steamy satisfaction. PPW - Poora Paisa Wasool.
Chetan Bhagat : Kya baat hai Shobha aunty, a little while ago you were taking offence when I said the same thing about your books being kinky. And now you're chest thumping about the same!

Shobhaa De : Language matters, you moron. You are too crass. There's a style of saying it. Its called marketing skill and PR.
Chetan Bhagat : Oye! I'm direct ji. No beating around bush ji. Marketing ke baare mei sab pata hai ji, hume na seekhawo ji.
William Shakespeare : Stop it you two! You both are boring me to death with your nonsense blabber. Where are the other guests who were supposed to come to the chat? Am I going to be stuck with these two nitwits, the whole evening? ( *Growls* )
Me : Yes, Shakespeare ji, they've arrived here via WeChat's-Shake! They're Khushwant singh and .... ( *shakes my mobile* )
Khushwant Singh : ( interrupts ) Balle Balle! Ahu Ahu! Balle Balle! ( Khushwant Singh enters chat ) Jo bole so nihal, satsri-akal!
Chetan Bhagat : Oh God! Another sexpert. Oops, I mean welcome Khushwant paji.
Shobhaa De : Welcome, Khushwant saab. Sab khairiyaat?
William Shakespeare : Ah, not fair! Not fair at all! All you Indians are ganging up against me, a lone Britisher. This is a conspiracy. Bahut naa insaafi hai yeh. I object. ( *feels cornered* )
Me : Shakespeare ji, your pen, I mean your keyboard is mightier than all of them combined. You can handle them alone. Hang On!
William Shakespeare : Aah ND, thanks for that ego boost. Said that way, I definitely can. Jeeti raho. Dudo nahao, puto phalo, my child.
Me :
*blushes*
Khushwant Singh : So, whats the final verdict?
Salman Rushdie : They can't reach any verdict unless I come to the scene. ( Salman Rushdie enters chat ). I'm the Knight. Buhahaha!
William Shakespeare : Oh another Indian! ( *snorts* ) Anyways, he is a British-Indian. Atleast, he won't go to their side fully. After all Britain ka namak khaya hai. ( *Thinks* - he better not flip over. )
Salman Rushdie : ND, forget, all these English-Hinglish. Whatever you write, just make sure its controversial in nature. You'll definitely become famous like me. I'm the Knight. Buhahaha!
Chetan Bhagat : Oye! Iska toh book hi banned ho jaate hai. ND, if you listen to him, not just your book gonna get banned ( thus no money ), upar se talwar latkenge sar pe. You'll get death fatwas and have to hide in your home for the rest of your lives.
Salman Rushdie : You mean to say that I'm poor or I'm hiding? Then, am I not here, you silly boy? I'm the Knight. Buhahaha!
Chetan Bhagat : Oye, kisse ullu bana raha hai? This is a virtual chat. Knight hoga tu apni ghar mei, but you are definitely hiding in some place now. I must admit, I loved your controversial book, but whats the use if its downloaded online that too illegally ( i.e no money )( *Sings* - Whole thing is bhaiya, sabse bada rupaiya ) ( Sends promptly the song file via WeChat's VoiceMessage to all )
Salman Rushdie : You stupid village boy, my book is only banned in India, in rest of the world it sells like hot cakes. I'm a Knighted author, something you can only dream of, but can never achieve.
Chetan Bhagat : Whom are you calling village boy, eh? I'm an IIM-A and besides I'm right always. Whats the use, if no Indians can buy your book but only download illegally from net ( thus encouraging piracy )? So, my way is the only right way to go ( *winks* at me ).
Khushwant Singh : Please hurry with the verdict. Some nice 'hot' poem is comming in my mind. Have to write it down immediately, else I will forget it ( old age 'short memory' problem, you see ).
Chetan Bhagat : See, this is the problem with old uncles. He can easily write his sex poems and store them in his mobile, until he gets home. But needs someone else to remind him that. Huh!
Khushwant Singh :
( throws a dirty glance at Chetan, nonetheless, opens his mobile to jot down the poem, before he forgets again )
Chetan Bhagat : Tell me, all those who are criticizing me here. Besides a few literary festivals here and there, where else exactly do you all get invited to? Forget Shakespeare, he is dead and not invited anywhere hahaha, but I get invited to all kinda happening parties, events, award functions, colleges & schools for youth motivation speeches, and T.V shows too ( watch 'times now' channel with Arnab Goswami - I have his private number too ).
Shobhaa De : Oh hello, that's simply hilarious. My statistic of appearances in 'times now' is much greater than yours, ask Arnab.
Chetan Bhagat : Ok Ok! I'm not like you, who pops up in every nonsense debate of his. I select my own meaningful shows. Btw Shobha ji, you are living in an illusion, if you think your books are more popular than mine. My fans worship me, get that?
Shobhaa De :
( *snorts* )( *Thinks* - Success has gone to his head )
William Shakespeare : Ok enough, I gotta go now silly Indians. ND, my child, if you wanna be revered and produce high quality work, always use my style of pure Shakespearean English only. These silly chetan-shobha-types appears and vanishes by a dozen everyday, but only William Shakespeare stays on for centuries.
Chetan Bhagat : Ha Ha! And then, you'll have only 1 reader of your book i.e yourself.
William Shakespeare : ( Using WeChat-Voice *Sings out* - Aacha Toh Hum Chalte Hai! *promptly sends song file to whole group* ) Chalo Bye bye! This loud mouth ( read chetan ), will not stop his typical yapping *sigh*! There are beautiful Apsaras as cute as Parineeti Chopra ( brand ambassador of WeChat application ) waiting for me back in heaven, so gotta run! They're more fun than this boring chat of earthly mortals. ( *yawns* and leaves chat )
Shobhaa De : I'm leaving too, I don't like staying with low society people for long. They sucks! ( *snorts* and leaves chat )
Salman Rushdie : ND, no point in my staying too as this silly boy ( read chetan ) never lets anyone talk sense with his 'naansense'. But do remember what I said, controversial stuff'll gonna make you famous overnight :-) I'm the Knight. ( and leaves chat )
Chetan Bhagat : Toh hum kya yaha gully-danda khele akele? ND, join my FB page and twitter, see my fan following for yourself. You'll definitely get an idea whats best, what works and why others are so jealous of me. And Shakespheare himself was speaking 'Hinglish' throughout the chat without realizing it. So much for his snobbery! hahaha ( *winks* and leaves chat )
Me :
( seeing everyone vanish from chat one by one, I leave chat )
Khushwant Singh : Aare koyi batayega bhi, final verdict kya hai? Koyi hai? Sab kaha gaye? Koyi hai? Final verdict kya hai bhai?
Ah! Alas, hope someday Khushwant ji and many others like me will hopefully find the answers. Until then Ciao


❤❀❤
Disclaimer :
This chat is written just for fun as entry for the WeChat contest, no offence to anyone intended.
---