When I see the advancements technology has made over the last couple of decades, I get quite baffled. Every aspect of our life is now touched by technology. Be it communication, lifestyle, entertainment etc nothing has been spared. Its all well taken care of thanks to technology and its new innovations every day, making life so much easier and fun.
Early men used to rub two stones vigorously to make a decent fire to cook his meal, today we have induction cookers, burners, microwaves! Early times men used to write messages on a leaf, with the dyed tip of a bird's long feather, then send the same tied to the neck of a pigeon, today we have mind blowing gadgets and devices such as laptops, mobiles, tabs for communications with more added attractions like cameras, webcams, microphones, speakers etc to literally chat live and see someone sitting in another corner of the world
( sending picture/videos/files across miles via fibre optic or wireless broadband )
. Similarly products like televisions, refrigerators, air coolers and multiple other utility as well as grooming products have changed our entire lifestyle many folds as compared to earlier generations.
Technology today rules our lives, no doubts about it. We almost take it for granted now, as we are so used to them and dependent 24x7. And to see them all under one roof is an mindblowing experience in itself, not to say the least. These products get upgraded frequently, giving customers a wide range of choice. Can you imagine, not one-two, but all the top brands of a wide range of products to choose from, under the same roof, rather than having to hop different stores hunting for our desired product?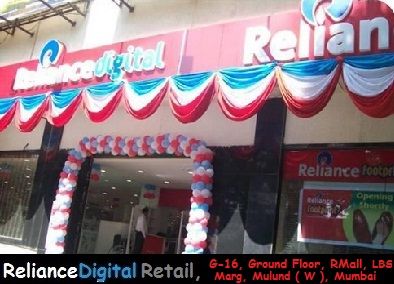 Yes! That's
'Reliance Digital Retail'
for you, the one and only destination for all things digital, housing all brands, all products possible for ultimate customer satisfaction. Lets see what else I found out on my visit there ;-)
Store Location & Ambience :
When I got the opportunity to visit Reliance Digital Retail via their
'experience you won't forget'
initiative with Indiblogger, I chose the Mulund outlet, as its nearer to my home and I've been to R Mall quite a number of times. Located at the prime location of LBS Marg, it is easy to reach with almost all public transports
( i.e bus, taxis, autos )
available within vicinity, hence the convinience factor.
The inside of the store is massive, spacious and well organized. Well lit with plenty of natural and artificial light source, the decor is a pleasant white colour with little touches of sky-blue & red splashes here and there, which is so relaxing to the eyes and not a distraction from the heroes of the store i.e 'the products'. Aint that great? I think it is :-)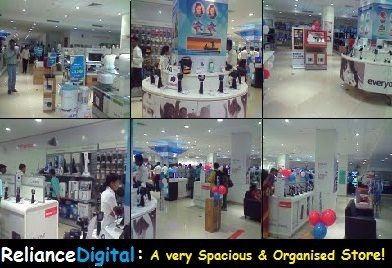 Store Products & Display :
The products are well stacked neatly and in an organised manner, with different sections labelled perfectly, so as to find out what exactly we are searching for, easily. It is easy and convenient for a customer to navigate the store when proper allocations are made for specific products. For example,
HouseHold Appliances Section
houses everything related to it, with proper labels.
Entertainment section
has those related to it
( with a special HomeTheater Engagement Section added in as well to actually sit, try and experience it )
, same goes for
Communications
related products or
Grooming
and
Accessories Sections
. Thus, a customer is not confused where to go. Seeing so many brands
( all at the same time )
can be so exhilarating, that I kept pausing and looking awestruck at the amazing display of such a wide variety of goods.
Everything that one can think of - Smart/LED TVs of all sizes
( with an interesting concept of how to choose the right TV )
, MP3/DVD Players, PlayStations, Home Theater, Refrigerators, Air coolers, Appliances, Food Processors, Computers, Cameras, Digital Photo Frames, Stationery, various Gadgets & Accessories etc
( infact everything you can imagine )
- its all there! I doubt customers will ever have to go to any other store if they want anything digital. Reliance also has their own in-house brands
( 'Reconnect' being its newest and cutest addition )
& also buying benefits @Reliance displayed
( e.g easy EMI options - ResQ Care Plan, Reliance Digital Gift Card, Mobile payment option by MasterCard-mPOS )
. Its
'the'
one stop shop!
There are demo products displayed for customers to see, touch and feel, as well as packed goods underneath. Affordable prices. And I have to say 'Wow'!
I'm impressed.
Store Staff & Customer Service :
With so many variety of products displayed, one would wonder if the staff would fumble when asked details about any of them. However, the good thing is, Reliance Digital ensures that their staff are well trained and customer friendly with thorough knowledge of the products they are demonstrating. I saw many of their staff waiting patiently by the products
( on their allocated positions )
eager to explain any query a customer might have.
For Reliance Digital, customer service ( & customer relationship building
-CRM
) is of prime importance. Focus is to give maximum satisfaction and least amount of worries to the customers, as Mr.Kapil
( north Maharashtra area head )
informed us. Specially trained, extremely patient staff handles various customer calls throughout the day, be it for general information, enquiry, grievances or any other specific guidance/assistance.
Another important aspect worth mentioning is their after-sales service
( ResQ )
. In other stores, with great difficulty we catch hold of a service personnel of a particular brand. However, that person may not be able to address concerns or technical bugs of other brands, except the one that he is instructed to, and hence we'd require different service personnel for different brands, which in turn also would mean varied charges too. Whereas in Reliance Digital, no matter what brand you purchase, it would be only one highly qualified and trained Reliance Technician who would be sent to solve the problem. This is a huge plus point, as lot of time as well as money would get saved.
Within a short period of 9 years, Reliance Digital has grown exponentially with already around 150 retails under its belt and as many brands
( with over 4000 products )
. Their goal is to reach every city
pan-India
at around 500+, as Mr.Kapil told us. This is quite an exciting phase. I'd love it if Reliance Digital starts offering attractive discounts too, to lure in the customers. I'll surely be a regular then :-)
So, what are you waiting for? Do visit the nearest
'Reliance Digital Retail'
to experience the
'happiness'
you'll never forget.
It has its branches at ( Times Square) Andheri-E, ( R CityMall ) Ghatkopar-W, ( Infinity Mall ) Malad-W, ( Growels101 ) Kandivali-E and ( R Mall ) Mulund-W.
❤❀❤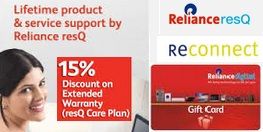 Stay Connected & Follow my Updates on the blog's GFC | GOOGLE+ | FACEBOOK | TWITTER | BLOGLOVIN | NETWORKEDBLOGS
---
---