Today is
T!!
@a-z challenge
According to Wiki -
Tree houses
or tree forts, are platforms or buildings constructed around, next to or among the trunk or branches of one or more mature trees while above ground level. Tree houses can be used for recreation, work space, habitation, observation or as temporary retreats.
While tree houses are quite common in the west, they are unheard of in India. My own fascination for tree houses grew first when I began to read the Phantom comics and other children stories that had tree houses in them. Phantom
( the ghost who walks )
fascinated me the most, as he had the most amazing tree house called "Castle in the Air" where his family stayed along with him and I used to just lap up those comic strips in awe.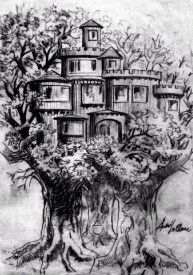 Phantom's Tree Castle in the air
The Castle was located at the jungle's edge ( near town ), hence Phantom would easily move about. It had all the modern luxury and amenities, yet, its elevator was kinda ancient - which was essentially a thick rope tied to a basket via which the entire Walker family would reach the top/bottom. I really loved it and used to dream of owning such a tree house some day.
I saw more fascinating tree houses in American movies and sitcoms. Almost all family used to have a tree house of their own. The tree houses were mostly used by children as their play house and sometimes even by adults. Later on my sister and family had moved to the USA and before long they had one too. Now, I really envy them!
Tree houses look too cool and is an ideal way to be close to nature. Of course, while building it no harm should occur to the surrounding trees, only then one can enjoy it guilt free. Just imagine tying up a hammock near/on your own tree house and swaying away with the breeze on it, it'd simply be heaven. Check some cute ones -
Here

My hammock on my own Tree House - A Dream
This post is part of the A-Z challenge for April'2013. Except Sundays, post everyday with 26 alphabets.
---