Presenting Peas Potatoes Fried Pulao Rice with goodness of Fortune Rice Bran Health Oil
I donot necessarily love cooking, but I do love to eat. And since I love to eat, I have to cook. Tricky situation eh?
Now,this is one of my favourite regular quickies which I am sharing here. It is damn easy. It keeps your tummy full and now with
Fortune Rice Bran Health Oil
, it is many times healthier too.
Fortune Rice Bran Health Oil
has come as a blessing to all health conscious people.
So, without much delay lets get started :-)
Ingredients needed for the Peas Potatoes Fried Pulao Rice are :
1. Rice ( 1 cup )
2. Peas ( half cup )
3. Potato 1-2
4. Tomato 1
5. Chopped Onion 1
6. Ginger Garlic paste ( 1 Tab spoon )
7. Raisins & Cashews
8. Mustard Seed.
9. Bay leaves, cardomom, cinnamon, cloves
10. Corainder leaves & Powder
11. Curry leaves ( 2-3 )
12. 1 Green Chilli ( more if you want it hotter )
13. 1 Egg ( skip using egg if you are vegetarian )
14. Maggi Magic Taste maker ( masala cubes )
15. Turmeric powder
16. Garam Masala
17. Lemon
18. Salt
19. Last but not the least 'the hero' of this cookery show the
"Fortune Rice Bran Health Oil"
!
Step 1. First boil the rice and to flavour it put 1 bay leaf, 1-2 whole cardomom, 1 small cinnamon stick, 1-2 cloves, and 1 tea spoon Fortune Rice Bran Health Oil. ( Oil will make the rice not sticky )
Once boiled, strain the water and keep it aside.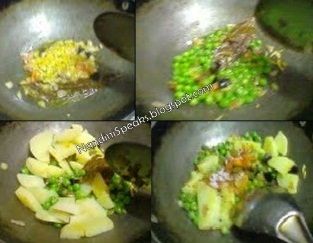 Fry in Fortune Rice Bran Health Oil
Step 2. Put 2-3 table spoon
( generous amount )
Fortune Rice Bran Health Oil
in a hollow pan. When the oil starts to heat a bit, put little mustard seeds and let them crackle, add the chopped onions, curry leaves, green chilli, and fry. Add the raisins and cashews.
( You can also add whole cardomom/cinnamon/bay leaf if you want some extra flavour )
. When the onions are a bit golden add the ginger garlic paste, then add the peas and potato. Add a pinch of turmeric, half tea spoon of garam masala, half tea spoon of corainder powder, a dash of maggi taste maker ( cubes ) and salt to taste. Add the tomato.
Add little water and cover it till the potato/peas cook. Once the water recedes, crack the egg and pour it over the veg mixture. You'll see the egg start to scramble. Cook it for a while so that the smell of the raw egg vanishes.
Now, quickly add the boiled rice and mix it with the veg mixture. Sprinkle some chopped corainder leaves with a dash of lemon. And voila your tasty 'peas potato fried pulao' cooked in healthy Fortune Rice Bran Oil is ready.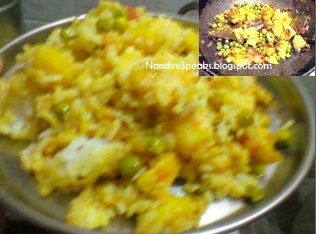 Serves 2 people.
( You can also experiment this dish with other vegetables e.g The Palak variation below. Simply use same cooking procedure along with
Fortune Rice Bran Health Oil
and replace the peas with spinach and it tastes simply yummy! Eat with sweet n sour Olive pickle :-)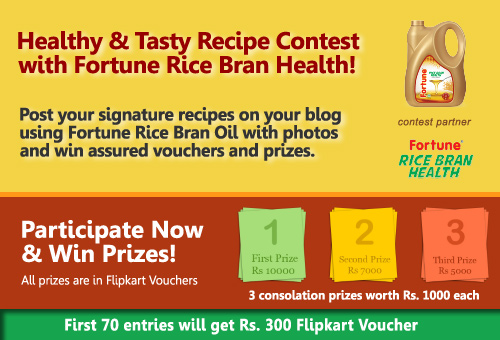 Pin It Now!
---