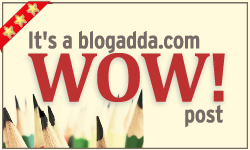 THEME FOR Feb 8, 2013 'WOW' : The first time you told a non-family member that wonderful phrase, "I love you." The lead up, and what happens after that.
"Are you ready, ND?" my mother called out from downstairs, "We're getting late."
"Yea, mommy...juss a minute," Damn I thought. I didnot know where exactly we were going.
I was quite happy playing with my toys. I was a little girl then and like all little girls of my age I had those miniature tea cup-plate sets that every girl loves to play with their imaginary friends, serving them tea, playing house house etc. I was in my own little world.
"NNDYYYY," this time it was my sister. "Leave those toys and come down at once." she ordered, really angry.
She was four years older than me but used to behave like a granny. She had obviously gotten out of her 'playing-with-toys' days and looked down upon it snobbishly and used to act quite matured for her age most of the times.
And unlike me, she was just all too excited to be going out. She was at that stage of life when little girls loved to try out their mommy's make up and behave all grown up. Maybe her school friends had told her what a 'movie' was, so she was at her enthusiastic best and wanted to make sure that I wouldnt spoil it for her.
Yes! Movie show they said, the film was 'Love Story' starring Kumar Gaurav.
Of course, I didnot understand any of it. In those days there was no cable and no TV either in our house.
I didnot know what a movie was or who Kumar Gurav was and why on earth was our parents taking us two kids to a movie titled 'Love Story'.
Oh ..alright, so they wanted to watch the romantic movie but didnt quite know where to dump the kids ( as we lived in an area quite far from any relatives or friends ). So, they decided to take us along as well.
In the end, I remember my mother comming up and dragging me away from my toys and we somehow landed in the cinema hall, but not without me giving a fierce resistance. I hated being seperated from my toys.
In the cinema hall, I remember it was very crowded and I had walked in between, my mother on one side and my sister on the other both holding my hands firmly with no chance for me to escape, while my dad walked ahead till we reached our seats.
As soon as the lights went off inside the huge hall, I gave out a loud yell. No! It was not a simple yell, it was a blood curdling scream which echoed throughout the entire hall making people turn their heads.
I was really scared out of my wits and looked around crying. Everything was dark around me. The people nearby were irritated with my shrieks.
"Pata nahi log bacche kyu lekar aate hai," they murmured grumbling amongst themselves.
"Oh! hello...I didnt want to come, I was dragged and brought here." --- I wouldve loved to say to those people.
When finally the giant screen lighted up and the movie started rolling, I became quiet at last.
I was just too speechless and awed at what I was seeing in front of me on that gigantic screen.
I was mesmerised as the two - the hero and the heroine sang and danced in front of me. For most of the part they had a handcuff tied in their hands, that made them remain stuck to each other as they roamed around in the jungles lost, singing happily, "Dekho maine dekha hai ek sapna," and when they seperated a soulful, "Yaad aaa raha hai".
All these was too fascinating for me. I had never seen anything like that in my tiny life. I watched the whole drama, my eyes wide open, with me barely blinking.
Their romance was creating havoc in my tiny mind as well ( my brains had only started developing recently remember? I was a little kid ) especially in a particular scene where the heroine gets pricked by a thorn in her back and the hero removes it with his mouth.
I think I got my life's first sex education from that scene ( although the movie didnot really have any explicit scenes in it, that one little scene however was enough for me to understand the whole chemistry and biology about the birds and the bees ).
And by the time the movie ended, I knew I was hopelessly head over heels in love with the hero, Kumar Gaurav and wanted to marry him.
As it got over, my family started to get up and move towards the exit.
WHAAATT!!!! You dragged me all the way here seperating me from my beloved toys and now when I've fallen in love with the hero you want to drag me back home??? - I wanted to scream at them. Emotional Atyachar it was...I just didnot want to go back home.
"No!" I screamed, loud enough for everyone to hear, "Kumar Gaurav is behind that curtain," I pointed towards the large theatre screen, "I want to see him, bring him back...why did he go away?" I was almost in tears by then again, but adamant at the same time and not giving up.
My questions were endless...I simply didnot want to leave the theatre, convinced that Kumar Gaurav lived behind that curtain and would soon appear just as he did before when the movie had started. I wanted to marry him dammit and my parents were taking me back home. How cruel!
Then, I started crying at the top of my voice. ( used to getting stuff when I cried, I thought they would bring Kumar Gaurav to me as well if I cried - emotional blackmail you see )
"I love you Kumar Gaurav...I love you," I screamed shamelessly in front of my parents, in front of the whole crowd that was present in that cinema hall that day, hoping Kumar Gaurav was hearing me too and would come running.
I was ready to fight anyone who came between us. Pyar kiya toh darna kya! Right?
My family was embarrassed at the tamasha I was making.
"He cant come ND! Nobody is behind that curtain,it was just a movie." they tried explaining, to reason.
Oh yea...you are telling me now that he cant come, when he was already there right in front of me for last 3 long hours! Fat chance you liars, I thought not convinced.
He is behind that curtain, bring him to me. Their reasoning simply didnt work with my impressionable mind.
With "Ek ladki jara si diwani lagti hai," still buzzing fresh in my mind, I didnot believe them at all.
I did not know what on earth a movie was and I was quite convinced that Kumar Gaurav lived behind that curtain. For me it was all too real.
My family eventually did manage to drag me out of the theatre with me screaming my lungs out, "I Love You..Kumar Gaurav, I LOVE YOU!"
Of course he never heard it and our 'love story' never happened :-)
Copyright 2013 © Nandini Deka
This post is a part of
Write Over the Weekend
, an initiative for
Indian Bloggers
by BlogAdda
Pin It Now!
---