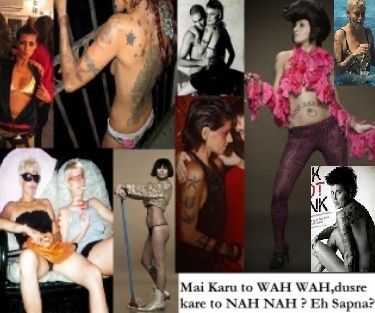 Let me first of all say,Sapna Bhavnani is quite a bindass woman and I do admire her crazy, carefree, NOT-CARE-A-DAMN attitude that she has towards life.I've seen her blog
'bombaykiraani'
and I'm amazed at the creativity that she has,especially one particular blog post of hers that caught my eye, where she decided to decorate her expired plant named 'Stella' with colourful flowers.
I'm a creative person myself so somewhere I understand and identify totally with her wildness.Infact, initially she was the only inmate I had liked the most in Bigg Boss and wanted her to stay till the end and win.That was until......
Well what happens when you admire someone and then all of a sudden flaws start appearing from all over and as a result your opinion about that person goes for a toss? Well,thats exactly what happened.
I had thought she was the most daring,truthful,honest and sincere amongst all the inmates but then hypocrisy in her starts peeking out and you dont like that person anymore as before.
Hypocrisy Number 1 :
When asked to do a certain task in the Bigg Boss6 - Alag Che house that included song/dance to a particular theme,she started yelling and did lot of hulla-balloo that she was not there to do bollywood nanga naach wearing short-short clothes,blah blah! However,just 1-2 days later she was seen by the pool and swimming wearing a skimpy bikini.Now thats not all, this hypocrisy of hers was further exposed when
these pictures
of hers started doing the rounds in internet. Now lets see who is doing the nanga naach here?
Moreover,why try to degrade bollywood when you are making a living out of styling bollywood celebrity's hairs who does those very song and dances for their livelihood? You are constantly seen in company of those bollywood stars which you proudly show off by posing pictures with them.So,indirectly you are feeding off bollywood too.Then why insult the hands that feed you?
When I tweeted the hypocrisy ( see tweet screenshots below ) she tried to mask it by saying she went nude for a Peta campaign.But what about the nanga naach? ( *see above pics* ) I dont see no Peta anywhere.So,who is she trying to fool.
Now,seeing these tweets some random people started advocating on her behalf,some even mysteriously deleted their tweets.Anyhow am posting whatever I could manage to get screenshot of.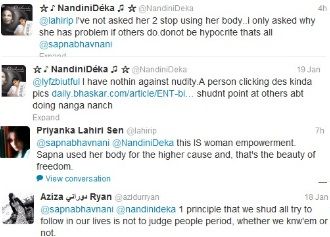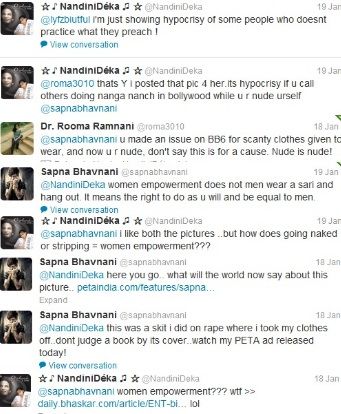 Regarding her PETA shoot,even the current hottest porn queen Sunny Leone ( of Jism2 fame ) recently endorsed Peta and many of the other models/actress do these kinda campaigns from time to time,not because they are really concerned but because of the publicity and exposure that they get doing such bold ads. And a naked campaign will surely boost up your popularity meter! So its done just for selfish reasons.I seriously doubt if any of the Peta Models have ever done any real work for the animals.
Hypocrisy Number 2 :
She said that she had come to the show to speak about women empowerment in the Bigg Boss house.But the only one thing she was seen doing right from begining was fight with every women out there and demean them.Right from calling someone a fat-cow ( moti bhains ) to labelling someone as fake,boring and loser,I didnt see her becoming friends with any female in the house.Is that what women empowerment is - to degrade other women and pick fights with them?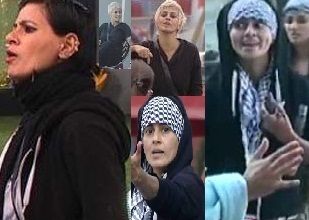 ( We'll leave aside the fights she had with the men in the house as well..not even sparing the host of the show! )
Even with Sampat Devi Pal her interaction didnt seem genuine. Anyways I excuse that cos Sampat was too weird for my understanding.
( I dont understand why a strong woman as Sampat Devi Pal claimed herself to be cried at every given excuse,and same is the case with Sapna Bhavnani which takes me to my next point. )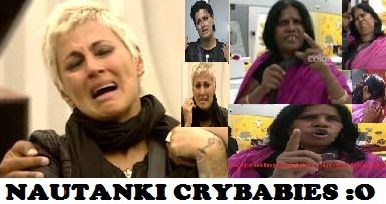 Seriously WTF?
Hypocrisy Number 3 :
Every friday on eviction day she used to cry loudly that she didnt like it in there at all,that she wanted to leave the house,but when on nomination day other inmates took her name ( keeping her requests in mind ) she'd get all angry and pissed off as to why they nominated her.
Lol,lady if you keep screaming that you want to leave naturally others will nominate you so that you can leave peacefully so why get angry when they nominated you.She'd sulk,fight and do bitching to show her anger.
If this was just drama that she did intentionally to attract attention and get footage then its okay cos Bigg Boss is a game but somehow I smelt big time hypocrisy there on her part.
Hypocrisy Number 4 :
In the Bigg Boss house there was one festival being celebrated and one of the ladies asked her to join in.Sapna replied that she didnt believe or wasnt religious so she kept away.However there was another festival in the house and suddenly Sapna was seen folding hands,wearing a saree, tikka on her forhead and in a praying mode as the others sang some religious hymns.Now what the freak was that?
Thats not all, a person who claims that she is not religious is now busy posting pictures from Kumbh Mela on twitter.I wonder why on earth has she gone there??? Is it just to make a statement? Recently even Twitter's notorious and infamous stripping queen Poonam Pandey was seen posting pictures from Kumbh.So,I gather its the latest trend to catch on amongst controversial people, to be seen at the Kumbh.
You're are cool and happening if you are seen there especially with the naga-sadhus,doesnt matter if you believe or not.
Hypocrisy Number 5 :
She insulted fellow inmate Sana Khan by saying that all Sana did was make up and run after the boys.Now who was seen flirting with Niketan Madhok,Vishal Karwal and Aseem Trivedi the most? Need we remind her? All of them much younger than her as well.
And what on earth is wrong if someone is obsessed with make up when you are yourself so obsessed with strange hair-colours,strange hair bands,flowers and what not?
Hypocrisy Number 6 :
While she looked down upon hindi film songs calling them nanga naach, watch her 'Raat - Airport' video below smooching away. Ahh....the hypocrisy never ends, does it! lol
In the begining whenever she was nominated,she was saved by the audience who had voted for her in bulk.But I feel, like me seeing all these hypocrisies their interest in her too dwindled as well.The votes eventually got lesser and finally she got evicted.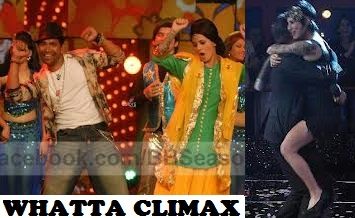 Of course, here I must mention 'Iman Siddique', who simply stole the show right from under every inmate's noses.He was even a bigger 'nautanki' than Sapna was,however I dont think he was a hypocrite like her.Although I loved Urvashi's wicked mimicry of him regarding not having refrigerator in his house yet wanting hot water for bath,not being non-veg yet wanting omlette etc.But thats another story altogether.Read Imam's rise in popularity -
Here
---