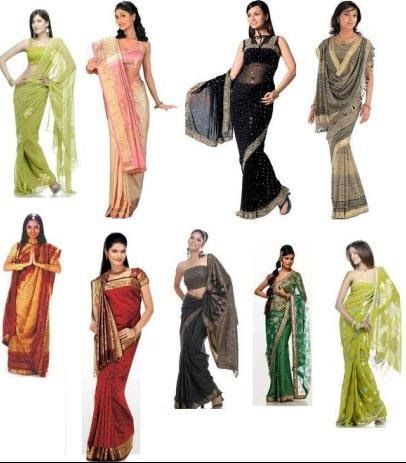 Click image above to buy beautiful sarees from Flipkart!
I feel Sarees are the most sexy and feminine garment a woman can wear around her. Check out some interesting drapes!!!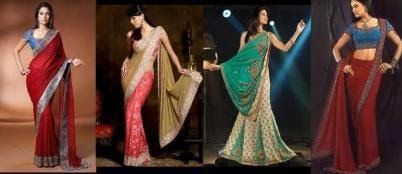 A sari or saree is a strip of unstitched cloth
( usually a having border and pallu )
, worn by females, ranging from four to nine metres in length that is draped over the body in various styles. It is popular in India, Bangladesh, Nepal, Sri Lanka, Bhutan, Burma, and Malaysia. The most common style is for the sari to be wrapped around the waist, with one end then draped over the shoulder baring the midriff.
The sari is usually worn over a petticoat (लहंगा lahaṅgā or "lehenga" in the north, langa/pavada/pavadai in the south, chaniyo, parkar in the west, and shaya in eastern India), with a blouse known as a choli or ravika forming the upper garment. The choli has short sleeves and a low neck and is usually cropped, and as such is particularly well-suited for wear in the sultry South Asian summers. Cholis may be backless or of a halter neck style. These are usually more dressy with plenty of embellishments such as mirrors or embroidery, and may be worn on special occasions. Women in the armed forces, when wearing a sari uniform, don a short-sleeved shirt tucked in at the waist.The sari developed as a garment of its own in both South and North India at around the same time, and is in popular culture an epitome of Indian culture.
http://en.wikipedia.org/wiki/Sari
Stay Connected & Follow my Updates on the blog's GFC | GOOGLE+ | FACEBOOK | TWITTER | BLOGLOVIN | NETWORKEDBLOGS
---