¸¸.•*¨*•♫♪¸¸.•*¨*•♫♪¸¸

In a land far far away,
there was a kingdom grand....
The castle of which spread
miles and miles around.
In such robust grandeur,
there lived a king and queen,
They had a young daughter,
although, never to be seen.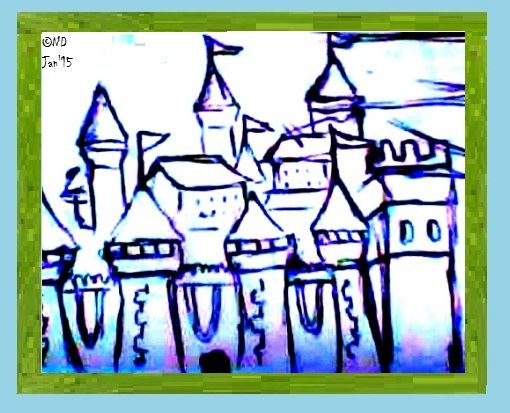 Never had she come out
in the open,
Never had she seen
the daily sun,
Ever since she grew up,
hide, she always did,
in the castle's loneliest
and darkest pit.

The king and queen began to worry,
what will become of their princess,
She was nearing her marriageable age,
what would make her overcome her shyness.

The princess sat in her hidden chamber,
nervously looking at her mirror,
No, she wasn't shy, if only,
Of her woes, she wasn't held prisoner.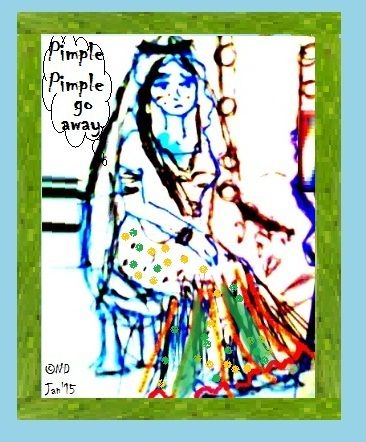 Her woes, were her biggest grief,
she didn't know, them, how to get off rid,
Her face was full of ugly acne,
Hiding her real beauty, they cruely did.

The worried king made a huge announcement,
news carried on to kingdoms far,
Invitation sent to all bachelor princes,
to marry his only young daughter.

In the huge coming royal swayambar
there was, however, one little catch,
Only one lucky would get the princess and wealth,
the one who, cure to her acne's, held.

The young men from places, near and far,
began preparing for the grand swayambar,
Hunt began for the perfect cure too,
of the princess's acne-blemish wonder.

As the castle began filling up,
with guests, for the royal wedding,
Everyone had something tucked-up,
hopeful, it'd make them lucky.

Some carried chunks of turmeric,
some castor oil and garlic,
Some carried modern medicines alopathy,
Some carried heaps of ayurvedic.

One by one, they offered their offerings,
hoping the princess would find the cure,
The princess tried everything on her skin,
until it became painfully sore.

Shocked that not a single men could,
bring her out of her acne worries,
The princess, then, having lost all hopes,
ran and locked herself, in the attic.

The guest began leaving, one by one,
all their hopes having shattered,
Then rose a young man from the crowd,
One last try, to the king, he urged.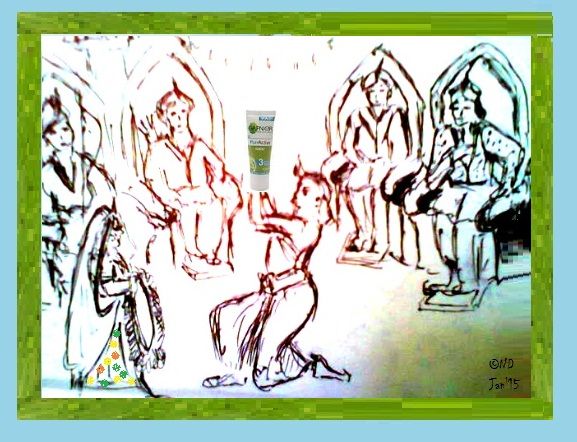 Took out, he, from underneath his cloak,
a tube, named, Pure Active Neem Garnier,
Grabbing it the princess, washed her face,
all acne then vanished, making skin brighter.

Infused with goodness of tea-tree oil and neem,
to fight bacteria and germs on skin,
Never can a pimple ever dare to protrude,
with the magic of Garnier Active Neem.

A cure was found, a cure was found,
Sirens of joy, echoed the castle's ground,
Drum-beats and crackers burst everywhere,
everyone readied next, for the marriage round.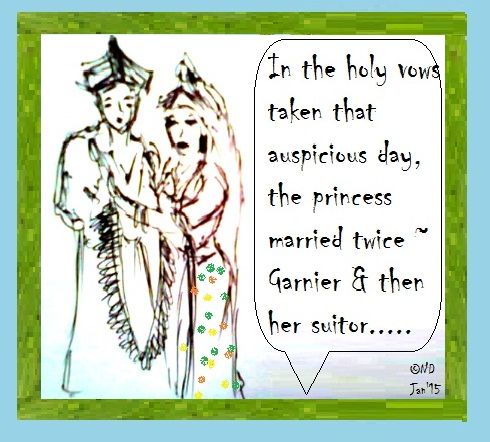 Vows taken, nuptials solemnised,
the princess had never seen a day, more happier,
All her worries finally over,
she thanked Garnier, over and over.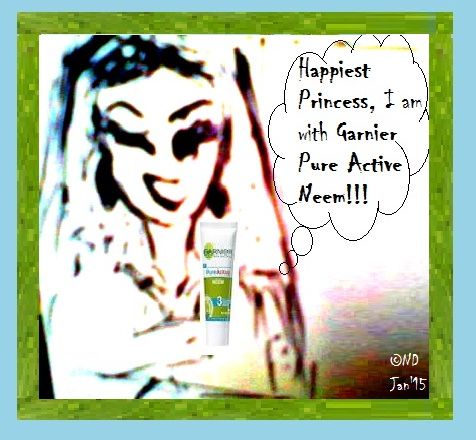 With a jolt, I woke up in my bed,
it was a dream, yet, I was glad,
Glancing sideways I spotted my facewash,
Cos' Princess's magic cure, I too had.

No more pimples or breakouts do I have to fear,
daily getting my face buried in dust, grease or grime,
For Garnier Active Neem face-washes it and protects,
each and every pore clean, of my healthy skin.

¸¸.•*¨*•♫♪¸¸.•*¨*•♫♪¸¸
❤❀❤


( Images - IB & All Sketches©Mine )
Love your clear and pure skin with Garnier Pure Active Neem Facewash - with its all natural ingredients of Neem and Tea-Tree Oil extracts, it cleanses your skin's every pore by fighting germs and washes off other impurities caused by pollution and removes excess oil too.
Stay Connected & Follow my Updates on the blog's GFC | GOOGLE+ | FACEBOOK | TWITTER | BLOGLOVIN | NETWORKEDBLOGS
---