Simran ( complaining to her husband Raj ) : "You never take me and the kids for any holiday. After our honeymoon, more than 8 years ago, we've hardly been anywhere. And its our anniversary too next month, do you even remember?"
Raj ( patiently, this was not new ) : "We'll go to Roorkee then, happy? I'll apply for leave of two weeks, the children will love it."
Simran ( aghast ) : "What? You'll take me to Roorkee again? And no they won't. They'll just think there's no other place in this world besides Delhi and Roorkee. This is so boring."
Raj : It is a tourist place is it not?
Simran : "Its my native place for God's sake. You can't just take me to Roorkee everytime I ask you to take me some place for a holiday. Besides, what will I do there? I've seen it million times already. Can't you be little creative for a change and take us all to a fun place. And our children are growing up too, they need to see someplace new where they can enjoy."
Raj ( taking out this mobile ) : "Okay fine, you suggest then."
Simran : "I'd love to go abroad, but since I know we are currently saving up for the kids, I'd love the whole family to go somewhere domestic itself - like Kerala, Rajasthan etc. Oh it'll be wonderful, don't you think Raj? Raj!! Are you listening?"

Raj was busy fiddling with his mobile.

Simran ( getting impatient ) : "You're just impossible. You ask me to suggest places, then you get busy inside your mobile and totally ignore me. Hmph!"
Raj : "No darling I'm checking out the places you've just mentioned."
Simran ( looking surprised ) : "Huh? In your mobile?"
Raj ( smiling ) : "Yes, honey. I have downloaded this uber-cool travel application Skyscanner. I'm just checking the flights and accommodation rates. They give out the cheapest rates so cross-checking with their online travel-agent partners."
Simran ( little happier now ) : "So, you are really taking us to some other place than Roorkee this time?"
Raj : "Yes, sweetheart. Suggest some more places, I'll surprise you with the best holiday, I promise."

Really excited now, Simran started chanting out names of all the places in India, she dreamt of going. Raj had a smile on his face as he checked out the details of all those places easily, in real-time, on his Skyscanner mobile app.

Raj ( after a while of #skyscanning ) : "Done! I've selected and booked it."
Simran : "What already? Which one did you select?"
Raj ( with a playful glint in his eyes ) : "That my dear will be a surprise. You only worry about packing and the kids. Leave the rest to me."

Welcome to Goa via #Skyscanner!

Simran ( delighted, as the surprise was finally revealed ) : "GOA!!! OMG...I can hardly believe. We are going to Goa. That's so awesome Raj. Thank you so much for this."
Raj : "Happy Anniversary my dear beloved wife. Next year a #TravelSmartWithSkyscanner trip abroad too, I promise."

With the kids in tow, the Rathore family thoroughly enjoyed their vacation in Goa, made convenient by Skyscanner.



¸¸.•*¨*•♫♪¸¸.•*¨*•♫♪¸¸


Goa has been one destination I've been longing to go too. I've been there only once, when I was in school. So, I have only a faint memory of it. Though I remember loving the beaches, churches etc. I can't wait to re-kindle those memories soon.


Left to Right : Water Sports in Goa, Churches, Dona Paula & Flea-Market

Goa is situated on the West Coast of India, so naturally it has lots of beaches ( that are surrounded by crystal clear azure-green waters splashing calmly against the rocks & sands enthralling tourists - a paradise no less! ) - and the reason it is most famous for too. Besides that, it also has lots of other attractions, making it a top tourist destination - eg. mesmerizing scenic beauty, famous architectural temples and churches, festivals and its rich Anglo-Indian heritage.

1. Scenic places : Some famous water-falls in green Goa are - Kuskem Waterfall, Arvalam and Dudhsagar Falls. It has some beautiful islands too for perfect outings, picnics or simple nature trails - eg. Bats Island and Divar Island. Chapoli Dam is also a great picturesque place to visit.

2. Beaches & Entertainment : Goa is dotted with many beaches all over. With water-sports introduced in some of the beaches, there are lots of beach activities now on offer, ( besides the usual soaking in the sun and lazing about ). Famous beaches of Goa are - Aguada, Anjuna, Arambol, Baga, Calangute, Candolim, Colva, Miramar, Majorda, Mobor, Palolem, Sinquerim, Varca and Vagator Beach.
Festivals and Carnivals are not to be missed while in Goa. They are most colourful, full of fun & life. ( See events Here )
There are also River cruises with live performances, raving night-parties by the beach and a Casino too for more entertainment, thus, making it a perfect holiday destination.

3. Historic Places / Forts : Goa was ruled by outsiders, so it has been a place of battles and forts. Many of those are in total ruins now, but still tells stories of their impressive colonial past. Famous forts of Goa are - Aguada, Alorna, Cabo da Rama, Chapora, Rachol, Reis Magos, Terekhol and Lamgau Caves. There are other monuments like the Ruins of the St. Augustine's Tower and the Gate of the Adil Shah's Palace at Old Goa, which are in somewhat decent condition.

4. Churches & Temples : Goa was ruled by the Portugese in the past, hence there are many churches everywhere. These are not just places of worship, but also great attractions for tourists from all over. Some famous ones are - St Cathedral Church, St Francis of Assisi, Basilica of Bom Jesus, St Augustine Church, Our Lady of Rosary Church among others.
Temples in Goa are many too. Such as - Brahma Temple, Datta Temple, Devaki Krishna, Shri Chandreshwar, Shri Damodar Temple, Mahalaxmi and Mangeshi Temple etc.

4. Shopping & Food : Goa has its very famous flea-market, a must visit place. There are whole lot of other shops too, to buy souvenirs etc. And while in Goa, donot miss the lip-smacking and mouth-watering Konkan & Goanese cuisines.



¸¸.•*¨*•♫♪¸¸.•*¨*•♫♪¸¸

As seen in the conversation between them, Raj made this much needed holiday, 'a reality' with Skyscanner!! And here's how :-) Go to the website and choose your destination/date etc and hit search. It'll bring up the cheapest options - that simple! Not just flight, you can check hotels and car hire too. A perfect companion for the traveller in you. I wanna go Goa too someday, hopefully soon with Skyscanner :-)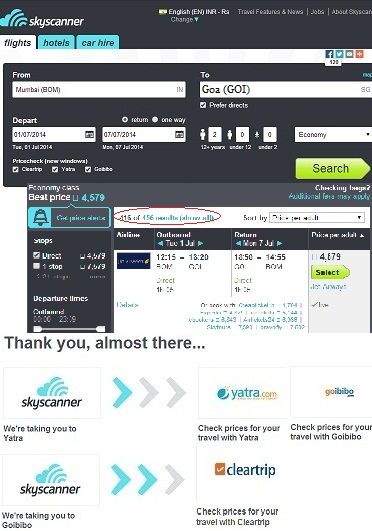 Pin It Now!
❤❀❤

This post is part of
Travel Smart with Skyscanner
contest in association with
Indiblogger
| Liked it? Then please
'VOTE'
for it >>
HERE
|
( Images Courtesy : Google & GoaTourism )
Award winning 'Skyscanner' compares over 1000 airlines & online travel agents to find you the cheapest air tickets with a click of a button. It also helps you find the cheapest hotels & car hire. With no hidden costs whatsoever! Finding cheap air tickets has never been so easy! Recommended by: The Independent, The Guardian, Which? Travel, BBC Radio 1 and more!
---