This year in November, I completed 1 year with my favourite blogging community 'Indiblogger'. And the subsequent invite I got, to board the #ChennaiExpressAndYou, was like an icing on the cake to my celebrations. I was thrilled and honoured to be a part of it. I love travelling and being associated with such an event is an experience not to be missed. I simply loved the 'itinerary' which read :

19th November - Depart from Mumbai via the Chennai Express.
20th November - Arrive in Chennai. Overnight stay in Chennai.
21st November - Depart from Chennai via Rameswaram Express.
22nd November - Reach Rameswaram, check in at the resort
22nd, 23rd and 24th Night stay at Rameswaram
25th Cab to Madurai at noon - Flight out of Madurai to Mumbai.

It had all the ingredients for a perfect journey into the unknown. Oh boy! Unknown it was! As South-India was the first time, I'd ever set foot via this event. The journey got off to a great dramatic start.


My journey of course had started, as soon as I packed my bags and headed out of my home. I tried finding the elusive platform no7, which noone knew whether it was on Dadar east or west. I remembered while in college days, outstation trains went from a particular platform ( in Dadar TT East ), so with that in mind I headed there, and soon met Vineet, Swati, Nihal from Indiblogger and the Zee Officials. Time flew with introductions and handshakes and soon it was time to get on the train. Once inside the Chennai Express, Vineet explained to us what we had to do during the journey, along with some very important logistics information.

I met the other bloggers and we started off chatting. I knew the lady blogger from previous Indimeets, hence, we felt comfortable right away. Very soon we saw the train leaving the station. All that left was, us! The Four bloggers ( all strangers? ) - all alone on the Chennai Express - The adventure had finally begun. While on the train, we started doing the various challenges that kept pouring on the #ChennaiExpressandYou twitter hashtag. All challenges had to be somehow connected to the ChennaiExpress movie and what SRK/Deepika might have done in it. Some challenges were really outrageous though ~ We did what was manually possible. In the train at night, we had two rather funny incidents. One was when we couldn't bring the berth down to sleep. It was stuck and we had to wait for a TC to show up and help us out. Next was the challenge to climb the upper berth. We didn't see the step on the side, and tried few Tarzan tricks to climb. It was howlarious. The female bloggers i.e us were in the 1st tier AC coach, while the other 2 were in 3 tier ( last minute confirmations et all ). The train journey was loads of fun - we had lots of local food on the way, got down in various stations, clicked pictures and had cups & cups of tea/coffee.

IN CHENNAI - After travelling almost 24 hours from Bombay, we reached the Chennai station in late evening. However, the driver who was supposed to pick us up was nowhere to be seen. After almost 1 hour and twenty or so odd minutes of waiting, outside the station and trying to search him all over the place ( carrying/dragging our luggages et al ), he ultimately came ( much to our relief ) and drove us to the GRT-Grand Hotel ( Govindarajalu Rajendran Thangamaligai ) which is an elegant 4 star hotel, that was pre-booked for us. We checked in, with two bloggers each, in one spacious double-bed room. After washing, we headed straight to a restaurant called Southern Spice in the luxurious Taj Coromandal for dinner, and had some yummy South Indian cuisines. The manager and also the chef, personally came and explained to us how all the spices used in dishes, were manually grinded by themselves. Hence, each meal were a very authentic preparation. The crispy starters were unique with a variety of chutneys ( garlic, green chilli and coconut ) to go with it, so was the main course. Here, we also got to taste the famous mouth watering Chettinad Chicken, Prawns Masala and Appam. A particular Pineapple mocktail was simply awesome. After having our tummies filled and bade 'bye-byes' with some pretty 'Gajras' gifted by the restaurant staff, we headed back to the hotel. Chennai closes pretty early, hence we found all the shops were closed. The city reminded me of any other Indian city, except the attractive hoardings that were in the local language. We were asked by Renie to locate 'Amma' posters ~ However, contrary to claims that there were infinite numbers, we spotted only a few.



Next morning, after a buffet breakfast of idli, dosa and filter coffee at the GRT, we checked out and headed to the ancient Karpagambal Kapaleeswarar Temple in Mylapore, Chennai. I was amazed by its looming architecture and interesting history - wiki. Though I couldn't go inside, I got chatting with various flower & coconut vendors outside, visited some antique shops nearby and clicked pictures. While the others gate-crashed a traditional wedding inside ( one of the CE challenges )



After having some refreshing coconut water outside the temple premises, we then headed to the ITC Grand Chola, to meet the IndiTeam for lunch. We spotted many lungi clad people ( riding bikes bare-feet ) on our way and chased a few, here and there :D
Once we entered the ITC Grand Chola hotel ( which looks like a sprawling palace ), I had a big surprise waiting for me. I decided to go for bit swimming. Now don't ask me why, when, how etc - I have no answers to that! It was a hilarious and pretty hysterical experience - not to mention embarrassing. I had to wait in a posh suite upstairs for almost an hour, till my clothes dried :-)

Lunch with Renie and Team was too good and relaxed. I loved the buffet ( which had both North & South-Indian ) served in ITC Chola. We ate whatever we could, before it closed at around 4pm. The Starters, Biriyani, Lamb Masala and the Desserts were mouth watering. My phone had got wet in my 'now famous' swimming incident, hence, I couldn't click much pictures here. And soon we were on the road again. We decided to go to the famous Marina Beach. It was already dark by the time we reached, so couldn't click proper pictures except for some local fishermen ( my phone was almost dead already ). The beach was quite deserted, smelt of fish and the waves that came crashing in, were massive. Marina beach is supposedly a not-safe beach with sudden unpredictable depths. We spotted some couples coothie-cooing in the dark which was interesting to watch, with stray dogs prowling around. While returning we bought some Idlis, Vadas etc ( from Murugan Idli Shop ) and Fish and Biriyani ( from Dindigul Thalappakatti ) to eat on our journey to Rameshwaram that would start the same night, @9.30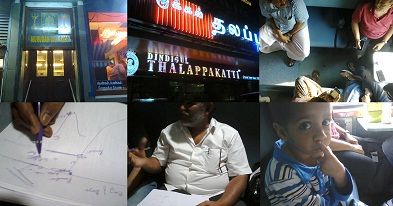 We went to the same station @Chennai, where we had arrived earlier, to travel onto Rameshwaram. The night journey to Rameshwaram was very intriguing. We met several friendly tamil people in the train, who came and chatted with us. They also gave us directions of what to locate and do ( some political talks included ). While I went to the upper berth to sleep the night away, the other bloggers decided to play Chess ( a game which I don't understand at all ). We reached Rameshwaram the next morning, before noon.

¸¸.•*¨*•♫♪¸¸.•*¨*•♫♪¸¸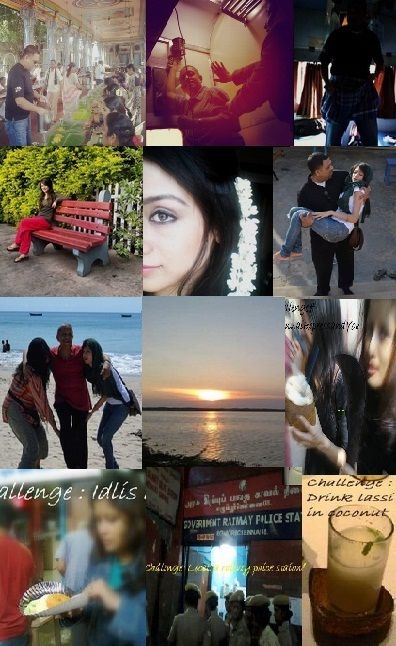 SOME CHALLENGES DONE - 1. Gate-crash a wedding, 2. Do a Lungi Dance, 3. Sit on a Railway Bench, 4. Wear Gajra, 5. Carry a blogger up a Temple steps, 6. Catch sunset, 7. Find a coconut cutting knife, 8. Eat Idlis at a Station, 9. Locate a railway police station, 10. Drink Lassi from a coconut, 11. Submit 'Immune' entry \:D/
( Disclaimer : Pictures used in above collage are part of the challenges only )


¸¸.•*¨*•♫♪¸¸.•*¨*•♫♪¸¸



PS : Since the trip covered many places, I will be writing 3 posts on it ( covering as much as possible ). So please stay tuned for the next post that shall come up soon :-)
Pin It Now!
❤❀❤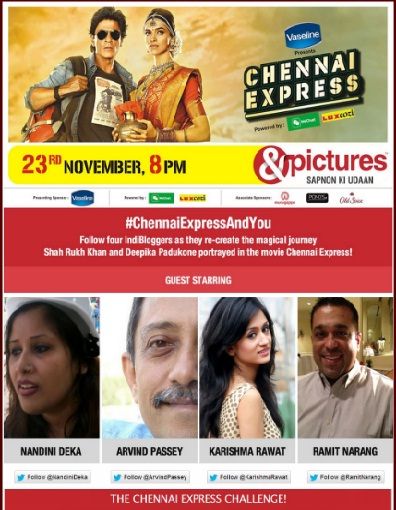 ¸¸.•*¨*•♫♪¸¸.•*¨*•♫♪¸¸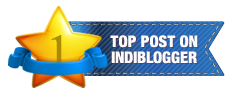 This post is part of
#ChennaiExpressAndYou
event in association with
Indiblogger.in
|
( Images : Mine, KarishmaRawat, ArvindPassey & ANDPictures
) [
Part - 2
&
Part - 3
] | The Coverage -
Part - 1
,
Part - 2
,
Part - 3
,
Part - 4
,
Part - 5
,
Part - 6
,
Part - 7
, @
SocialSamosa
,
afaqs
, @
YT
---