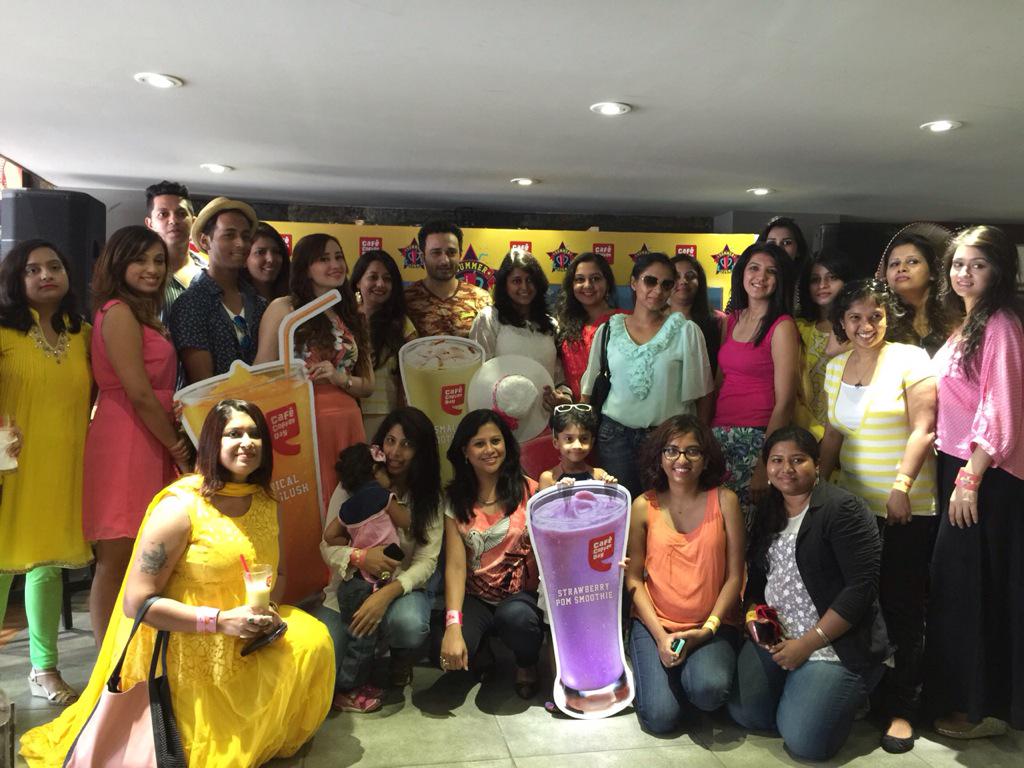 ..¸¸.•*¨*•♫♪¸¸.•*¨*•♫♪¸¸


With summer already having arrived, bringing along with it the scorching heat, sweat, tan, humidity and everything that is unpleasant or uncomfortable due to the unbearable blazing Sun right above, showing no mercy to anyone, an exclusive invite to the #CCDSummerSlam was like music to my ears or rather to my eyes ( in this case...or my tongue? errr.. ). So, Cafe Coffee Day has come up with its own range of super-sonic weapons to slam the heat, with its ultimate summertime refresher, 'Summer Slam' ( a delicious range of chilled smoothies & slushes bursting with flavours and brimming with taste ); and I, who hate summer for the torturous heat was naturally welcoming it with full glee. Few selected bloggers from across the city were exclusively invited to the launch of CCD's Summer Slam range of Slush and Smoothies.

Being really enthused about the event, I reached not one but two different Cafe Coffee Day outlets ( spread all over Bandra ), before finally reaching the correct destination. No wonder, I was in dire need of those yummy chilled refreshers more than anyone else. And Cafe Coffee Day didn't disappoint. As soon as I reached the venue, I was greeted with such cheerfulness by both the CCD & Ripple Links crew that half my exhaustion vanished instantly. No sooner did I take my seat, the fun activities began too, adding to the fun and frolic. The mood was zany and everyone enjoyed to the hilt. And oh yes, did I forget to mention ~ everyone were dressed in their summery best - bright colours, mostly resembling the yummilicious slushes & smoothies themselves.



..¸¸.•*¨*•♫♪¸¸.•*¨*•♫♪¸¸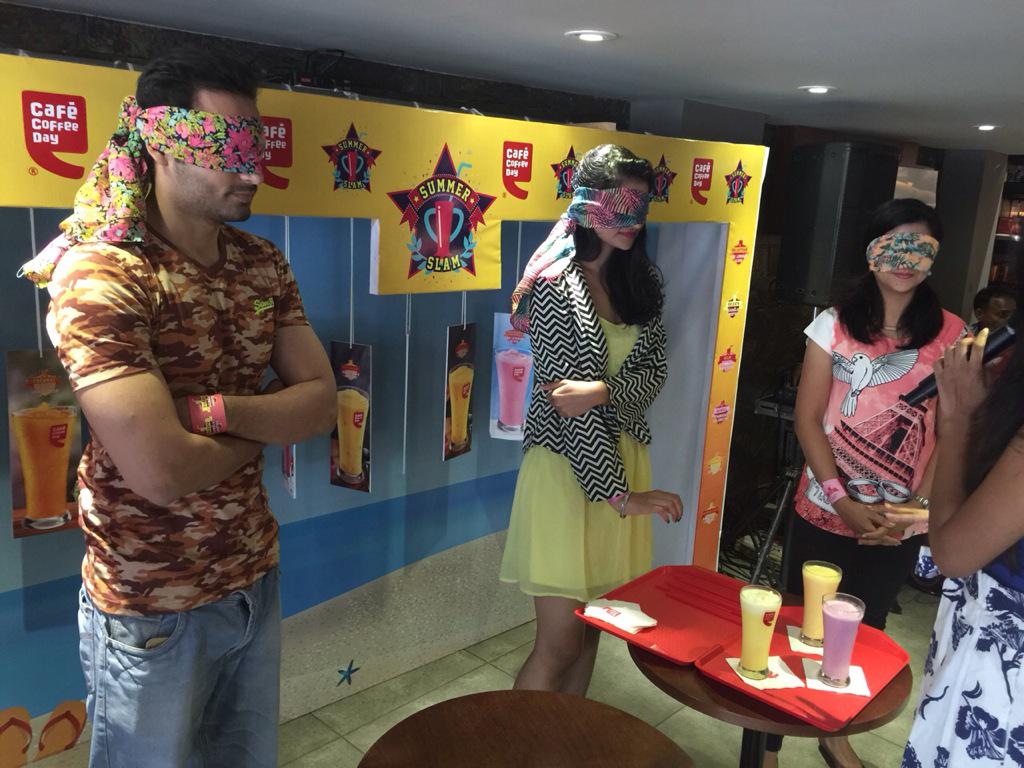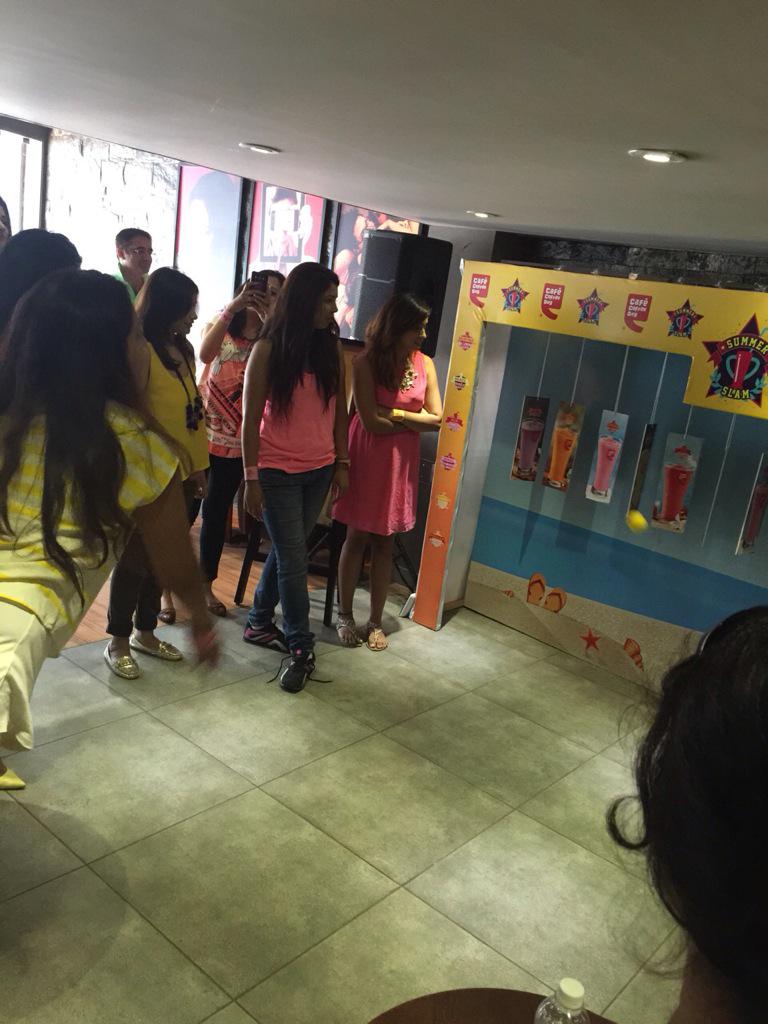 What is the best way to make out which drink is which, especially when you have six different yummy variants, that too representing the different IPL Teams ( yes, each drink is named after an IPL city team ) - by blindfolding the bloggers, of course. So, two batches of three bloggers each, were blindfolded and given to sip the drinks. Some guessed it correctly and some errr.... :P But best thing was right after the blind-fold game, all bloggers were given samples of the drink ( in shot-glasses ) to taste for themselves. I tried 3 - Strawberry Blast Slush, Rasmalai Smoothie and Mango Peach Smoothie. Sluurp... they left me wanting more. The other 3 variants were Tropical Spice Slush, Pink Lemonade and Strawberry Pom Smoothie.

We also had another fun activity next, where we were divided into two teams aka Smoothies and Slushes. Target and hit the hanging mini drink-placards that matched the wrist-bands, we all were given earlier, with name of a particular drink on them. Did my shot hit the exact spot? Well....all I can say is that, your team efforts can indeed land you with a prize. So, a coveted Cafe Coffee Day Coffee-Mug set did indeed land in my hands, at the end of the super-fun game :-) Team Smoothies won - woohoo!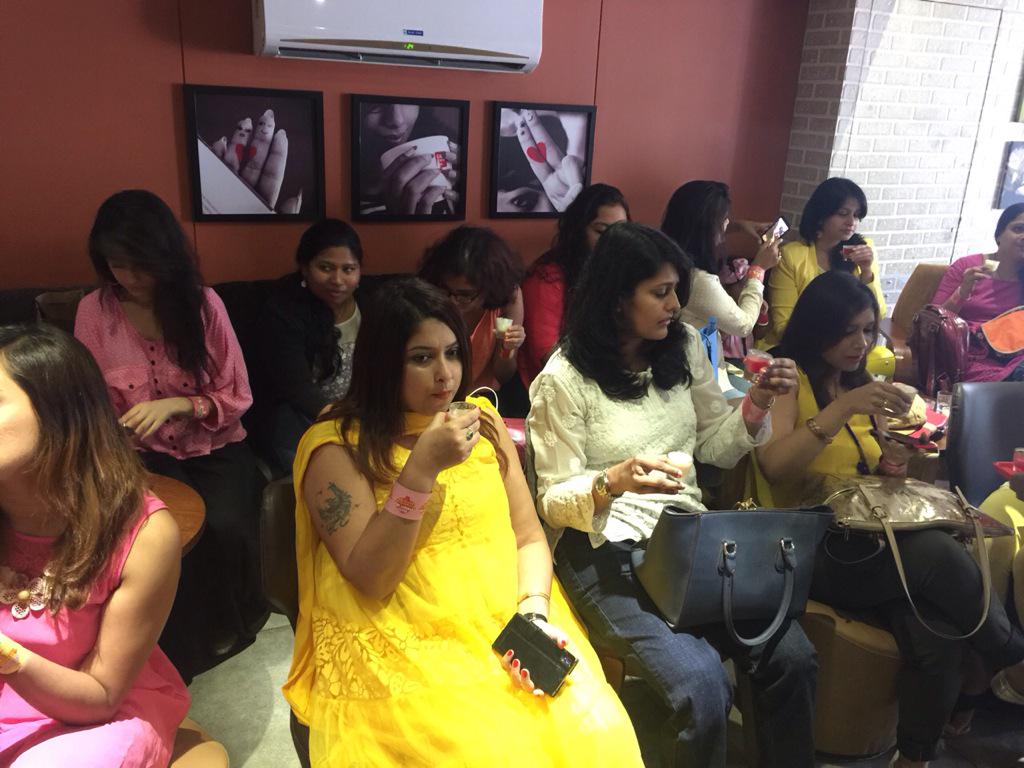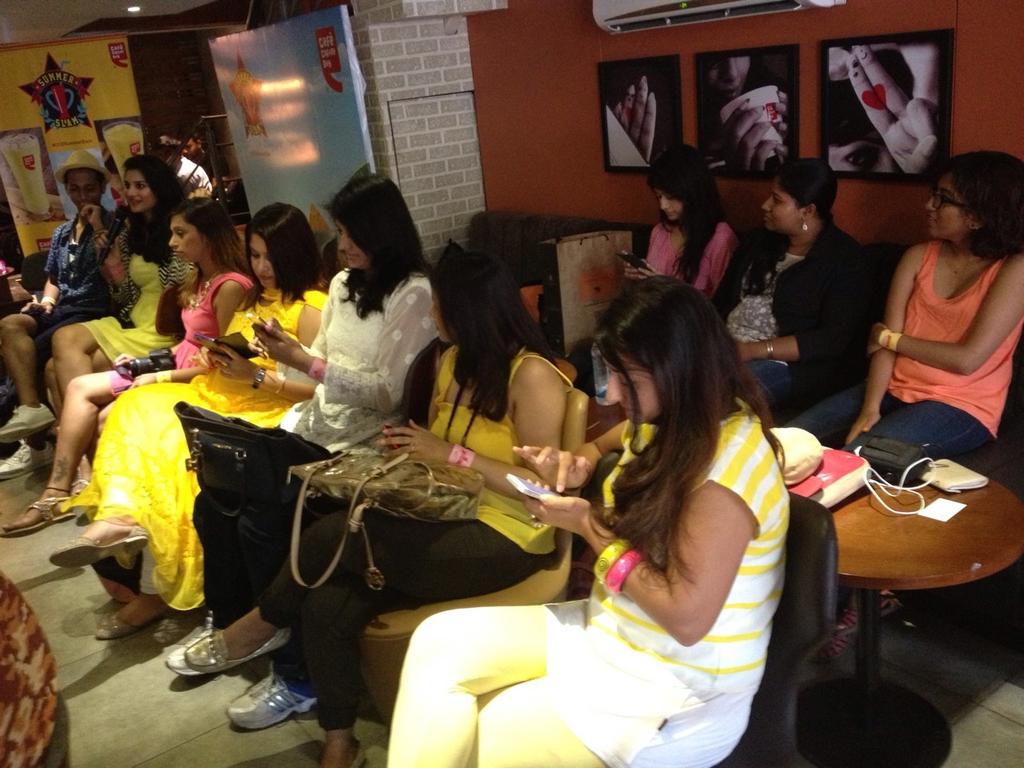 Bloggers doing what bloggers do best - taste, tweet, taste tweet, repeat :-)


A CCD representative spoke later, giving information on how these drinks were invented after going through various inputs from customers and with inclusion of real fruits/sweets/nuts used in the various drinks ( eg. pink grapes, pomegranates, mangoes, strawberries, jalapenos, almonds etc ), making them a healthier concoction too. It was a well organised event, hosted beautifully by Shabri Prabhakar, who added a whole lot of liveliness to the event by engaging everyone in the activities. The event signed off with all the bloggers getting to drink those yummy drinks to their heart's content, along with delicious bites of Cafe Coffee Day's signature sandwiches & pastries. It was a yummy event and everyone went home with a cute goodie bag too.



..¸¸.•*¨*•♫♪¸¸.•*¨*•♫♪¸¸


So what exactly are the Smoothies and Slushes that I am gushing about, all through the post? Well, read on...

The smoothies are a range of a divine creamy concoction with bite size pieces of the key ingredient immersed in it that will leave one slurping and snacking all at once. Rasmalai Smoothie is the royal Indian mithai re-imagined as a rich, creamy beverage. It carries almond flavours with the very prominent bite of a rasmalai. The Strawberry Pomegranate Smoothie is a delicious cool creamy mix of strawberry and pomegranate, a perfect tease to ones taste buds. Mango Peach Smoothie is the king of fruits blended with the best of peaches guaranteed to satisfy the most intense of fruit cravings.

The slush variants burst with juicy tropical flavours that will leave one wanting more. The Strawberry Blast Slush consists of strawberries blended with the goodness of pomegranates chilled to perfection that is sure to cool ones senses. The unique Tropical Spice Slush is the strangely wonderful mix of jalapenos with the tropical fruit granita to spice things up. The Pink Lemonade Slush is sweet and tangy and loaded with the goodness of pink grape fruit.

The Summer Slam range of uber cool beverages is available at all CCD outlets across the country. So, what are you waiting for, you know where to head to slam the summer heat ;-)


..¸¸.•*¨*•♫♪¸¸.•*¨*•♫♪¸¸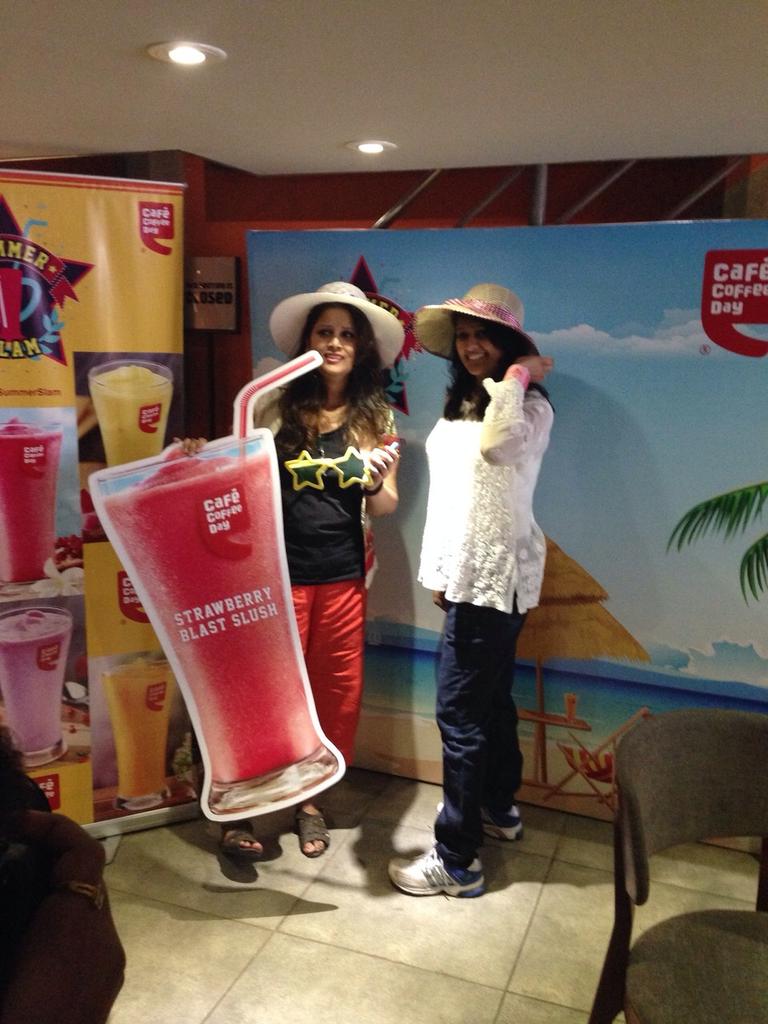 That's moi on the left, sluurrping it up :-)
Pin It Now!
❤❀❤

Stay Connected & Follow my Updates on the blog's GFC | GOOGLE+ | FACEBOOK | TWITTER | BLOGLOVIN | NETWORKEDBLOGS
---